Recently, I traveled from India to New York and booked a one-week stay at a reasonably priced hotel. I prefer my hotels to have common amenities like Wi-Fi services and gyms and this hotel had everything but I was still disappointed with my stay. Why so? Well, wherever I have traveled, every hotel made ordering food, contacting room service, requesting Wi-Fi passwords, and other common services quite convenient. But, this hotel required guests to come down to the front desk for any requests that they might have. And, it was not only quite tiresome but also forced me to think of all my previous stays that leveraged technology in the hotel industry.
It made me quite thankful for the contactless interactions and the convenience that I had not thought much of. That is when I made it a point to write this article and ensure that other hotels do not make this mistake. Whenever a hotel owner gets in touch with our expert team, we make it a point to discuss the importance of mobile apps in the hospitality industry. After all, we would hate for you to miss out on the numerous benefits that these bring. If you are on the fence about the role and benefits of mobile technology in the hotel industry, we recommend checking out the article below.
Mobile Technology in the Hotel Industry – Relevant Statistics
According to a report published by Statista, 24% of hoteliers said that they utilized mobile technology in the hotel industry to boost customer experience, whereas 5% said that they used it to save time. Another report suggests that approximately 45% of travelers book their hotels, tours, and other vacation experiences via mobile applications. So, it is quite clear that mobile technology in the hotel industry has had a great impact and changed the way these companies function.
But, how exactly are hotels and resorts leveraging mobile technology in the hotel industry? To know more about it and understand how you can utilize it for better customer relationships and more bookings, check out the below sections. We will discuss the different trends that businesses trying to utilize mobile technology in the hospitality industry must keep in mind.
Mobile Technology in the Hotel Industry – Trends Businesses Must Keep in Mind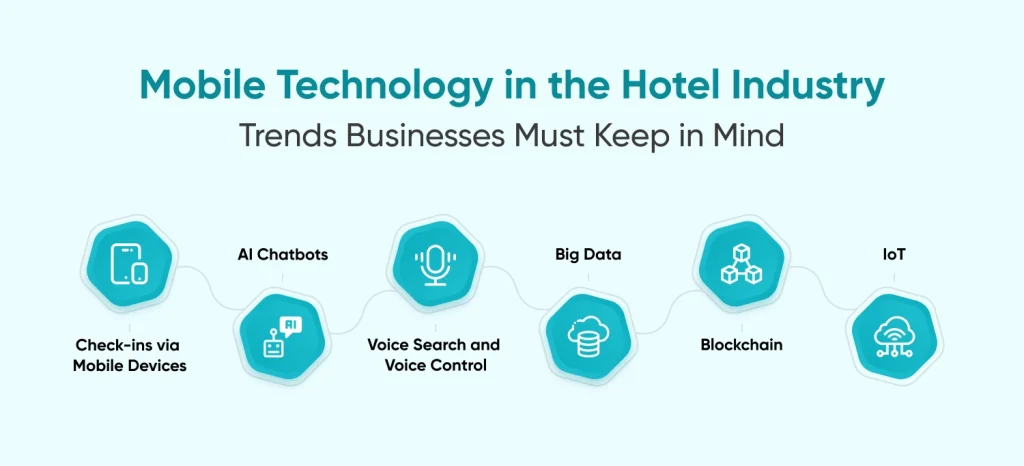 With years of industry experience, our expert team knows which features are a must-include to ensure better building of customer relationships. In this section, we will list the top trends in the hotel industry that you must focus on and leverage using mobile technology.
1. Check-ins via Mobile Devices
According to a report published by the New York University, over 75% of hotels had already adopted mobile check-ins by 2022. This allows travelers to check in to the hotels and submit all related paperwork to ensure a smooth and hassle-free check-in process.
2. AI Chatbots
One of the most popular and relevant uses of mobile technology in the hotel industry is the use of AI chatbots. These chatbots utilize artificial intelligence to better cater to customer needs and deliver personalized experiences. We recommend you create a hotel booking website that utilizes AI chatbots to get more potential leads.
3. Voice Search and Voice Control
With increasing focus on accessibility and convenience, more and more hotels are utilizing voice search and voice control. Some common ways in which hotels are leveraging this technology include – voice-controlled lights and blinds and voice-activated devices to request room service.
4. Big Data
Every industry is filled with data, but it is all the more important in the hospitality industry. Utilizing big data can help hotels and resorts better fulfill customer needs and tailor customer experiences as per their preferences. Some other ways in which big data can help pave the future of the hotel industry include better planning of target marketing and utilizing data for competitor analysis.
5. Blockchain
Blockchain rose to prominence due to its security and decentralization features that help ensure that the data stored is protected from cyber-attacks. Blockchain technology in the hotel industry can be utilized to store sensitive guest information that must be protected.
6. IoT
Another great utilization of technology in the hotel industry is the use of the Internet of Things to ensure that various devices can send and receive data via the Internet. One of the most common effects of IoT is the replacement of physical keys or key cards by customer's mobile devices. Interested in utilizing IoT to better customer experiences? We recommend getting in touch with an expert hotel app development company to take advantage of mobile technology in the hotel industry.
Must-Include Features of Mobile Apps for Hotels
The hospitality industry is a service industry, meaning that customers must be at the core of all operations. To ensure so, hotels must develop apps that ensure proper handling of customer interactions to guarantee better customer experiences. But, out of the numerous mobile apps present in the industry, how do you ensure that yours is the best? To help you develop a mobile app that offers you a competitive advantage, we have listed the must-include features of hospitality mobile apps that you must add!
1. Responsive Apps and Websites
As more and more people are surfing the internet via mobile devices, your website and app must cater to them. This means that your website must be responsive and should allow users to search for rooms, check availability, and book their stays irrespective of the device used. This will also help ensure that users can utilize your app on the move, which helps guarantee better conversion rates. Ensure that your hotel's mobile app and website are capable of sending regular push notifications to engage with users and get their business.

2. Real-Time Data Sharing
Most hotels utilize content management systems (CMSs) to ensure that they have access to real-time data. After all, it is important that the data being displayed to users at any point in time is accurate and does not have errors. Whether you are creating an app for restaurants, hotels, or resorts, ensure that all data changes are instantly reflected across all devices. This helps avoid errors and ensures that hotels can save a lot of time that they would have had to spend on informing customers about issues over the phone.
3. Trend Predictions Based on Customer Data
This feature is a great example of the importance of technologies like big data and data analysis in the hotel industry. With big data, hotels can record user preferences and how they behave inside the hotel-related mobile app to gain valuable insights. This will help them predict trends and contribute to better decision-making that will ultimately help boost customer experience.
4. Better Management of Customer Relationships
Other than staying connected with guests via phone, today's hotels learn about customer experiences via social media platforms. This is why hotels must be capable of responding to user queries, reviews, and other comments posted on the hotel's Facebook page or Twitter handle. Ensuring a swift and well-informed response helps build a rapport with guests and sends the message that the hotel cares about its customers. Another great way to build and manage customer relationships is by offering strategic discounts and freebies to social media followers in the off-season.
5. Loyalty Program Features
A great example of an app utilizing loyalty program features in its mobile app is Starbucks. These programs offer discounts and offers to users who spread good word about the hotel and its services. Hence, loyalty programs are a great way to up-sell and bring in repeat business via loyal customers. But, how do you include loyalty program features in your mobile app? Well, the trick is to send out push notifications to users based on their purchase history, location, profiles, and other customer behavior. To ensure proper implementation of loyalty program features in your mobile application, get in touch with a professional mobile app development company in India.
6. Self-Service Options
Traditionally, customers preferred face-to-face interactions and business operations. But, after the COVID pandemic, a lot of customers now prefer communication via digital platforms for added convenience and accessibility. This also means that there is always a scope that customers will leverage special services that they can instantly leverage via their smartphones. This is why we recommend that hotels invest in hospitality technology solutions that offer customers self-service options such as:-
Check-ins and check-outs
Laundry services
Room service orders
Table reservations
Appointments for massages or booking of spa facilities
Online pre-service and post-service payments
Conclusion
The above article lists some of the top ways in which owners are utilizing mobile technology in the hotel industry. If you have an existing mobile application or website for your hotel but are looking to revamp it, you can get in touch with our professional team which offers custom software development for the hotel industry. With years of technical experience, we have helped numerous hotels and resorts leverage advanced technologies for better business profits.