We literally are going to have Uber for everything in our life. After having Uber-like on-demand apps for food delivery we now have on-demand apps for home services, groceries and literally everything we need in day to day life. Naturally, regular healthcare and need to call doctors cannot be left behind this trending demand for on-demand apps of all types.
On-demand doctor app development will help us with all the troubles and pains of accessing doctors and health experts in times of need. Thanks to these new on-demand apps literally the access to quality healthcare is just a few finger taps away.
According to a recent study published by Statista, the telemedicine and on-demand healthcare market is likely to experience overwhelming growth. The market is expected to grow from $18 Billion in 2015 to $40 Billion in 2021. So, there is no looking back for the on-demand doctor and medical apps in the years to come.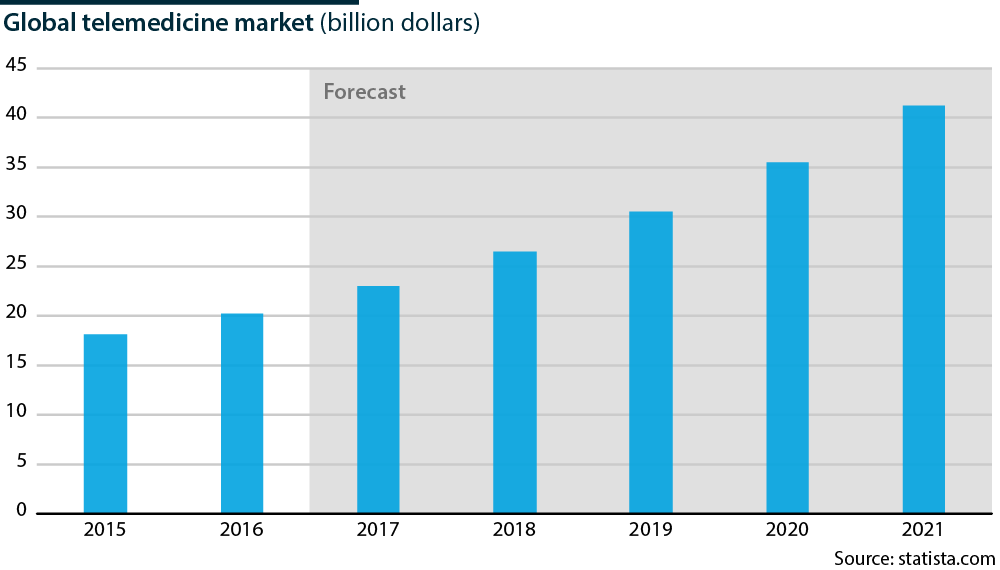 Why We Need On-Demand Doctor Apps?
Globally, the average time required for fixing a doctor's appointment for either consultation or treatment is around 72 hours. This is a long time considering the immediacy of the healthcare requirements in many instances. Naturally, this long waiting time contributes significantly to the increasing health risks for the patients.
This is exactly where on-demand doctor apps come as a befitting health platform development solution to do away with the long waiting time and facilitate an appointment a lot faster. By using an on-demand doctor appointment app a patient can come into contact with a doctor in minutes and consult the doctor for the respective health problem. Real-time technology has reduced the entire time down to a few minutes from waiting time spanning over a few consecutive days.
Different Doctor Apps Ruling The Healthcare Industry
There are several different types of doctors apps as of now in the market ranging from the simple appointment app to apps working as a medical reference for drug information and knowledge base. Let us have a look at some of the major types of on-demand doctor apps in the market.
Among all the on-demand healthcare and doctor apps, apps for booking doctor's appointment is the most common. Such apps basically have three distinct interfaces or panels p, respectively for the patients p, for the doctors, and for the app admin.
Drug Information App for Doctors
There are medical apps for doctors that work as an accessible manual or guidebook with all types of drug information. Doctors, healthcare experts, new practitioners, and medical students can access such apps to stay tuned to the updated drug information and relevant medical information.
Diseases References and Symptoms Tool
There are also certain medical apps that work as handy tools for the medical practitioners and doctors that offer detailed references of various diseases and their respective symptoms.
For healthcare practitioners and doctors it is incredibly important to stay updated about the latest medical research findings and developments that have solid implications on their professional practice. A medical news app can serve this purpose.
Social App for Healthcare Professionals
There can also be a social app for healthcare professionals and practitioners to stay connected and having a conversation with industry experts and colleagues.
There can be a doctor app that works as a ready reference to all frequently asked questions about various health problems, diseases, and symptoms. Working as a ready reckoner for both patients and doctors such an app can help with medical information when they are needed.
On-Demand Doctor App Revenue Model
Obviously, an app needs to work as a business and garner revenue on a city tenuous basis. This requires a revenue model and a doctor's app is no exception in this regard. Let us have a look at some of the effective revenue models for the on-demand doctor's apps.
This is the simplest revenue model that works by sharing a part of the doctor's fees as a commission for the app owner. Since the app is allowing the doctors to get exposure to patients, in return they agree to pay a commission to the app.
Not all doctors of niche expertise in a locality gets the same limelight and exposure. So, doctors can pay a fee to get into the featured list of doctors in the app. In return for paying a fee to the app, the featured doctors can have more patient calls.
The on-demand doctor's apps apart from sharing revenue and charging fees, can also feature in-app advertisements from the relevant healthcare companies and brands.
How Does A Doctor On-Demand App Work?

We all know the basics of on-demand healthcare and doctors apps. But to have a detailed and in-depth understanding, we need to know how such apps really work benefitting both the patients and the doctors.
Patients need to register with the app first. Doctors set the time of their availability in their respective panel and based on this the patients can get in touch with the doctor they need. Doctors can also see the patient information in detail to have a clear idea about their sickness and health issues. Users can also see the profiles of the doctors and can decide whether they would like to consult the respective physician or not.
The patient can also book an appointment and seek personal assistance from the doctor. Based on the user information stored in the app and the symptoms explained by the patient, the doctor can make a digital prescription in case the patient doesn't need personal assistance. Based on the digital prescription the patient can also order medicines using the telemedicine feature. The patient needs to make payment for the services through any of the available payment methods offered by the app.
Top Features Of A Doctor App
Any on-demand doctor appointment app basically consists of 3 distinct panels, respectively doctor's panel, patient panel, and app admin section. These three sections or panels have their own set of features that we would like to describe briefly below.
Doctor Appointment App – Patients Panel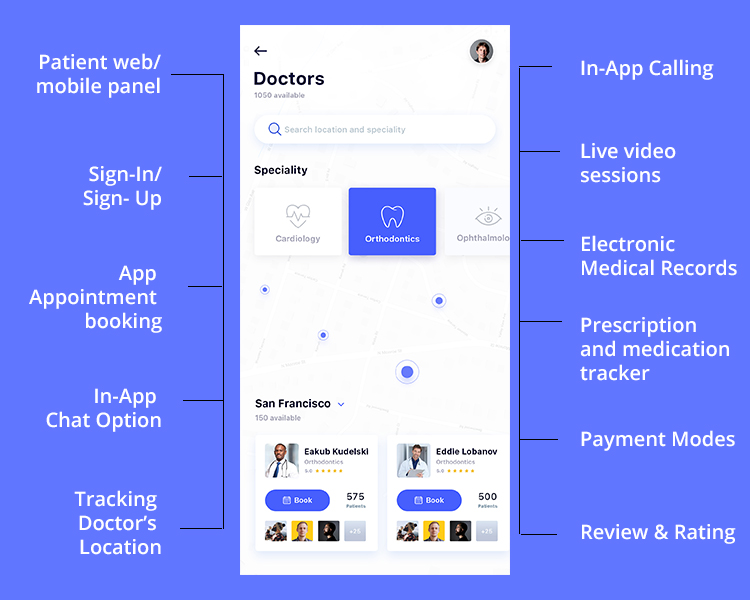 The patient panel of the doctor's appointment app consists of the below mentioned features.
Sign-In/Sign- Up
User Profile section to accommodate patient information and health details including name, address, age, sex, medical ailments, etc.
Appointment booking feature based on the availability of the doctor of a specialty and preferred timing.
Location tracking of the doctor of the required specialties.
In-App Chat allowing patients to communicate and post queries to doctors and the admin.
In-App calling feature to allow patients making calls to doctors as and when needed.
Live video to help patients having real-time in-person doctor visits discussion on their health issues.
Electronic Medical Records to help medical patients upload health records for future treatment and medical intervention.
An in-app tracker for prescriptions and medicines to keep track of the treatment process.
In-app payment modes and gateways to allow users making payments for the healthcare services easily.
Review & Rating option for the users to give their feedback about the app.
Features Of Doctor Panel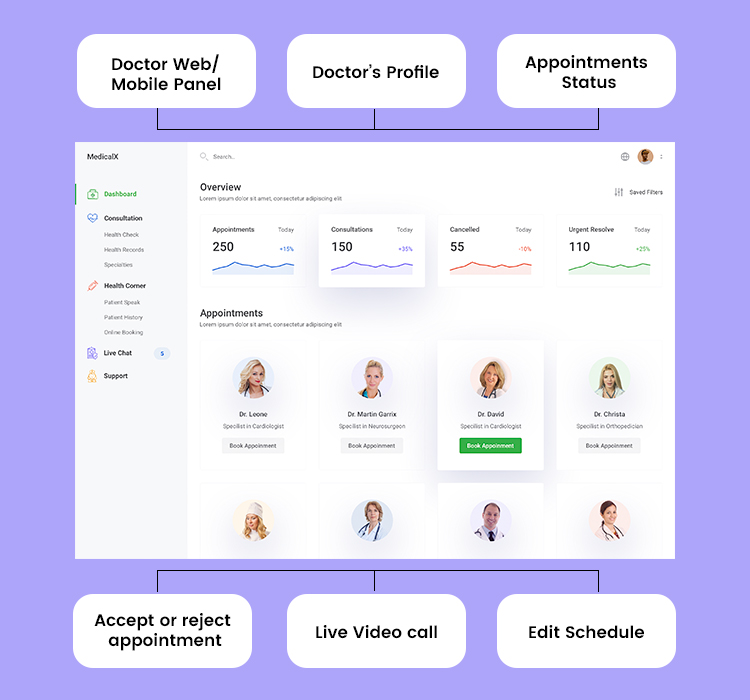 Like the patient-specific features of the patient panel of the doctor's appointment app, it also comes with an elaborate range of features for the doctors. Let's have a look at the key features of the doctor's panel in the app.
Doctor's Profile section requires all key details about the doctor including name, photograph, address, qualifications, domain and discipline of expertise, user ratings and the available timings for patient appointments.
Appointments status section of the doctor's panel will show the details of all booked appointments including their timing and status of booking as well as a cancellation.
After viewing the entire list of requested appointments doctors can accept or reject appointments of their choice.
Live Video call feature to allow doctors seeing patients in-person over a video interface for all common ailments.
Online prescriptions help patients with remote medical suggestions.
Capability to edit schedule or reschedule patient appointments.
Patient progression chart to see how the medication is responding to the health problem.
A blogging or content platform to help doctors sharing their knowledge and the latest research findings on health issues and medicines.
In-app chat and calling feature to help doctors communicating remotely with the patients.
The Admin Panel & Its Features
An admin panel is the backbone for managing any web or app application. It controls different features of patients and service providers. Let's check out a few features:
Patient Management
Doctors Management
Report management
CMS for News & Articles
Report management
Marketing Tools
Advance Features Of Doctors App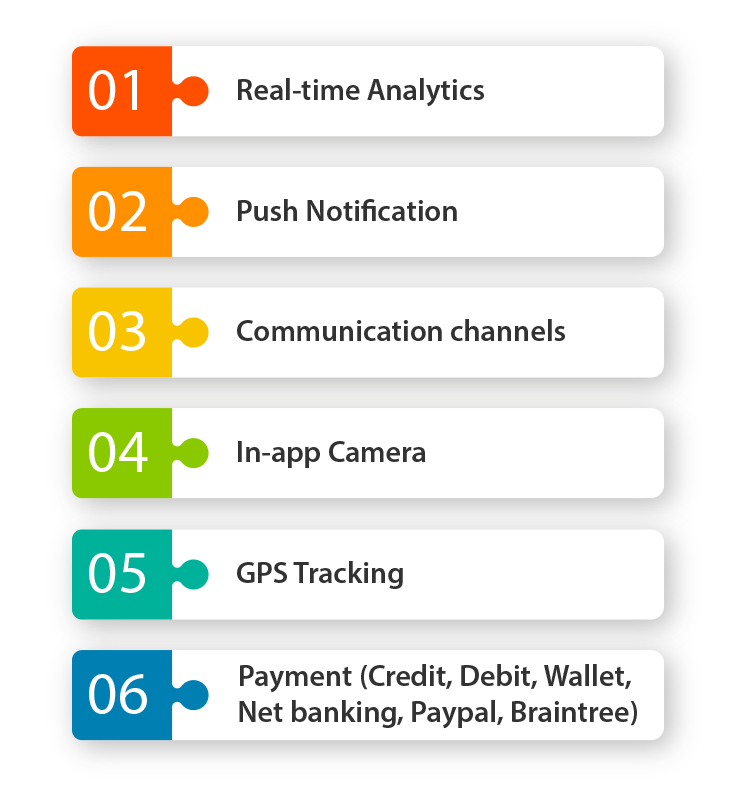 Apart from all the above-mentioned features of the doctor and patient panels, a modern on-demand doctor appointment app must have some advanced features for providing more lucrative user experience to all the users and stakeholders.
Let's have a look at some of these advanced features.
Real-time Analytics: This feature will help to present the health information of the patients through a more engaging graphical interface for easily grabbing the relevant insights from the health data.
Push Notification: Push notifications will help the doctor appointment app to stay constantly in touch with the users and update about the latest developments.
Intelligent Chatbot: An intelligent Chatbot app to communicate guide the patients and doctors in times of need. This will also help to make the onboarding process easier.
In-app Health Tracker: An integrated health tracker function to measure crucial health parameters will be a great help for diagnosing certain health issues.
In-app Camera: The use of the in-app camera to take pictures of the suffering organs can help doctors and communicating a particular health problem.
GPS Tracking: GPS tracking feature helps patients and doctors to locate each other in real time and accordingly decide about appointments.
Technology Stack For App Development
Finally, for a great doctor appointment app, choice of the right technology stack plays a crucial role as the features directly depend on them. Let's list out the technologies required for the various features.
Push Notifications: Twilio, Push.io
In-app Messaging and Calling: Nexmo, Twilio
Payment Modes: Braintree, PayPal, Google Money, Stripe, EWallets
Database: MongoDB, Postgress, MailChimp Integration, Hbase, Cassandra,
Cloud Environment: Amazon Web Services (AWS), Google, Microsoft Azure
RealTime Analytics: BigData, Apache Flink, Cisco, IBM, Hadoop, Spark.
The App Development Process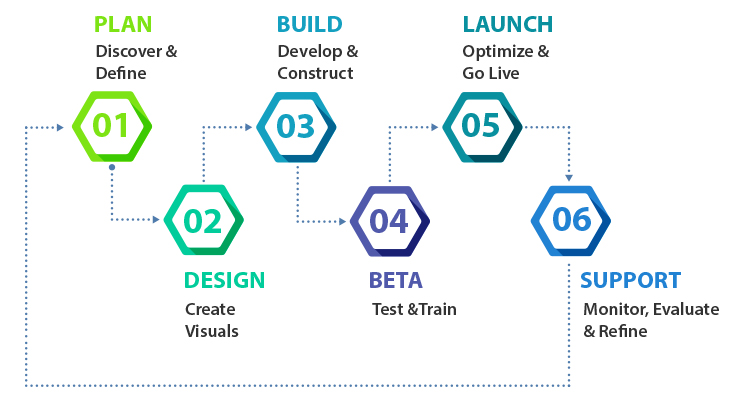 For building a robust doctor appointment app with cutting-edge features, putting all technologies in the right place and context is important. Whether you hire iPhone app developers or Android developer team for the project, following a time-tested development process is absolutely crucial to ensure right development output. Let's explain the development process for such an app through key steps.
A unique concept targeting the use cases of the particular app and user needs is the key to success. It is always advisable to go for extensive audience research after deciding the initial concept. Validate the concept through audience research. You can build several prototypes with different twists of the same concept and reach out to the users.
As and when the app concept us ready, employ a competent team of business analysts to build the wireframes, diagrams for the use cases, sequence diagrams, etc. This will further take you closer to the goal of implementing the product.
When it comes to the design, focus on making the look and feel simple and instantly engaging. The design should help all users find and do what they need to do in quick time.
Now get an in-depth understanding of the AppStore and PlayStore guidelines and restrictions before starting to code the app. When hiring a development team always give priority to the ones with a robust and similar portfolio of similar apps. Make sure they have the expertise with your required technology stack.
Following the development, the app must pass through a rigorous testing and quality assurance process to ensure optimum performance. Make sure the product goes through rigorous unit testing, integration testing, speed testing, load testing, and security testing and regression testing.
Finally, you need to make your app launch a big success by preparing for it with a rigorous pre-launch campaign running all along with the development. Reach out to users across all channels and engage the industry influencers to make the launch event big.
Conclusion
On-demand doctor appointment apps are now the new "Uber" for medical patients. Well, their increasing popularity is a sure sign of their growth prospects. But as competition is gaining momentum, the apps need to reinvent the user experience and ease of use with new and innovative features.