From smart transport to smart cities to fleet management to insurance analytics, telematics can play a great role in many industry facets where data plays a key role. Data always plays a mission-critical role for performance assessment, calculation of profitability, and user experience of solutions. The mobile telematics can unfold this potential of data-driven insights and real-time monitoring across various industries.
How Does Telematics Work in The Automobile Industry?
Telematics mainly refers to the remote vehicle tracking and monitoring system that works through a connected device installed in the vehicle. This connected device allows transmitting data between the remote system and the vehicle. In that sense, real-time in-car diagnostics systems are part of telematics.
The telematics device installed inside the vehicle processes GPS data and other diagnostic information about the vehicle and transmits them to a centralized server through GPRS (General Packet Radio Service) or 4G mobile connectivity. The data is further interpreted and analyzed by the server and displayed for the remote access through a mobile app. This telematics information can consist of various types of data including fuel, engine condition, any machinery faults or performance issues, location, speed, idle time spent on the road, harsh braking or driving, etc.
In the years ahead it is very likely that most of the leading smart car brands will focus on integrating telematics technology for easier real-time tracking of vehicles and their diagnostic data. Such systems connected with modern vehicles will help to make the traffic management smarter and in this way making the smart connected cities a reality.
Smartphone Telematics Apps, a New Horizon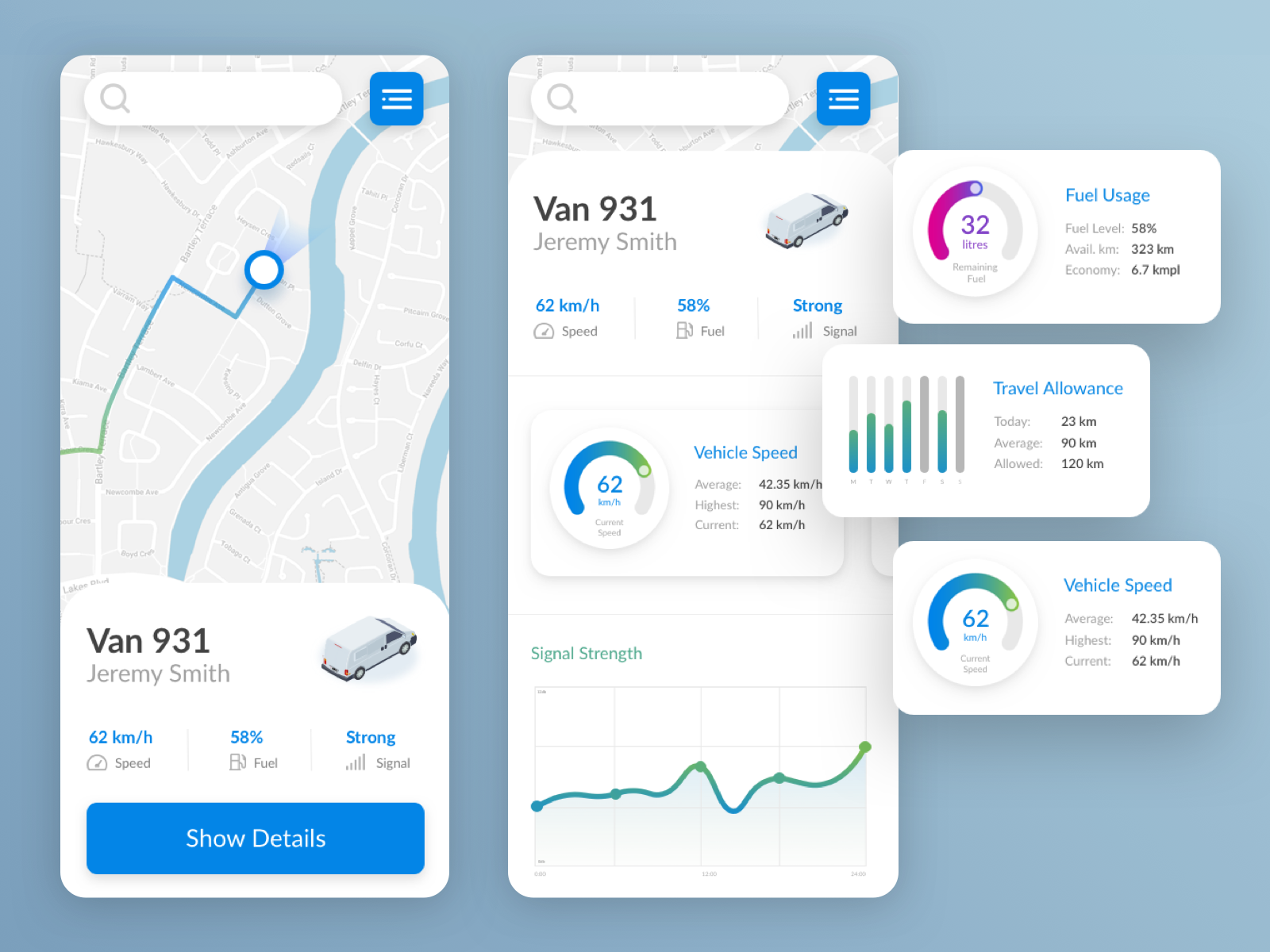 In some countries like Canada, the automobile insurance went through some era-defining changes thanks to concepts like "pay how you drive" vehicle insurance. Now by integrating the GPS system of a car with the on-board diagnostics (OBD) it is now extremely easier to detect the precise location of a car in real-time. This further can help the automobile insurance companies evaluate the performance and behavior of the drivers and the risk possibilities.
Now insurers thanks to the mobile apps connected with the OBD systems of the cars can be in complete sync with all the automobile data and real-time driver activities and behavior that can put the vehicle at risk. This will further help in assessing the risk and vulnerabilities in different situations. This use of smartphone telematics will help harness the relationship between the insurer and the insured in a positive way. On the other hand, smartphone telematics solutions will ensure optimizing on-road security of vehicles and make fleet management smarter and better.
Read More: Top Features And Benefits Of GPS Navigation App Development To Ease Route Planning.
Telematics in Fleet Management
The modern telematics solutions can work connected with mobile apps and existing fleet management solutions. Here we can take a brief look at the various benefits of such connected telematics in the context of fleet management.
Vehicle monitoring and location tracking
Thanks to telematics systems in real-time vehicle locations can be tracked and the on-road activities and leisure time can be monitored. This can be easily done through the integrated GPS system, GPRS networks, and remote cloud computing network. Through such a system the fleet managers can guide and send directions to the drivers in real-time.
In fleet management, there is a constant concern about managing assets being transported between destinations. Fleet managers can attack the GPS trackers to the non-vehicle assets such as goods and trailers to make sure that these assets remain visible and trackable. Goods transportation and logistics solutions can get direct benefits of telematics solutions through data-driven safekeeping measures for goods assets.
Better vehicle maintenance
The telematics in fleet management can also make vehicle maintenance better and can enhance the safekeeping of the assets and goods transported by the trailers and other vehicles. While improving the lifecycle of goods and ensuring timely maintenance with a lower cost overhead remains a constant concern, telematics can play a great role in ensuring all of these. This will also improve the overall return on investment (ROI) of companies.
Tracking safety and security of vehicles
One of the biggest advantages of telematics in fleet management is tracking the safety and security of vehicles. By monitoring the speed and location of vehicles and by tracking the harsh braking and rash driving behavior, fleet managers can take appropriate measures to prevent incidents harming the fleet of vehicles.

Telematics for Automobile Insurance
The integration of telematics in the insurance industry actually opened the promising vista of building user-based insurance (UBI) solutions on the basis of consumer data perceived precisely through real-time vehicle and driver data.
Vehicle and fleet insurance companies are now capable of making use of telematics data for the purpose of risk assessment of vehicles and calculation of the premiums accordingly. This data-driven risk assessment and premium calculation is helping the insurance companies to reduce the errors and cost gaps emerging from flawed anticipation.
The vehicle insurers can also get huge advantages in respect of claim settlement and management. Thanks to telematics data a claim can be better analyzed based on precise vehicle data. This helps insurance companies to prevent fraudulent claims and the associated losses. In the last analysis, this also helps to reduce the cost of car insurance while reducing the claims thanks to fewer accidents.
How Can CMARIX Help You Build Better Telematics Solutions?
We at CMARIX have been building cutting edge connected systems and Internet of Things solutions for years. Over the years we have developed countless IoT solutions for diverse workplace and home environments. We also built cutting edge on-board diagnostics solutions connected with mobile apps. Having been a key player in the field of enterprise IT, cloud solutions, IoT solutions and smart remote vehicle diagnostic applications, we can build the most appropriate telematics solutions for automobile brands and fleet management companies.
Conclusion
Smartphone telematics has emerged as a cutting-edge technology that combines the diagnostic data with remote monitoring and tracking capabilities of mobile apps. Thanks to the data-driven and real-time monitoring approach of smartphone telematics that easily grabs on-road data for better security, safety, vehicle management, maintenance, safekeeping and insurance claim settlement and evaluation, fleet managers and vehicle insurance companies have been benefited. In the larger context, such as remote monitoring and real-time tracking of vehicle data also help reduce car accidents and make traffic management in modern cities better. Advanced telematics in more than one way can completely transform the fleet management and modern traffic solutions in the years to come.