iOS 13, the latest of the iOS lineup is just out with a lot of new features and revamped and refurbished feature set. The new iOS 13 has also made commendable strides with a iPad-specific feature set and several enhancements for the iPhone app developers and users. In overall measure new iOS 13 came with a lot of enhancements to deliver a better user experience.
Let us have a quick look at the top iOS 13 features and enhancements that deserve our attention.
Select Wifi and Bluetooth Right from the Control Center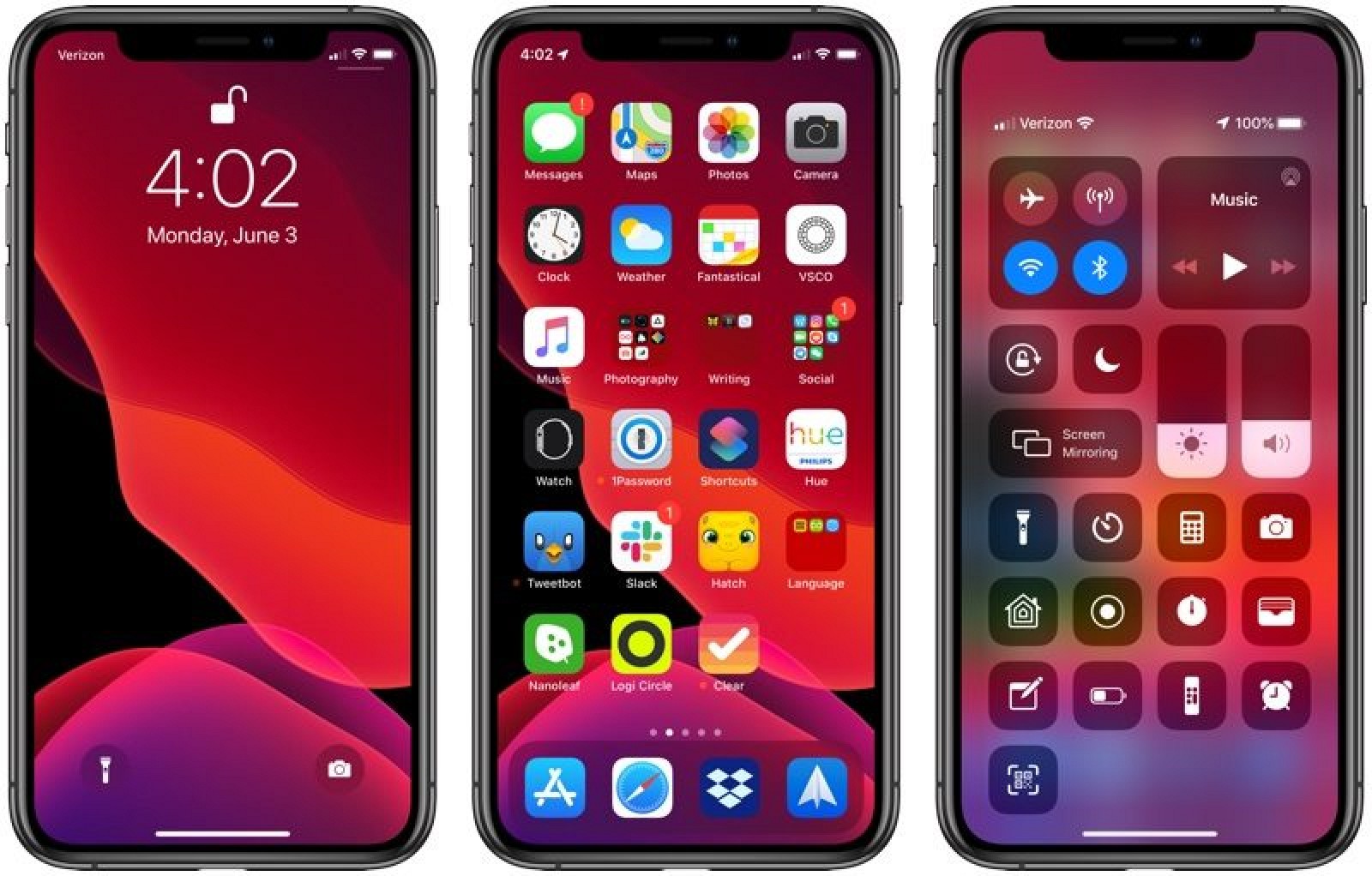 Source:https://www.macrumors.com/roundup/ios-13/
For many iOS loyalists the inability to select their preferred Bluetooth or Wifi connection is a serious drawback. Now the new iOS 13 offers this capability. Just by long-pressing the WiFi/Bluetooth widget you can access the menu and thereafter by using 3D Touch you can toggle the Bluetooth and WiFi connection to get a view of the available networks and select a network of your choice.
Smart Battery Charging
The new iOS 13 also came with some great enhancements to boost the battery power. The new smart battery charging feature will also help the battery power to last longer than usual. The new charging feature will prevent the device to get 100% charge every time you connect it to the power socket. Instead, it will only charge up to 80% level and the remaining 20% will be charged based on your usage just before you disconnect it from power source.
New Gestures For Cut, Copy, Paste, Undo, and Redo on iPhone and iPad
The new iOS 13 also came equipped with a range of gestures for carrying out different actions that you frequently require. Let's have a look at the key gestures associated with their respective actions.
Copy: Pinching action involving three fingers.
Cut: Double pinching using three fingers.
Paste: Punching out or expanding three of your fingers.
Undo: Swiping left using three fingers or double tapping with three fingers.
Redo: Swiping right using three fingers.
Navigating to Shortcut Menu: A single tap with three fingers.
The best thing is after using three-finger gestures for the above-mentioned actions you will get on-screen confirmation as well. Remember, these new gestures will only work in addition to the standard commands or gestures that you have been using in all these times.
A Revamped Photo App and Video Editing Tools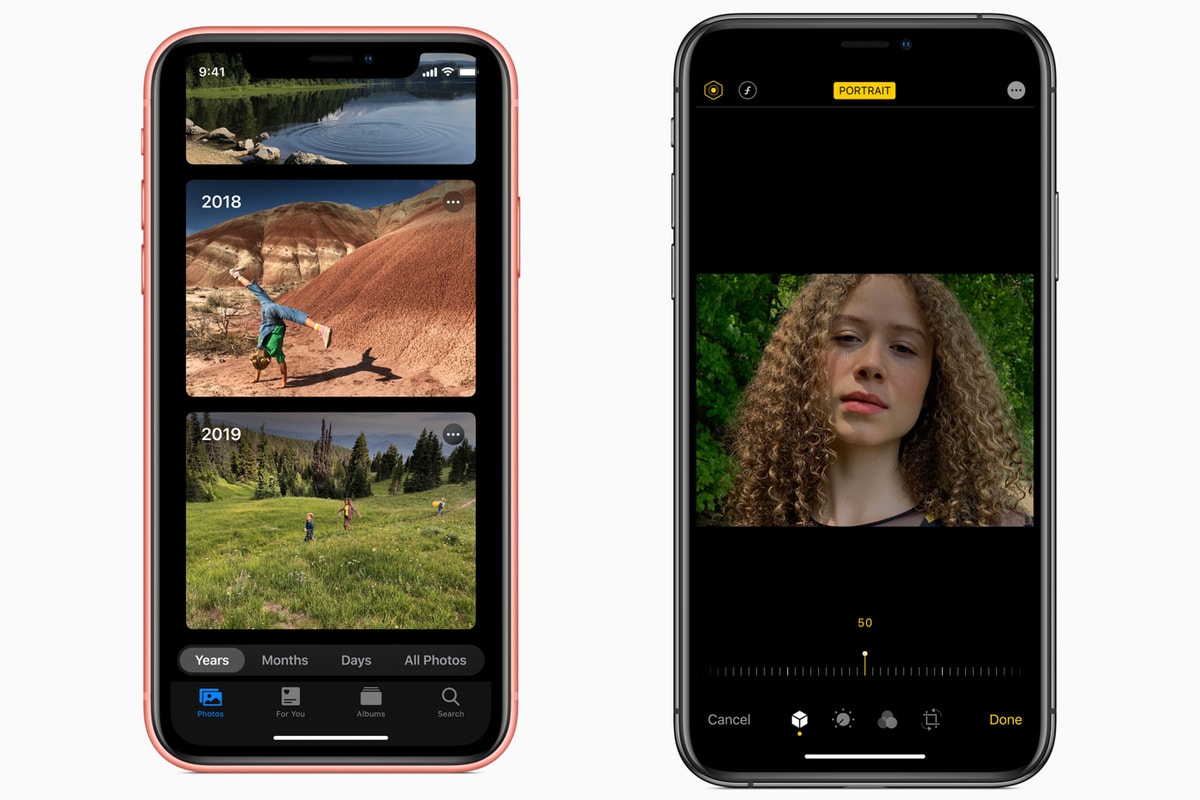 Source:https://gadgets.ndtv.com/mobiles/features/ios-13-biggest-new-features-roundup-wwdc-2019-2047650
With the new iOS 13 Apple refurbished and revamped the photo app as well as photo and video editing tools with a lot of quality features. The entire photo library from now will display a selected few images as the highlights of your daily life or the respective month or year. This is done by the photo library by intelligently or intuitively organising the visual contents to help you relive your memories representing different moments of your day or month or the year.
The photo editing tools has also been revamped to a great extent to help editing the images with the right tools. You can find the editing tools right at the very bottom of your photo app. Just when you tap on the 'Edit' button a handy slider wheel shows up with all the tools to access.
iOS 13 also makes video editing easier with simple actions. You can easily rotate, crop the video files, add text and filters of your choice for a highly customized look and feel. In addition to all these tools, a mono lighting effect has also been added to give your videos monochromatic look and feel.
Easy Blocking of Spam Calls
Another additional feature of new iOS 13 that iPhone users will love is the capability to block all spam calls with ease. All you need to do is to go to the phone settings and turn on the 'Silence unknown callers'. This simple option will prevent all phone calls from unknown callers that are not on your phone contact or email list. Instead of allowing unknown callers to make calls they will only be allowed to send voice memos.
Uninstalling Apps from the Update Screen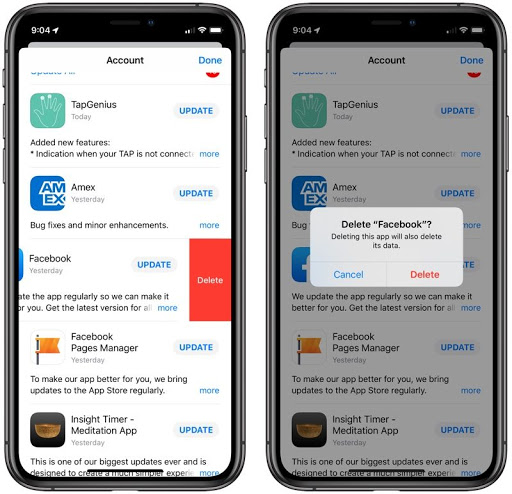 Source:https://thenextweb.com/apple/2019/06/13/here-are-the-best-ios-13-features-you-missed/
A small and simple feature to help you stay updated is the way you can now uninstall apps right from the update screen. You no longer need to hold on the app icon till they swing with a cross-sign at the top. You can just navigate to the update page of the Apple App Store, swipe left and delete a specific app from there. iOS 13 will also make it easier for you to stay tuned by showing you all the pending updates right under the profile page instead of holding on to a dedicated tab.
New Range of Privacy Features
With every subsequent update Apple has always tried to make privacy settings better and in case iOS 13 it's been no different. For any mobile app development company India engaged building iPhone apps, meeting security and privacy concerns remains an uncompromising consideration. here have been several key enhancements to improve authentication and secure privacy. A new feature has been added called 'Sign in with Apple' that Apple users can use for logging in to websites as well as apps with just Apple account credentials.
To utilise this improved privacy features developers need to incorporate 'Sign in with Apple' feature right in their websites and apps. Thanks to this feature developers will be able to sign in with just Face ID and start with a fresh new account without sharing all personal details with every app or website. This will also help safeguarding your personal details and information like email address to be used by commercial entities.
Play Music or Podcasts Anywhere with Siri
Apart from playing music right from the music app, you can also play music or podcasts right when you are using another app. You just need to voice-command Siri to play any track or podcast. For example, you can tell Siri "Play Suzanne by Leonard Cohen in Spotify" or "Play Software Development Challenges Podcast by Tristan Zara in Apple Podcast". The respective sing or podcast will start playing instantly.
Apple Music Enhancements
Apart from the ease of playing music from other apps, Apple's very own Apple Music has also got a complete makeover. The new Apple Music app now has received some crucial enhancements like a dedicated lyrics button to show you the song lyrics instantly when a song is being played. There is also another button to see the next music track in progress.
Finding Missing Devices and Tracking Loved Ones
With the new iOS 13 update the two different apps of Apple, namely, Find My Friends and Find my iPhone apps are coming under a single app and it will be called Find My. This new app will allow both tracking the near and dear ones and the devices with the same interface. The new Find My app is also capable to track offline devices through catching secure Bluetooth beacon signal sent by the device to other nearby iOS devices. When this signal is found it is relayed through iCloud and passed to other iOS devices.
Family Hotspot Sharing
iOS 13 also makes it incredibly simple and easy to share your iPhone connectivity to other trusted users. Your family members and near and dear ones are now capable to connect to the hotspot of the iPhone in case there is no available connection around the place. Apart from this, like always your existing Mac, iPad and iPod devices will automatically be connected to the hotspot.
Extensive Variety of Memoji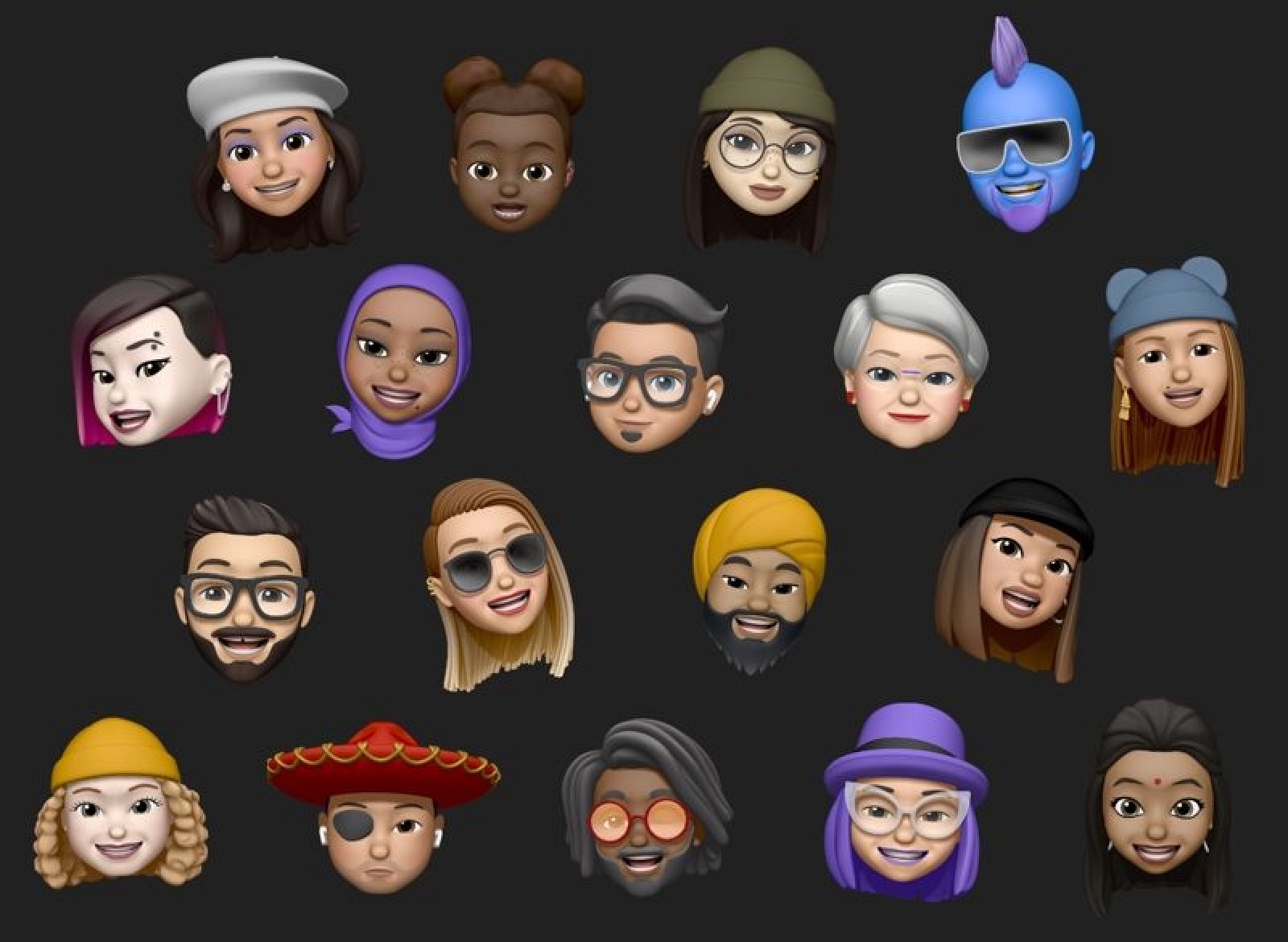 Source:https://www.macrumors.com/roundup/ios-13/
iOS 13 will allow access to a wider range of Memoji by offering new ways to create custom Memoji. On the compatible iPhone devices the users will be able to create their preferred Memoji by utilising as many as 30 different hairstyles, 15 different headwear, and several other options. Apart from this, iOS 13 will also come loaded with 3 new Animoji characters such as mouse, octopus, and a cow. Whenever you create any new and custom Memoji or Animoji character, the new iOS 13 will develop a package of stickers for them that you can use when having conversations through chat messaging.
A Revamped Reminders app
There will also be a new and fully revamped Reminders app in iOS 13. The new reminder app will come with a lot of filter options like Today, Scheduled, Flagged etc. The reminder app will also have a completely new interface. Apart from this, the new reminder app will also suggest timings for reminders based upon your daily habit and routine learned over time.
iPadOS: New iPad-Specific Features
Last but not the least important of all crucial enhancements and hot features that we must discuss is the new breed of iPad features that have been launched as a separate iPadOS under iOS 13 update. Apple just launched a fresh new iPad specific operating system called iPadOS. Let us have a brief look at the key features and enhancements of this new iPadOS.
The new iPadOS comes with a new Home screen dishing out Today View Widgets and options like Slide Over and Split View.
The new iPadOS will also allow opening simultaneously two windows from the same app.
There is also a fresh new App Exposé feature to help seeing all open apps and snapping among the open windows.
IPadOS will also offer a new Markup feature allowing users to annotate and share all types of webpage contents and documents.
A new tool palette will help users to access all types of tools they frequently need while using the Apple Pencil.
Some of the new capabilities of the new iPadOS include zip and unzip capabilities, a lot of shortcuts with the keyboard, enhanced ability to store documents locally, etc.
Conclusion
iOS 13 came with a bounty of other enhancements that we could not discuss here. But that doesn't mean they don't make significant contribution to an enhanced look, feel and ability. The new iOS 13 came as a well-equipped package to deliver most sophisticated user experience complete with a multitude of minor and major enhancements and improvements.