Developing a WordPress website is one of the ideal ways to take your business online and gain credibility. Among all the platforms to develop a website, WordPress remains the most popular. WordPress began in 2003 primarily as a means of blogging, and it aspired to establish itself as the dominant content management system available today.
According to estimates, approximately 39.6% of the internet is powered by WordPress, while more than 64 million websites make use of this popular content management system. WordPress is common for many businesses, from individuals to small businesses to large, complex entities.
However, there is still one question that remains in our minds i.e., cost to develop a WordPress website. It has no exact cost and depends on various factors and development practices.
In this blog, we have covered all those practices and factors determining the cost of develop a WordPress website. Keep reading.
Most Common Type of Website You Can Build Using WordPress
A WordPress site is one of those one-of-a-kind CMSs, which can be used to create any business-related website you want. Here is the list of different kinds of websites you can create using WordPress:
1. Blogs Website
Three of the five blogs available over the internet have been created using the WordPress platform. It remains one of the most popular and easy-to-use content management systems for creating blogs for personal and professional use.
For those unfamiliar with the concept of blogs, a blog can be defined as a website. To be more accurate, it is an online platform where one can share information and thoughts such as thoughts, images, travel experiences, food, shopping, and much more.
2. E-commerce Website
When it comes to eCommerce website development solutions, WordPress is one of the most reliable CMSs available. Thousands of products can be added to your website, shipping and payment options can be integrated, and many other features are available. A separate plugin, WooCommerce, allows you to incorporate an e-commerce functionality into your WordPress website.
3. Business Website
Choosing WordPress goes well with creating a website for a startup and a well-established business. WordPress provides a wide selection of free-to-use themes and templates that you can use to put your mark on the internet and attract visitors to your site. Besides customizing your website, a top-rated WordPress development company may also be able to provide custom WordPress development services.
4. E-learning Website
There is a boom in the e-learning industry, particularly when most people are at home. Since the outbreak of this epidemic, a fundamental change has occurred in the traditional educational system, with many schools, colleges, and universities now offering online classes. There has been a rise in online learning over the past few years.
Even though it is already possible to create several websites capable of bringing students and teachers together to study online on a user-friendly and versatile platform, the need for developing eLearning websites continues. With reliable WordPress developers, you can stay on top of WordPress Web Design Trends.
Why Should You Stick To WordPress for Developing a Website?
WordPress is among the most trending solutions in website building and content management systems (CMS).
It is no secret that some of the largest brands on this planet have their websites powered by WordPress. Why is that? Let's look at why WordPress often takes the number one spot for developing a website.
Flexible functionality
It is no secret that a large number of people are using WordPress mainly because of its capability to be extended to create an extremely sophisticated website that can accomplish a lot of cool things. It can also be customized by adding just a few details.
By installing WordPress plugins, you can achieve this goal. With these tools, even the most novice web designers can build the website they dream of in no time!
Countless Design Options Available
Another reason you should consider using WordPress for your small business's website is the number of different WordPress themes available today. Choosing a suitable theme and customizing it to fit your requirements is one of the most exciting aspects of building a website.

Community of WordPress
One of the major advantages of using WordPress is its friendly and passionate community.
It is no coincidence that so many people use WordPress; it has allowed the WordPress community to create enormous resources.
The WordPress community has much knowledge and advice you can access online. The process is as simple as googling the issue, and you will undoubtedly find a forum or thread on the subject where someone has experienced the same issue and has an answer to share with you.
Coding Is Easy
The best thing about this CMS is that it is incredibly easy to use, and anyone can develop a website with the help of WordPress. A website does not require a you to have any coding knowledge to build one. Although WordPress utilizes various coding languages, you can use them without being proficient in any of them.
Plugins
Among the main reasons why WordPress has become so popular over the years is the availability of numerous plugins. WordPress plugins are a great way to increase the number of visitors to your website.
The most popular plugins include Yoast (for SEO), WooCommerce (for online shopping), and WordPress LMS. You can check out WordPress plugin repository for these plugins.
Factors That Determines the Cost of Develop WordPress Website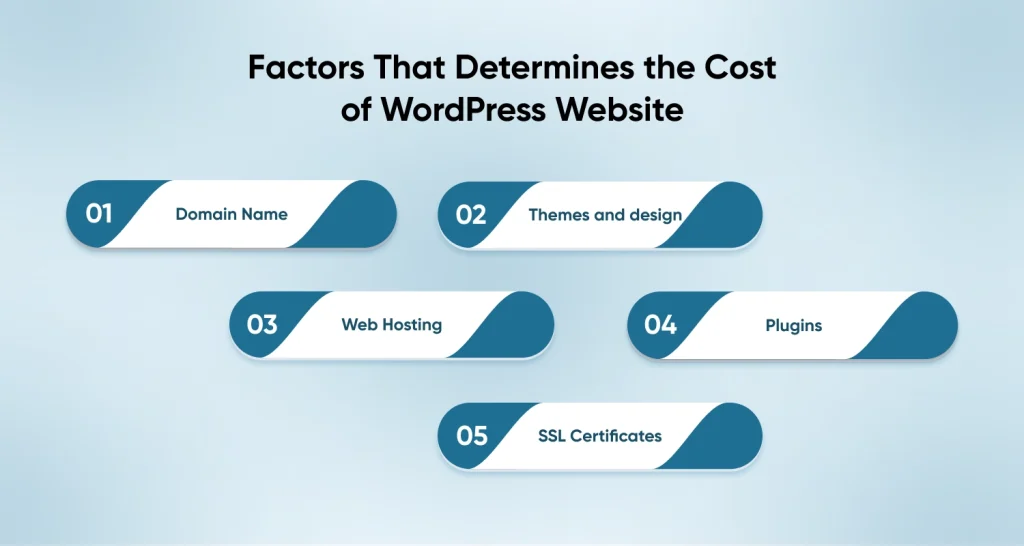 A customized WordPress website may cost you some money, even though it is a free platform. The cost to develop WordPress website is broken into various factors to make things a little more clear for you:
Domain Name
Every year you will have to pay between $15 and $30 for the domain name registration of your website. There is no difference between a domain and the URL of your website that users will use to locate your website.
Choose the domain name wisely, as it is one through which customers will identify your website. Some examples of how domain looks like are WordPress.com, Instagram.com, etc. Domain names can be purchased from sites like Hostinger, GoDaddy, Bigrock.co, etc.
Themes and Design
A WordPress website's design and theme are two critical factors contributing to its cost. Themes are available to all WordPress users, some free, while others cost $250. It is no secret that free WordPress themes are handy for beginners, but they cannot adhere to the needs of the professional businesses.
If you are looking for a particular theme, you can browse through WordPress's large theme library. The theme can be modified later with plugins, so choosing a theme that suits your website's overall style is the key.
Web Hosting
After domain name, Web Hosting is the next crucial element that affects the total cost of a WordPress website. Website hosting refers to a server on which your website resides; otherwise, the server is your website's home.
The cost of web hosting may vary depending on the hosting you choose, and you can pay approximately $40 to $800 per year for the web hosting service.
Web hosting can be classified into three types:
Shared Hosting
Dedicated hosting
VPS hosting
Alternatively, you may purchase hosting services directly from WordPress, although this will cost a little more. If you plan to launch a website with little traffic, you can save money using shared hosting.
If your website begins receiving a lot of traffic, you can switch to dedicated web hosting; although this will cost more, you will be able to handle all that website traffic since more traffic will put more pressure on your server and slow your website's speed.
Among the most popular types of hosting, VPS hosting is often preferred by businesses. The term virtual private server (VPS) refers to a more secure and stable hosting solution that is less expensive than a dedicated one. Suitable for medium-traffic websites.
Plugins
Plug-ins are required for certain features to be added to a WordPress site. Plugins are like applications or extensions that are available for your WordPress website. Over 40,000 plug-ins are available for WordPress. However, you should install only those most important to your website, as many others are not.
When creating a basic version of a WordPress website that is nothing more than showcasing your products or services, you can incorporate free plug-ins into the WordPress website that you are making to showcase the products or services you offer.
The premium version of the plug-ins is worth considering if you have a larger budget and would like more functionality. As you add more plug-ins, your costs will increase. Therefore, your WordPress development costs will increase.
SSL Certificates
The use of SSL certificates is essential for the security of websites. Your details are digitally bound with a cryptographic key, thus ensuring their safety. Furthermore, users are more likely to trust websites with SSL certificates than those without. The cost of an SSL certificate may range between $50 and $200 a year.
You may like this: How to Build a Web App?
Additional Factors That Affect the Cost of Developing WordPress Website
Besides, the initial factors include integrating features, adding plugins, purchasing domains, etc. There are various other factors like the team of developers that plays a crucial role in determining the total cost of developing the WordPress website:
Cost Affected by the Team of Developers
The development team is the most determining factor affecting WordPress Website Development's total cost. Here we have categorized the team that adds to the cost of development.
In-House Team: In-house teams consist of developers who work within the organizational framework and receive daily instructions from management. The startup takes care of developers, which are also responsible for their daily operating costs.
Local Company: It refers to outsourcing your development to an outsourced team of web developers within the location of your startup.
Freelancers: Independent custom website developers with deep knowledge of the WordPress technology stack are independent WordPress developers who build custom websites for a living. In addition to not working full-time for any organization, they only develop contracts for specific projects according to the specifications outlined in the contract.
Outsourced Team: To hire skilled developers, outsourcing is a popular and highly advantageous method. This involves contracting with a WordPress development team based in a different country from where the startup resides. With this method, you can easily develop top-notch products at an affordable cost.
You may like this: Best Practices for WordPress Website Migration
Website Maintenance Costs
Various factors affect the cost of maintaining a website, including the need for additional file storage, the renewal of security certificates, and the site's performance.
You must have enough storage space to store additional files to scale the website.
Similarly, you should renew expired SSL certificates to ensure greater security for your WordPress website.
As far as peak demands are concerned, the maintenance team should be able to handle them and maintain the website's performance during these periods. Thus, it becomes crucial to consider the cost of extra storage, certificate renewals, and hiring a maintenance team in your estimate.
Cost Affected by Team Location
The location of your team greatly influences the costs associated with development. A custom WordPress site developed in Eastern Europe costs $5500, while a similar site built in the United States costs $25,000.
What Is the Cost of Building a Custom WordPress Website?
All these factors together make it important for a web development company to take the time to develop your project promptly. The total cost of develop a WordPress website ranges from $5000 to $50,000 based on the abovementioned factors. Despite this, the amount required depends entirely on the features, plugins, and themes you have chosen to include in your website and the project requirements.
When you hire web developer, you will have more clarity on the total cost of the development.
Final thoughts
To develop a WordPress website for your business, it is not possible to provide an exact cost estimation. You can determine the cost of developing a wordPress website by considering the type of website you intend to develop, your target audience, whether the website will be integrated with another eCommerce platform or not, and the expertise and experience of your developers.
Considering all these factors together, you can determine the cost to develop a WordPress website. An ordinary WordPress site with simple features can be develop for a minimal price.
You can hire WordPress developer from a reputable company to choose the best for your company.
Frequently Asked Questions
WordPress is a common platform for the creation of websites, and it takes about 5 weeks to build an average site, whereas creating a custom website usually takes at least 10 days.

It usually takes 150 to 500 hours to develop a WordPress website. Getting your website built by a technical partner will involve various stages.

The process of developing a website is not only time-consuming but it is also costly. Depending on the team you employ, the type of website you need, and various other things, you can expect to spend between $700 and $6,000 on building a website.