Data is all around us and dominates every industry that we come across. Whether you're thinking of your browsing history or about the data related to the links you followed from social media platforms, everything is recorded. But, the question is why is this data recorded and what do companies get from these? Well, these huge amounts of data are a great way to understand customer preferences and ensure that businesses can build better campaigns or products.
The next question is how do businesses handle such large amounts of data and analyze them to draw better conclusions? Well, this is where the concept of Business Intelligence (BI) comes in, and tools like Amazon QuickSight help. There are numerous benefits of Amazon QuickSight, which is why several companies prefer the tool over other ones available in the market.
Curious to know more about the benefits of Amazon QuickSight and whether it is a right fit for your business and data analysis needs or not? Check out the following article to learn more about the platform, its working, benefits, costs, and why it is preferred over other tools.
What is Amazon QuickSight?
Before we directly jump into discussing the benefits of Amazon QuickSight, it is important that we get an overview of the platform. In this section, we will learn what Amazon QuickSight is about and look at a few of its features at a glance.
Amazon's AWS (or Amazon Web Service) is one of the prominent names in the cloud computing industry and offers numerous cloud services that help businesses ensure seamless and efficient operations. They launched Amazon QuickSight, their powerful Business Intelligence tool in 2016 and took the world by storm. Although it is relatively new when compared to other BI tools, AWS QuickSight is quite powerful and worth considering.
Amazon QuickSight is powered by advanced technologies like machine learning and allows users to create data visualizations and dashboards irrespective of their location. The best part about the tool is that it allows users to connect data from several different sources and provides user-management tools that add to the system's scalability.
Amazon QuickSight At A Glance
Completely managed BI tool that is also cloud-scaled
Allows creation of data visualizations and dashboards for users of businesses
Seamlessly connects to many different sources
Offers user-management tools that allow users to easily manage and scale systems
Has an in-memory engine called SPICE that allows quick data retrieval
With a low pricing plan, the software requires lesser per-user investment
Offers an easy-to-use interface that quickly creates data analysis, data visualization, and dashboards
How Does Amazon QuickSight Work? – An Introduction To SPICE
In the above section where we looked at Amazon QuickSight at a glance, we mentioned the term SPICE. Here, we will discuss what SPICE is and how it brings about numerous benefits of AWS QuickSight that have led to its popularity.
QuickSight's in-memory engine is called SPICE, which is an acronym for "super-fast parallel in-memory calculation engine". In layman's terms, it means that all the data used to make the visualizations are stored in memory, making the retrieval process fast and seamless. After all, it eliminates the need for the user to query the original data source each time and helps speed up all calculations taking place.
Benefits of Amazon QuickSight That Make It The Perfect Choice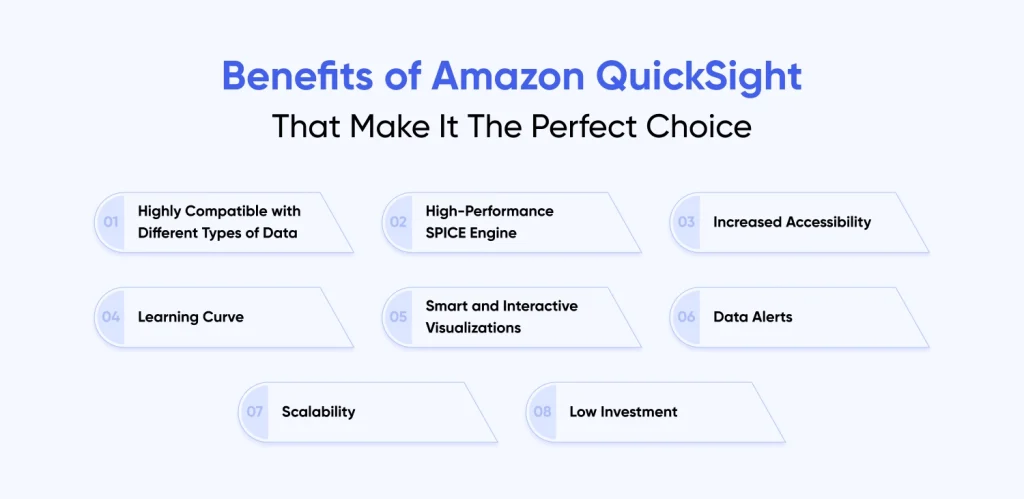 Now that you have a brief overview of Amazon QuickSight and how it works, let us discuss the advantages of using Amazon QuickSight in detail. This will help you understand why the tool is worth it and the reason why so many companies are striving to utilize the platform's capabilities and functionalities.
1. Highly Compatible with Different Types of Data
AWS QuickSight supports data from numerous data sources which means that it is a one-stop BI solution. Other than having the capability to access any data available on the internet, Amazon QuickSight is capable of accessing data even from a CSV (data present is separated by a comma) file. Amazon Quicksight also has great support for AWS data sources like S3, Aurora, RDS, and DynamoDB, making it the perfect BI tool for an AWS QuickSight business that also utilizes other AWS services.
2. High-Performance SPICE Engine
We have already discussed Amazon QuickSight's SPICE engine, but we have not discussed the benefits of Amazon Quicksight that arise from it. These include:-
Speeding up all data calculations and operations
Parallel processing enables quick calculation of advanced equations and calculations
Quick fetching of data to ensure that all operations are performed as soon as possible
3. Increased Accessibility
A great feature of AWS QuickSight is that it is compatible with a large number of devices which makes it all the more convenient. It also has a dedicated mobile app that allows users to access all dashboards irrespective of their location. With QuickSight, users can also embed their dashboards into their own locations which prove to be quite handy. This also benefits businesses that use a central admin panel to control their operations and is one of the reasons why a lot of them are looking for QuickSight consulting services.
4. Learning Curve
Compared to other BI tools in the industry, QuickSight is the easiest to pick up due to its simple and intuitive interface. Since Amazon QuickSight works on a serverless architecture, it is quite easy to set up and users can start using it as soon as possible. Another great benefit is that users do not need to worry about maintaining QuickSight's servers, which adds to the overall benefits of Amazon QuickSight. The platform also has detailed documentation that outlines its different features and measures that help businesses get out of jams. If you do not have the time to read through the documentation and find solutions, we recommend you get in touch with a company offering AWS QuickSight and AWS Amplify development services.
5. Smart and Interactive Visualizations
Although QuickSight is new to the BI industry, it offers users access to numerous types of visualizations that they might need. Another great advantage is that AWS keeps working over the years to ensure users have access to new types of visualizations. One of the other benefits of Amazon QuickSight that has helped it rise to popularity is that all visualizations created using the tool are interactive. Amazon QuickSight's SPICE engine has an 'Auto Graph' feature that suggests users the best type of visualization for the entered datasets.
6. Data Alerts
It is next to impossible for businesses to track day-to-day actions and other important metrics while managing important business operations. This also means that it is not possible for you to log in to your dashboard all the time whether via a web application, mobile app, or your own app. This is where Amazon QuickSight's data alerts come in handy and notify users as soon as any particular threshold for KPIs is fulfilled. But, how does it bring about one of the top benefits of Amazon QuickSight that businesses are so fond of? Well, this is particularly useful if some important stock alerts drop or the number of orders your business receives is particularly low. So, these data alerts are particularly useful and help businesses continuously monitor their health.
7. Scalability
Since businesses from every domain can use Amazon QuickSight, it is important that it should be scalable. Well, QuickSight is scalable and allows businesses to cater to thousands of users who can work to access all data sources independently and simultaneously. Moreover, the real-time parallel usage of data sources ensures that the performance of the system is upheld.
8. Low Investment
Compared to all other BI tools available in the market, AWS QuickSight is available at a relatively cheaper price point. Amazon's QuickSight is billed at a pay-per-session method (the first time in the industry) which helps ensure that users do not need to pay a fixed license fee and are charged on the number of sessions they use.

Why Amazon QuickSight Instead of Tableau and Power BI?
We have looked at the numerous benefits of Amazon QuickSight, but the real question is why you should consider it over other BI tools. Some reasons why AWS QuickSight might be the best BI tool for your business are as follows:-
It works seamlessly with other AWS products meaning it is a great option for businesses utilizing AWS services.
Due to the affordable pricing plan, AWS QuickSight is a great option for businesses with a limited budget for BI
It is quite easy to set up which means that people can simply sign up and utilize it to make better business decisions
Conclusion
Although AWS QuickSight is new to the industry and is relatively new, it is quite powerful and can change the way businesses function. We hope the above article sheds light on the numerous benefits of Amazon QuickSight that can help you. Interested in taking a step towards making better business decisions by analyzing business data via Amazon QuickSight? Hire AWS QuickSight developers to set up your dashboards and get started with reaping the benefits of Amazon QuickSight for better business functioning.