Do you run out of cash before your next paycheck?
How do you manage your cash flow in such situations? With the help of cash advance apps like MoneyLion, it takes work to get some quick funds.
However, if you are a business and reading this blog to understand different payday advance apps to make a similar one for your business, you can straightaway reach out to the best mobile app development company in Dubai.
If you are a user and want to check new apps, keep reading further about the 10 best instant money apps to get funds. In this blog, we will cover alternatives to MoneyLion with a comparison with Payday loan apps.
Let's start with what is a cash advance app.
What is Instant Cash Advance App?
Applications known as "cash advance apps" enable users to deposit money made into a particular checking account well in advance of payday.
The majority of applications that are comparable to MoneyLion are totally free to use. However, some of the apps levy a small fee or charge. Yet hardly any of the applications impose any interest fees.
The use of these cash advance apps provides users with a great deal of convenience. Your payment for using the app will ultimately be repaid. These programs are a fantastic substitute for payday loan programs and expensive credit cards.
Additionally, there are mobile cash advance apps for a variety of platforms, including iOS, Android, and others. Customers can get and use the program. If you want to develop a fintech app, hire mobile app developers now.
A trending instant cash advance app today is MoneyLion. Let's learn about what is MoneyLion and how many other apps like MoneyLion are trending in the payday advance market.
What is MoneyLion?
A mobile app called the MoneyLion enables free instant cash payments up to a maximum of $250. One of the top apps for cash advances is this one.
When you are in an unusual work scenario, this application is more appropriate for you. The MoneyLion app can help you if you need money before your next paycheck comes.
Naturally, there are conditions that must be met in order for you to be eligible for the $250 cash payout. Following your subsequent deposit, you would be required to pay the amount back when the due date comes. This is one of the many methods that an app can generate income.
Requirements and Costs to Use the App
Every cash advance app, including MoneyLion, has criteria that must be met at a price. You must have a checking account with the characteristics listed below as a prerequisite.
Having an active account
The account is more than a few months old
The balance of the account is favorable and it has never been negative
The account receives a regular revenue deposit
You don't have to spend anything for the MoneyLion Core account in terms of price. Users are required to pay a monthly charge of $19.99 for the"Plus" package. The plus version is not necessary if you decide to use the cash advance function.
Similar to other payday loan applications, MoneyLion operates on mobile devices and is ideal for payments up to$250.
What are the other apps similar to MoneyLion? Let's count each of them.
Best 10 Cash Advance Apps Like MoneyLion
Maintaining your financial health is difficult because there are so many financial topics that, if not handled seriously, can disturb your comfort.
Many advise accepting loans or investing a portion of your major funds to keep your finances strong and flowing. Additionally, a novel way to put an end to financial concerns is to stop them from using mobile applications for loans.
I've listed the best 10 apps like MoneyLion alternatives below, each of which is briefly explained.
| | | | |
| --- | --- | --- | --- |
| App | Features | Benefits | Instant Money |
| Brigit | Instant cash advance up to $250- No interest or fees | Helps avoid overdraft fees- Get alerts for upcoming bills | Up to $250 |
| Chime | SpotMe feature for overdrafts up to $200- No fees | Early access to direct deposits- No hidden fees | Up to $200 |
| Dave | Advances up to $200- Budgeting tools | No credit check required- Fee-free banking | Up to $200 |
| Affirm | Personal loans up to $50,000 | Fixed repayment terms- No late fees or prepayment penalties | Up to $50000 |
| AfterPay | Buy now, pay later service | No interest fees- Easy payment plan | Varies by retailer |
| Klover | Instant cash advance up to $250- Early paycheck access | No interest or fees- Helps avoid overdraft fees | Up to $250 |
| Rufilo | Advances up to $2,500- No credit check | No fees- Quick approval process | Up to $2500 |
| Pocketly | Personal loans up to $3,000- Flexible repayment options | No prepayment penalties- Competitive interest rates | Up to $3000 |
| CASHe | Personal loans up to $10,000 | No collateral or guarantor required-Quick disbursal of funds | Up to $10000 |
| FLexWage | Early paycheck access | No fees<br>- Helps avoid payday loans and overdraft fees | Varies by employer |
You may like this: Personal Finance App Development
1.Brigit
Like Moneylion, Brigit is a well-known app that lets users borrow money while building their credit. It offers users simple financial solutions like immediate cash up to $250 with no credit check necessary and no interest. However, it provides more worthwhile services, including credit building, expert insight into expenditure, and others.
2.Chime
One of the top financial technology firms, Chime is well known for offering free mobile banking services through its website and mobile apps. The business wants to help individuals with all things related to banking. It offers a $200 fee-free overdraft with an early payment option.
3. Dave
Dave works in finance for people, giving them the quickest cash advance for today and the future. More than 5 million users of apps like Dave have created an improved financial future thanks to the financing services it offers through mobile applications.
4. Affirm
It's not your typical finance program, Affirm. This app offers a fantastic and unique method to buy the things you want without using up all of your money or savings. Users who use Affirm can buy goods without worrying about late fees, fines, or other hidden costs. Additionally, the program is user-friendly for beginners.
5. AfterPay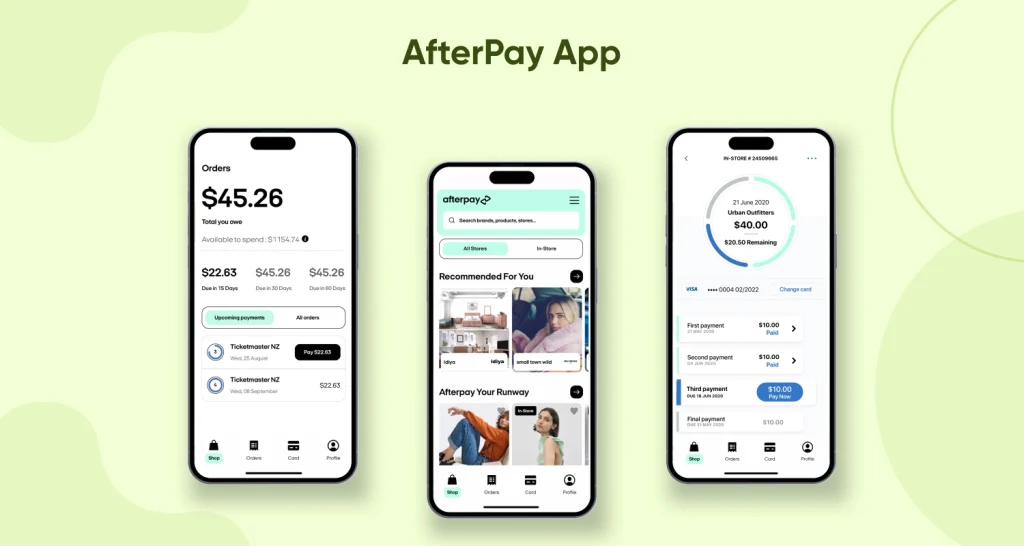 The name of the program, AfterPay, gives away what it does. Like MoneyLion, this app enables users to make a purchase and pay for it afterward. After making the first payment, you can make the remaining four payments in equal amounts while still receiving the dispatch.
The application also comes with some of the most incredible features. You won't need to worry about increasing mortgage rates or doing other things to make ends meet as a result. Additionally, it is simple to pay the outstanding installments.
6.Klover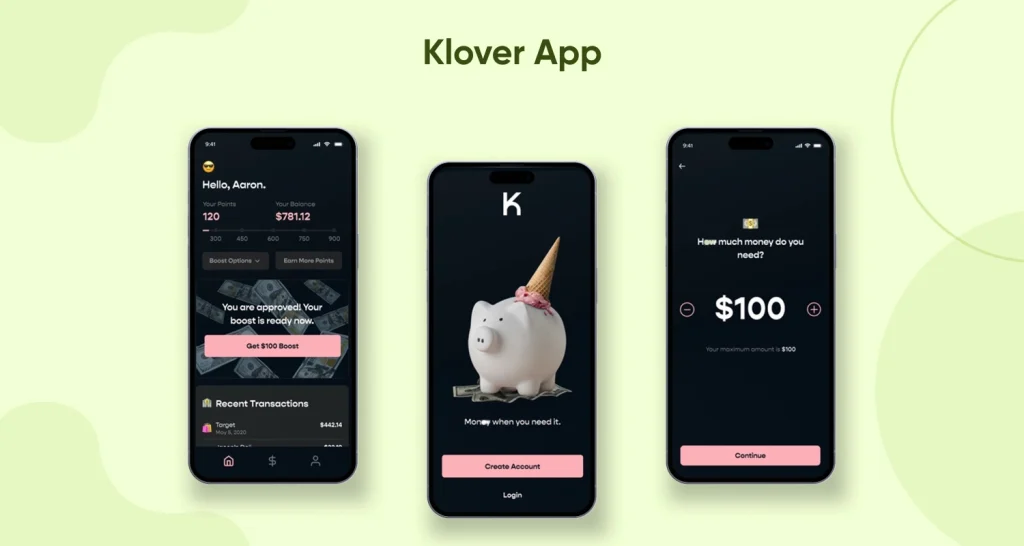 Klover is another software on the list that is similar to MoneyLion. Users of this mobile software can quickly receive up to $250 in advance. The app works by giving you tasks that earn you points, like responding to a few queries.
7. Rufilo
Rufilo is an RGI-registered NBFC that offers Instant Credit Lines and is controlled by Indians. You can use the program to receive a $2500 instant cash deposit to your bank account. The procedure, however, adheres to rigorous process compliance.
8. Pocketly
Specifically designed for young people in India, Pocketly offers safe and fast personal loans with a 2-click sign-up, minimal KYC, and benefits for on-time repayment. You can use the program interface to access Pocketly's cash advance service.
9. CASHe
CASHe is a personal loan app that provides instant cash loans ranging from $100 to $10,000 without requiring any collateral or guarantor. The app uses a proprietary algorithm to evaluate the creditworthiness of the user, and if approved, the loan amount is disbursed quickly within a few minutes. The loan repayment period varies from 15 days to 6 months, and the interest rates are competitive. CASHe is particularly useful for individuals who need quick cash for emergencies, medical bills, travel, or to meet other unexpected expenses.
10. FlexWage
When it comes to paychecks and the hassles associated with managing them, FlexWage is an app that offers consolation and relief for both employers and workers. Employees can obtain their paychecks whenever they need to thanks to FlexWage. Additionally, it offers reloadable paychecks.
How Do Cash Apps Work?
Applications for cash advances function in a manner that allows users and borrowers to receive advance payments of money they have earned but haven't yet received. If you need some additional cash to support these apps, they are very helpful. Users can receive between $100 and $500 depending on their qualifications after providing all the necessary information.
Many users favor these applications over other apps due to their usability and the worth they provide. As a business, if you are keen to develop an app, learn more about financial app development services. This will give you a better idea of how the apps work.
Why MoneyLion App is a Better Alternative to Payday Loan Apps
When it comes to instant cash advance apps like MoneyLion, there are many options available, including payday loan apps. While both types of apps provide quick access to funds, there are significant differences between them that make MoneyLion a better choice for users.
Payday loan apps typically offer small, short-term loans with high-interest rates and fees. These loans are often used by individuals who are in urgent need of cash but have poor credit or no credit history. However, the interest rates on payday loans can be as high as 400%, which can trap users in a cycle of debt.
On the other hand, the MoneyLion app offers users an innovative solution to traditional payday loans. The app provides access to small cash advances up to $250 without any interest or fees. The app also offers other features, such as financial planning tools, credit score monitoring, and a rewards program that encourages users to save money and improve their financial well-being.
Furthermore, the MoneyLion app is an example of the growing trend of fintech app development, where technology is being used to provide users with innovative and cost-effective financial solutions. Fintech app development has made it easier for individuals to access financial services, such as loans, investments, and banking services, without the need for traditional brick-and-mortar institutions.
In conclusion, while payday loan apps may provide quick cash, the high-interest rates and fees make them a less favorable choice compared to the MoneyLion app.

5 Key Features to Look for in a Cash Advance App like MoneyLion
Cash advance options: The app should offer cash advance options with quick and easy approval processes to provide users with the funds they need in a timely manner.
Low or no interest rates: Look for an app that offers low or no interest rates on cash advances to avoid getting trapped in a cycle of debt.
Additional financial tools: The app should offer additional financial tools, such as budgeting tools, savings plans, and credit monitoring, to help users improve their overall financial well-being.
Rewards program: A rewards program can incentivize users to save money and achieve their financial goals by offering cashback or other rewards for certain financial behaviors.
User-friendly interface: The app should have a user-friendly interface that makes it easy to navigate and access all of the app's features and functionalities. This can include features such as mobile check deposit, bill pay, and account alerts.
You may like this: Best Fintech App Ideas for Fintech Companies
Get Your Instant Cash Advance App Now
You can use the 10 applications listed in the above blog to lessen your financial burdens and spend prudently on the things that are most important. There are numerous other programs that can assist you in getting what you need. Alternatively, you can work with a seasoned app development firm to create your own mobile application. Simply choose a niche, polish your concept, and begin creating an app.
Frequently Asked Questions
Some of the best alternative apps like Moneylion and Dave include Brigit, Chime, and Pocketly, which offer similar features like cash advances, budgeting tools, and credit monitoring.

MoneyLion makes money through a combination of lending, investing, and subscription-based revenue streams. The app earns interest on loans, charges fees for certain services, and generates revenue from its investment portfolio.

The cost of developing a personal finance app like MoneyLion can vary depending on factors such as the complexity of the app, the features and functionalities included, and the development team's hourly rates. However, a rough estimate would be around $30000 to $65000 for a basic app and up to $70000 or more for a more complex app with advanced features.