Gamification refers to a user-centric development approach for digital solutions and applications that play a great role in boosting engagement and traffic. You must have encountered a gamification number of times with apps of all types. Don't you remember winning those trophies and entering those elite clubs while learning a new language or a skill through an app? Yes, those represent some instances of gamification.
In this post, we are going to provide our readers with a comprehensive guide about gamification, starting from the key advantages, how it works, and the most prominent examples of gamification. If you are a mobile app development company or just an aspiring developer, you cannot stay aloof from the emerging app UX element called gamification.
The Key Reasons Why One Needs Gamification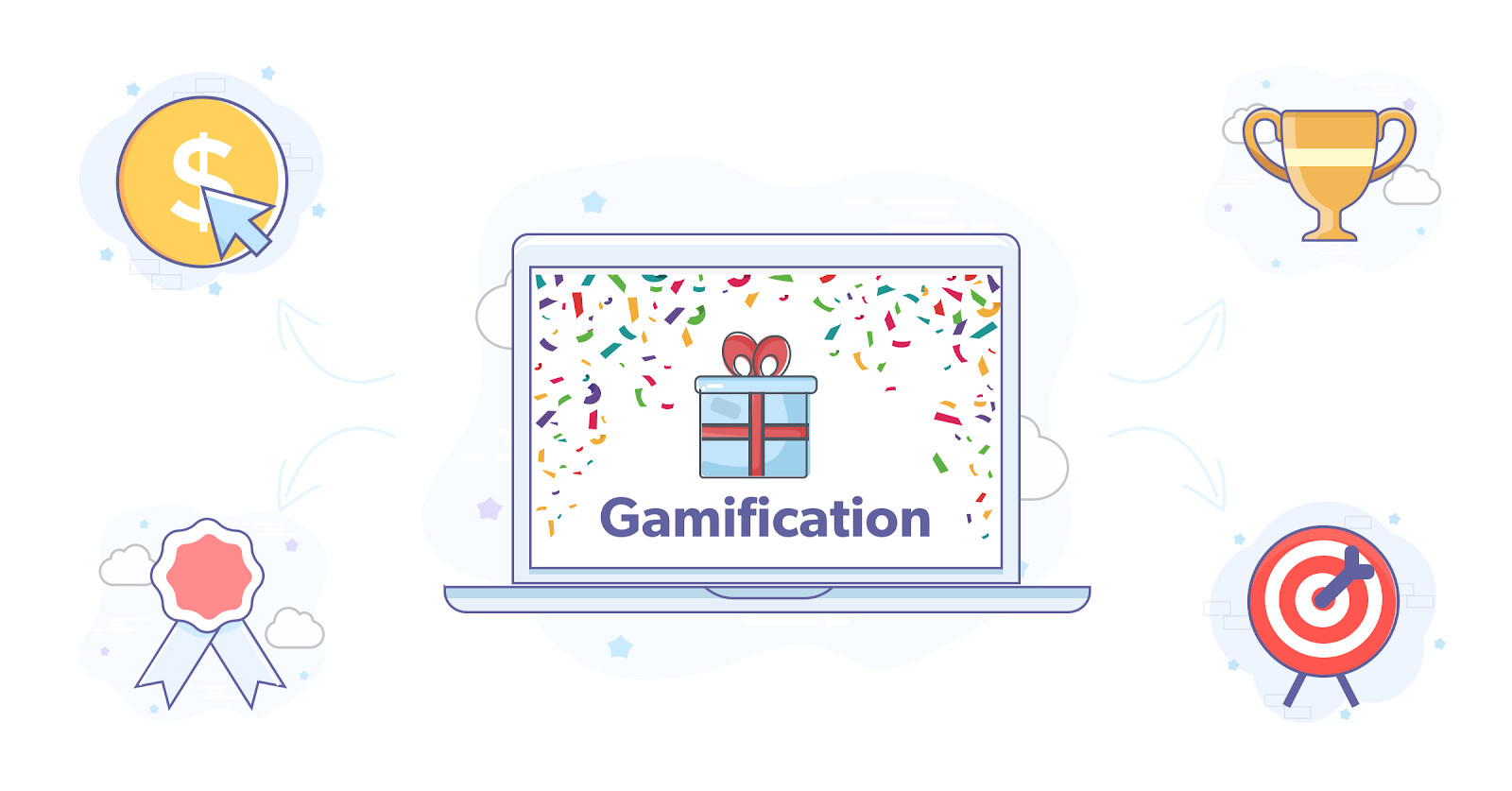 In more than one way gamification helps increase user retention, engagement, and business conversion in a steady and streamlined manner. Before we explain how it works and provide some examples, let's start with the key benefits of gamification or the important reasons to consider using gamification.
We have a natural player in every one of us. Yes, human beings like to play, compete, and win. This competitiveness alone makes men and women pursue different skills whether in sports, business, or other facets of life. With gamification elements, you just ignite this competitive spirit in people. Naturally, people feel more engaged in apps offering these elements that create a sense of competition.
Games are the most addictive among all the entertainment options just because people like to win and after several defeats, they still return to play only to win and get satisfied. This winning satisfaction and the creation of zeal to win is the key to gamification in any app. This is what makes people addicted to the app user experience and makes them return to the app time and again.
Gamification ultimately makes users stick to the app longer in each session creating more scopes of business conversion than usual. Thanks to gamification, users can opt for more options and eventually can end up making more in-app purchases. This is why apps that depend heavily on in-app purchases for business conversion, find gamification really helpful.
Lastly, when it comes to completing certain tasks or making some moves, it is often hard to convince users. But thanks to gamification, users are often caught in the glare of winning a score or a competition and so completes the desired task. On the other hand, such competitive game-like scenarios often help users to feel like part of a community with several fellow users making the ranks.
Apart from all the advantages that we mentioned above from the user point of view, gamification ends up giving an app a lot of marketing advantages. From enhanced visibility to better search engine ranks to bigger social media shares, gamification helps bring a lot of market focus to your app as well. Let's have a brief and quick look at these marketing benefits.
Most positive user reviews
Higher and often leading search engine ranks
Great social shares and scope for going viral
Increasing new user audience
Enhanced user engagement and session times
Optimum user satisfaction
Better business conversion
How To Apply Gamification? Key aspects to know.
Let us be clear about one thing. Gamification in spite of being a user experience element is actually a marketing technique to engage users and make users do what you want them to do. The benefits are double-edged. On the one hand, you can easily control user actions and on the other hand, you can make users happy and spread the words about your app to increase new user acquisition.
Now let us explain all those things through which gamification works.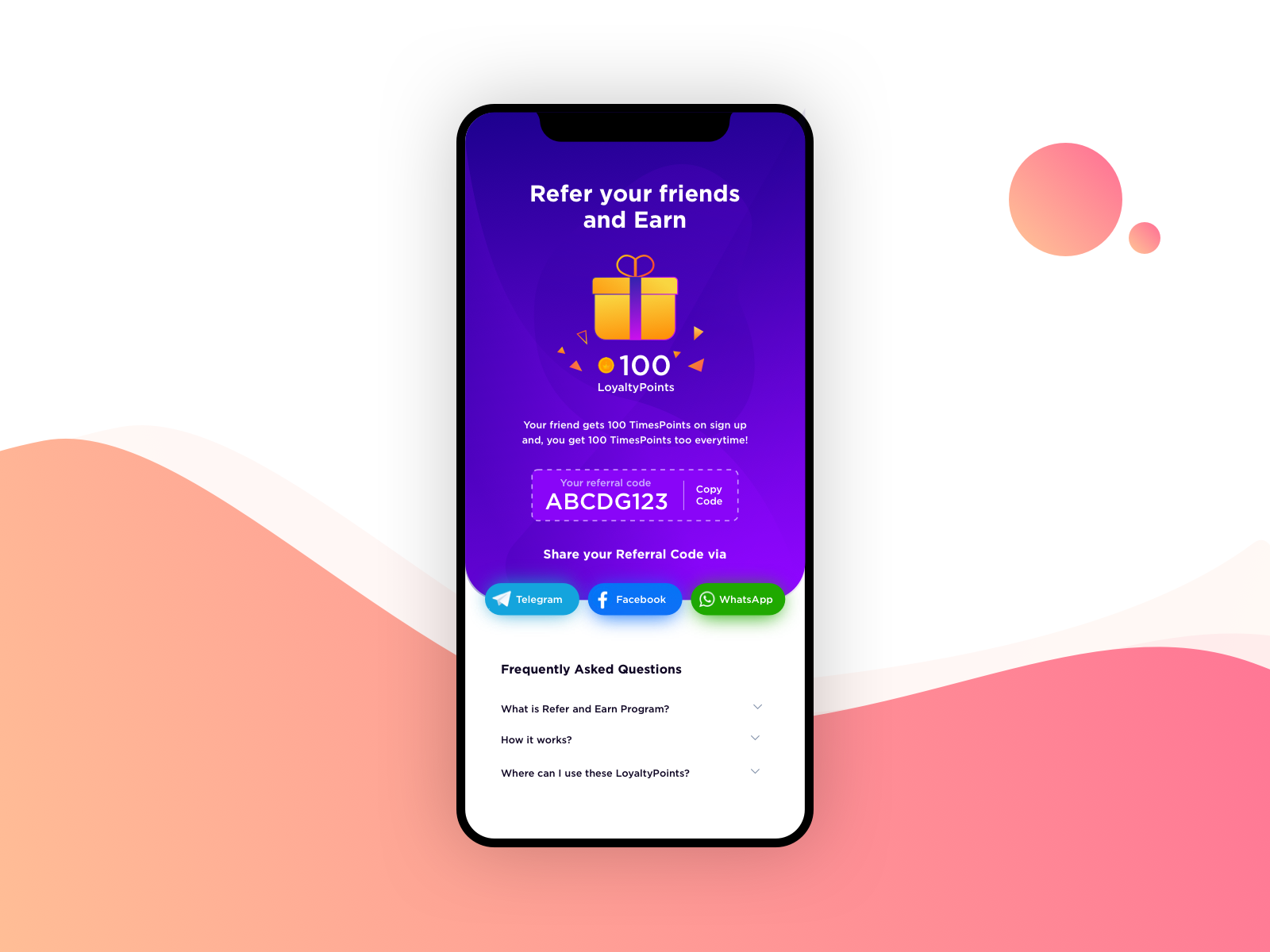 Rewards are the commonest type of gamification elements which is given for a wide number of user activities including frequent uses, meeting some in-app user goals, purchasing something, sharing social media posts, etc. The rewards can be of different types and denominations. Here we explain a few of them.
App coins or other in-app currencies that can be utilized for various in-app activities and purchases.
Cash rewards
Exchange of digital and real goods
Any digital award that makes users happy and returns to the app further.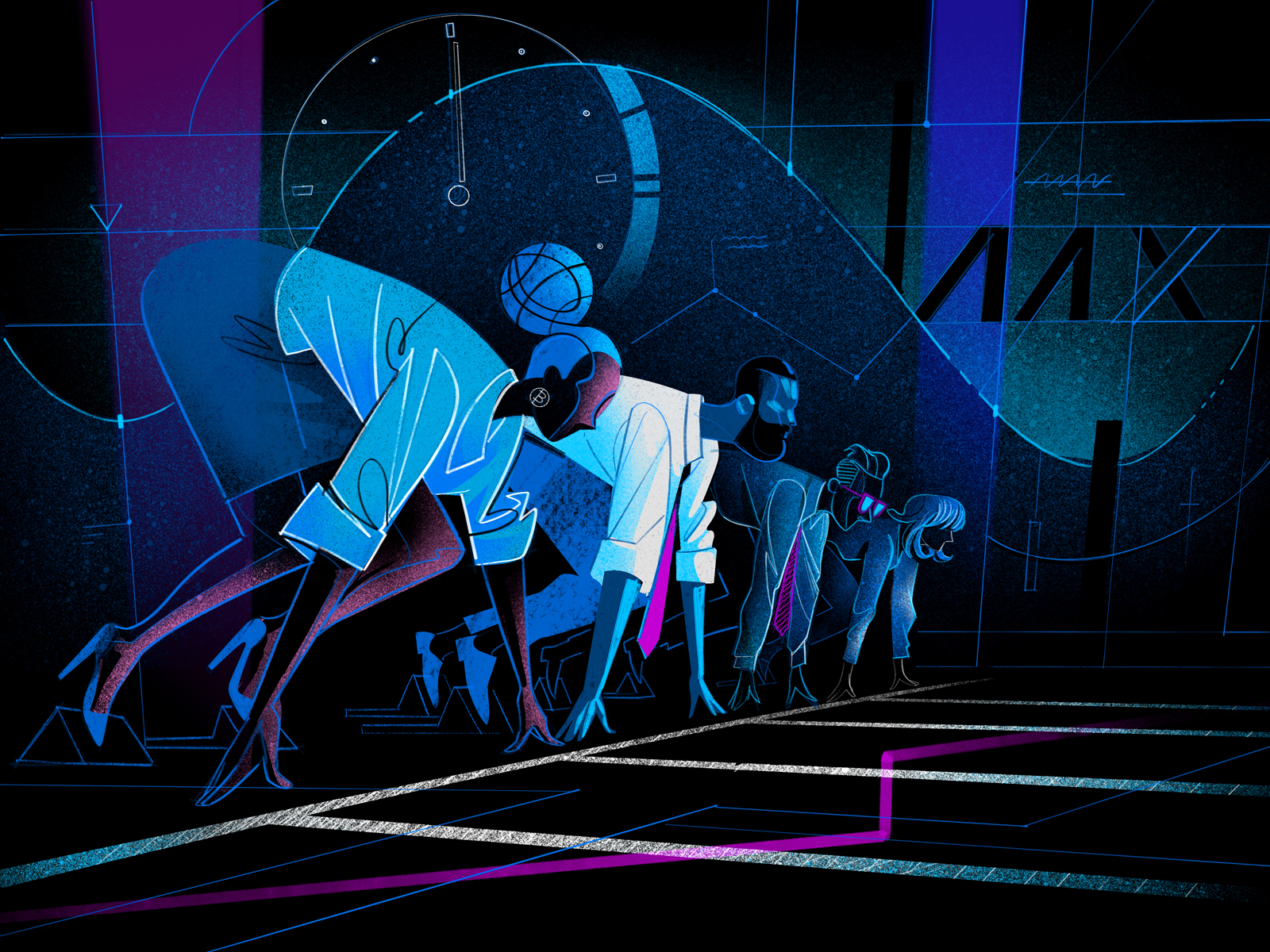 Another common gamification technique is to make users feel competitive so that they grope to become the best and engage more with the app. This creates a win-win situation where the app can easily engage users and make them do the desired thing while the users feel happy and content with a sense of competition. Particularly, for the e-learning app, such a technique allows users to learn fast besides offering other advantages.

Everyone winning a competition expects recognition. Everyone making progress from one stage to another wants to know the entire path of the journey ahead and the road they already crossed and the milestones achieved. When such recognition and display are provided, those users are unlikely to leave your app.
Moreover, these days thanks to social media we want to share all our achievements with our near, dear, and social audience. This is why achieving the best score or completing a schedule can easily be recognized by allowing the users to share such information on social media.
Just when a user found it to be funny to make progress while getting rewards and recognition by winning in-app challenges, he may feel tempted to invite his friends and other acquaintances to the app for a duel or a challenge. This is how gamification helps in bring new users onboard.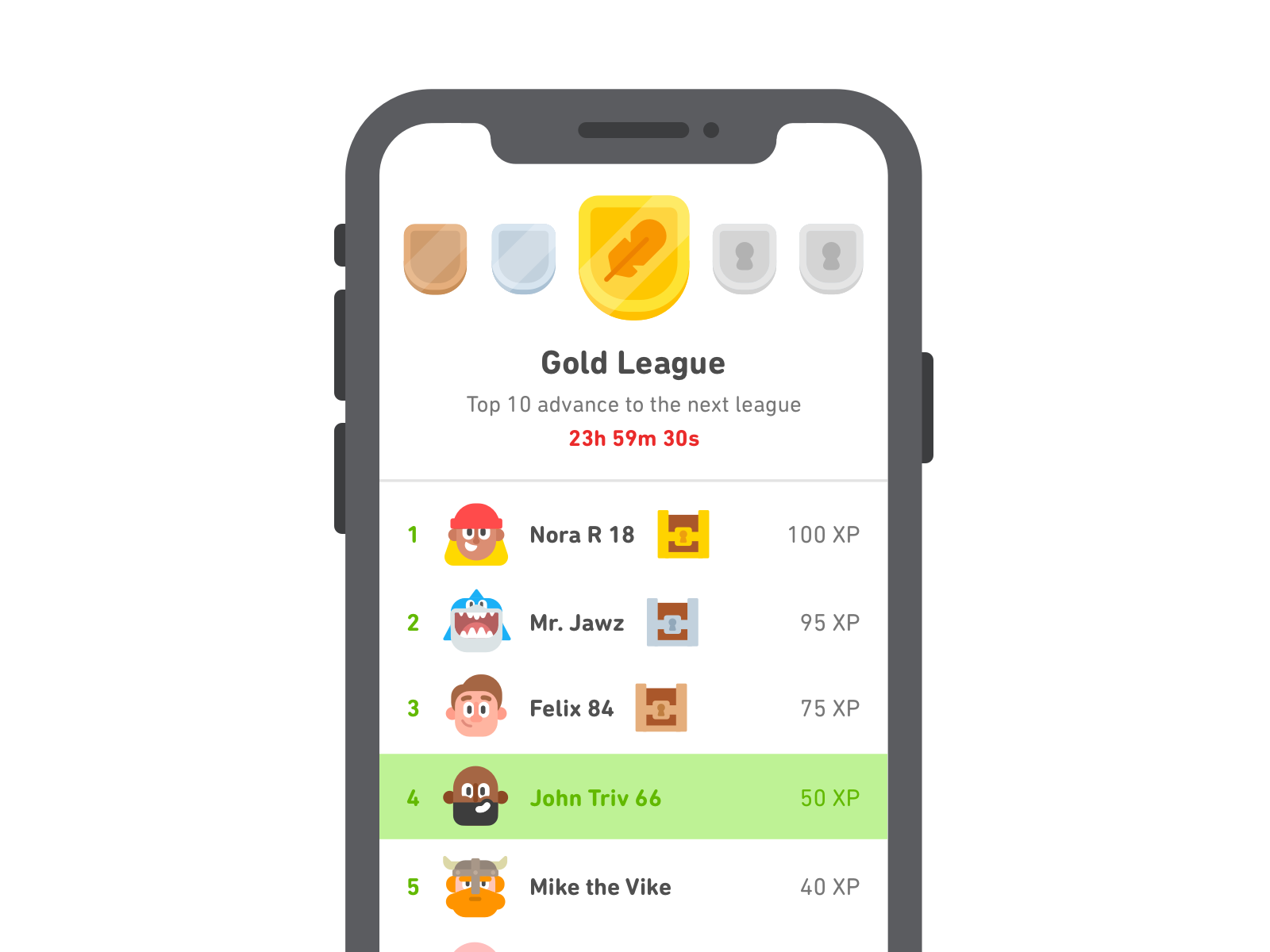 Not all people can be the toppers in any competition but everyone can see his comparative ranks and the fourth contender in a list of two still can be very happy. This is why leaderboards in a number of apps work so well by engaging users round the clock.
Great Examples of Gamification In Apps
Gamification has already been used by top industry leaders across the brands for their digital apps and platforms. Here we have picked a handful of such examples for gamification in apps.
E-Learning Industry – Duolingo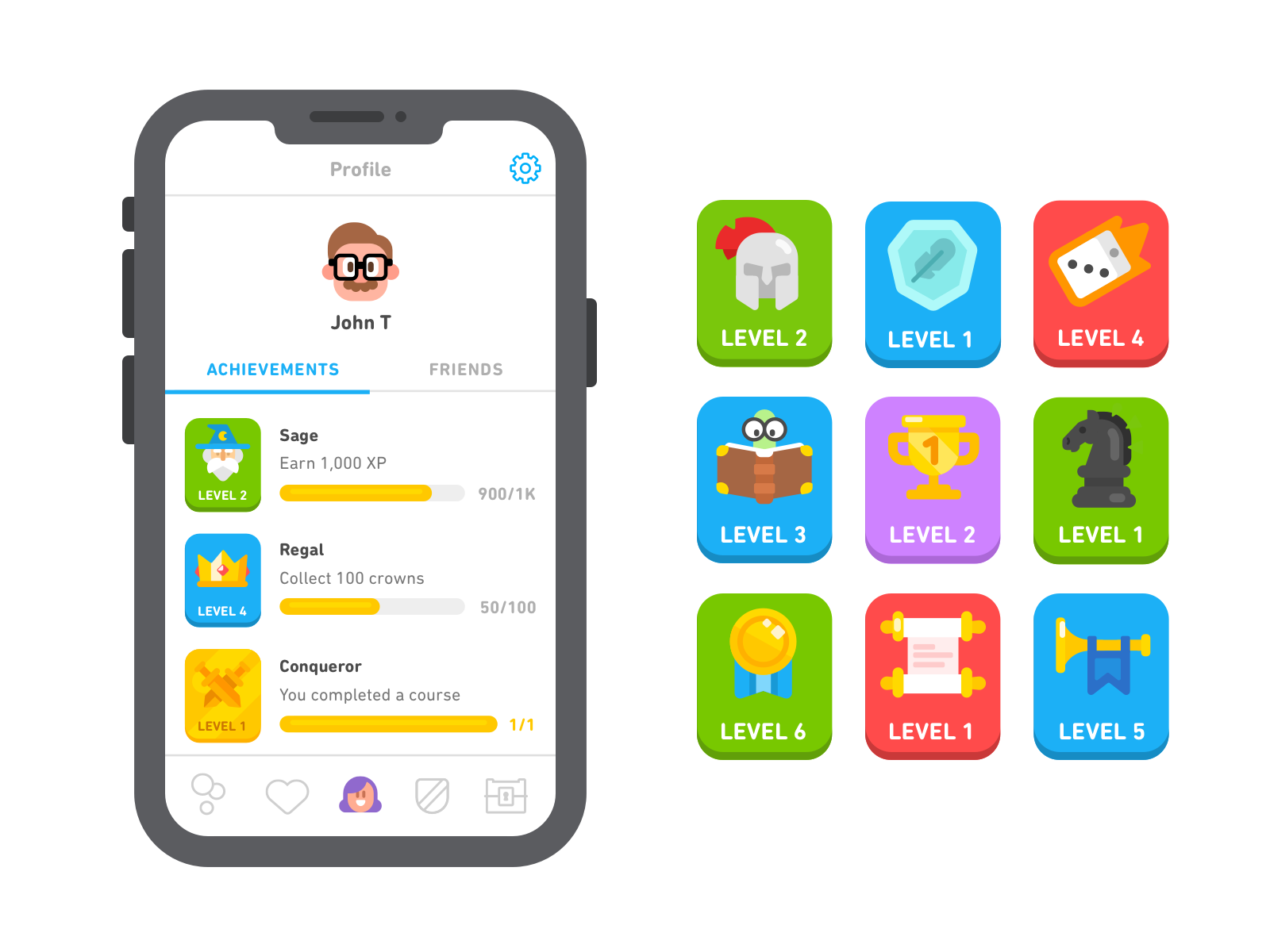 Across the online learning platforms and e-learning mobile apps, gamification is very popular for engaging the users and retaining them with the app. We can take the example of the leading language learning app Duolingo
Here are the key gamification features that have been used in Duolingo.
An internal currency called lingots earned by the users by completing learning tasks can further be spent on buying advanced learning modules.
The app allows inviting and collaborating with social media platforms.
There is a competitive feature that allows users to choose the best user-made translation.
Badges are given by Duolingo against acquiring new skills, completing courseware, etc.
Duolingo also offers rewards in points and a scoreboard.
Productivity – Todoist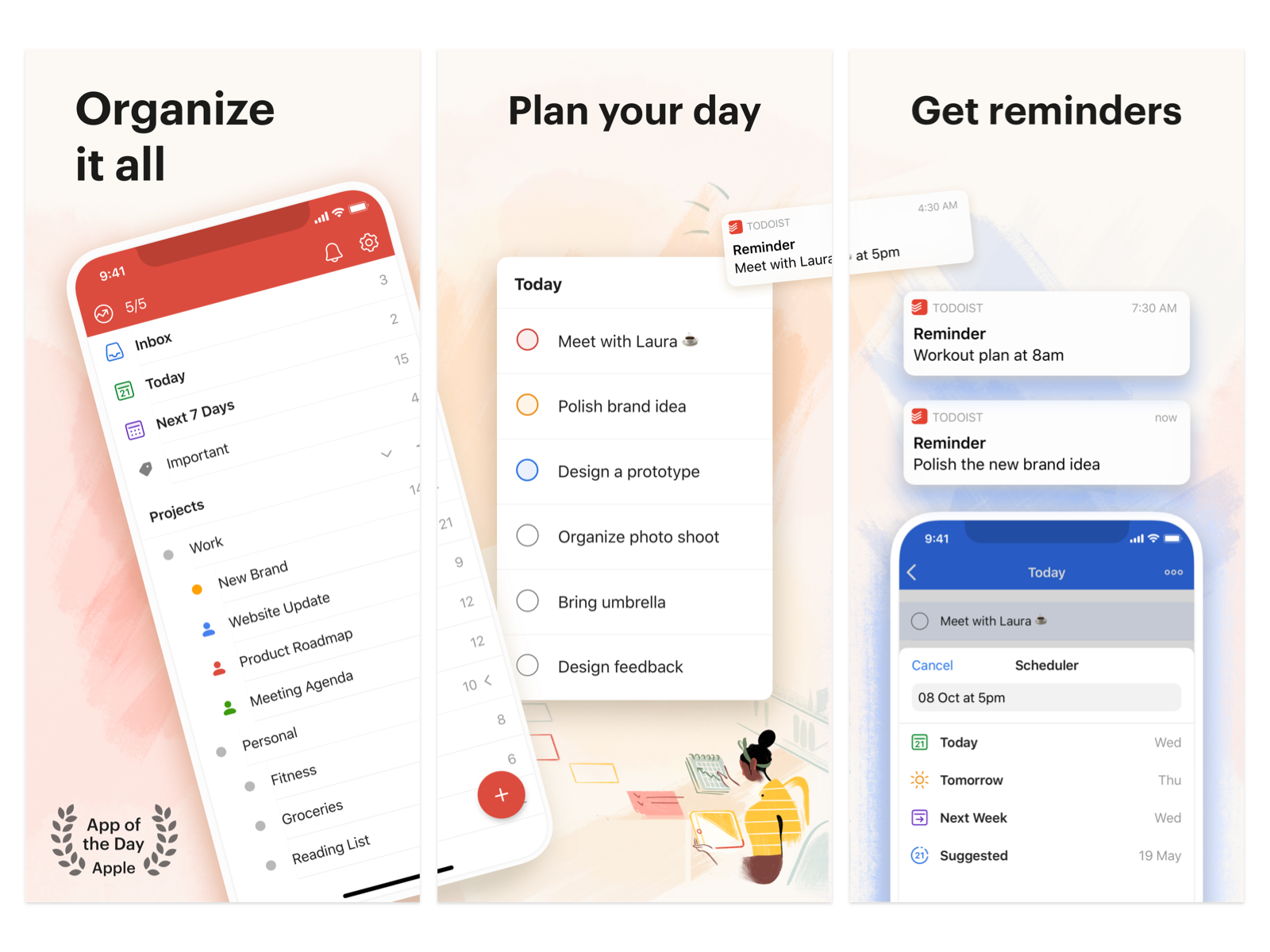 In the productivity category of apps, gamification works best to motivate users and boost performance through game-like rewards and recognitions. We have chosen Todoist as the best productivity app with gamification elements. Here are the key gamification features used by Todoist.
Todoist offers a solid point-based reward system allowing to give rewards to users against each finished task. The users are also given negative points in case of missing deadlines.
There are multiple levels and each level is unlocked against certain points.
The users are allowed to share their scores on social media and spread the words.
Healthcare – MySugr
This is a popular healthcare app for diabetes patients and it uses gamification to motivate people to take steps to defeat the monster called Diabetes. The lifestyle measures like measuring calorie intake and watching eating habits and making exercises, all these can be managed with a game like point-based interface. The patients can easily go after targets, track progress wins in-app rewards, and stay motivated and watchful to curb diabetes through lifestyle measures.
Conclusion
Gamification is a key lament that will continue to play a key role in in-app marketing and monetization strategies across the niches. As the number of apps across all niches are steadily increasing, gamification emerged as the most crucial element to help apps gain more user engagement and traction. If you are going to make your first business app and want to use gamification to your advantage, just engage with any of the experienced startup consulting services and get a deeper and fuller idea about how you can incorporate gamification in your apps.