In this digital age, companies and individuals are increasingly utilizing web applications. Web apps power a lot of businesses today. The popularity of web apps has spread over multiple industries within the last few years. Witnessing Web Application Examples like Twitter gives promising prospects for web apps in the market. A web application can certainly boost your business' growth. According to statista, the population of web developers is all set to cross 27 million by 2024.
With the support of Google, a high-performance web application is available for a low price regardless of the device. Whether it's marketing or customer service tools, they assist companies in completing their work more quickly and efficiently.
This blog unleashes the power of web applications and showcases some popular Web Application Examples that help businesses and users in their day-to-day life. However, you can take these web application examples as your inspiration to develop one for your business and take your business to another level.
What Is a Web Application?
Web application' refers to any application accessed through a web browser. A stable internet connection is a must to access web apps. Moreover, they can run on any device, such as an internet-enabled desktop computer, a laptop, a mobile phone, or a tablet.
A web app should be responsive, allowing them to adapt to any device and interact. The cost of developing web apps is lower, and the development time is shorter than that of mobile apps. Web apps continue to gain popularity because anyone can access them using an internet connection and they offer a lot of functionality.
How do web applications work?
Typical workflow for web applications is as follows:
Users contact a web server over the internet using a web browser
Web servers forward request to web application servers.
Web application servers process data requests and deliver the appropriate results.
When the client asks for information, the web server responds and displays it.
Web apps are usually written in JavaScript or HTML. As a result, these languages are browser-dependent, i.e., they depend on web browsers to execute the application. Client-side requests require web and application servers. Furthermore, a database may be necessary for storing the information.
To develop apps for web browsers, software development kits are often used instead of templates.
4 Types of Web Apps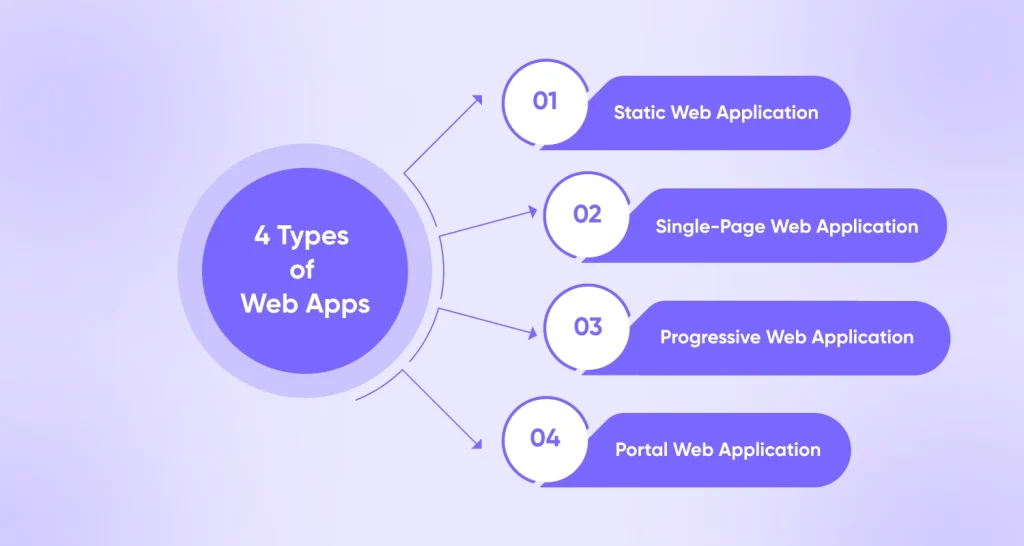 Countless types of web applications available in the market cater to the needs of web development for companies.
Understanding the different types of web applications is essential before you begin to build a web application.
Here's your chance to dive into the exciting world of web apps!
Static Web Application
A static web application is the most straightforward web application available online. A static web application displays important information using HTML, CSS, and JavaScript. A personalization option is usually unavailable with these apps, and the change is usually visible once the page has fully loaded.
If you want to develop scalable web apps on Angular, choose an experienced and professional web development company. They have the capability and resources to offer Angular development services that define your brand and keep customers satisfied.
Single-Page Web Application
A single-page web application contains all of the data on a single web page, making it a crucial type of web app.
As a result, users interact with one page simultaneously with the rest of the website. They are also known as SPAs (Single Page Applications).
In contrast to traditional web applications, they are faster and more reliable since they operate directly on the browser instead of on a server.
Progressive Web Application
Progressive web applications refer to cross-platform web applications that use the latest browser APIs and capabilities to offer a similar experience to a native mobile application.
HTML, CSS, and JavaScript are the technologies used in progressive web applications.
A progressive web application is essential for your business because it makes web applications more flexible and faster.
Portal Web Application
Portal websites provide access to a wide range of links and pages. A portal web application is often used for shopping sites, news websites, blogs, and search engines.
Portal web applications are intended to provide users with the convenience of browsing content without leaving the website. A portal is the best option for businesses and organizations seeking a tailored interface for their audiences.

7 Popular Examples of Web Apps
Many different categories of web applications assist with different tasks. Web apps that are successful range from Gmail to Facebook to Netflix. Here are a few examples of web apps that have proven to be successful.
1. Netflix

As one of the leading video streaming platforms, Netflix operates as a subscription-based web service. With over 200 million paid members, it's everywhere. It's a website where you can watch movies and TV shows online.
Netflix has revolutionized the streaming industry. It works on different devices and operating systems like other web apps. You can also access Netflix through a mobile application. Web apps are an excellent example of how content should be created.
If you prefer Laravel for web app development over another framework, it is highly recommended to turn to Laravel Development Services and get scalable web apps for your business
Key Features of Netflix Web App
The "Discover More" feature assists viewers in finding similar shows or series to what they have previously watched.
With its kids-focused features, you can discover appropriate movies for your children.
Using Netflix's Trending list, you can stream popular films and shows.
2. Facebook

Being both a social network and a social networking platform, Facebook is one of the best web-based application examples. Any internet-connected device can access it, including a mobile browser, a mobile app, or a web browser.
With Facebook, users across the globe can connect with individuals from a wide range of ethnicities, backgrounds, and social classes. Users can message others or send virtual gifts by creating an online profile.
Facebook is amazing for giving users engaging and unique experiences.
Key Features of Facebook Web Apps
With Messenger bots, you can chat with your subscribers.
Utilize the Group feature to build communities around your products.
Whenever there's a new friend suggestion on Facebook, you get notifications about it.
It allows you to cross-promote your live streams across multiple pages.
You do not have to worry about copyright infringement with royalty-free music when using music in videos or posts.
3. Canva

Canva is an excellent addition in the web apps examples designed primarily to create visual content.
This tool allows users to design visually appealing graphics using a simple, intuitive, and easy-to-use interface. Founded in 2012, its impressive features made it a popular app.
A well-known tool, Canva, enables you to create a broad range of graphic designs, text, and background images that can be used on social media sites.
The program allows you to create attractive graphics within a few seconds. Using a single device, it is now possible for users to instantly create graphics and share them on social media.
Key Features
This web app has various templates and designs to help you create visually appealing graphics.
You can save the data of your recent projects.
Canva's home feature allows you to navigate various design categories and recent projects.
4. Instagram

Instagram is the find of the day and the perfect web application examples for beginners. Globally, it is highly popular and used by millions of people.
Probably the best-known app in the world, Instagram has evolved from its initial purpose to more than just photos and is now able to offer users a wide range of video and audio features, as well as stories and so much more.
It is a social networking app where users share what's going on in their lives publicly or privately, depending on what they choose to share.
Features of Instagram Web Apps
Instagram offers you the reels feature where you can stream popular reels.
Its message feature lets you chat, share posts, and reels with friends.
Instagram notification feature keeps you updated with all the activities like following, liking, and commenting on posts.
5.GMAIL

Around the globe, Gmail is one of the most popular and used email services, which can be accessed from any computer. As it has evolved extensively over the decade, it has come a long way from its inception.
A web application like Gmail is a great example of a web app because it can perform much more than just displaying the contents of individual emails.
This is not just a web application, it is a professional web hub for business owners to maintain seamless communication with customers and clients. With Gmail, you can customize your inbox through labeling, filtering, deleting, etc.
Key Features
Writing emails has been faster than ever.
Gmail comes with a feature of offline access that allows you to use Gmail offline.
It comes with a undo feature that allows you to unsend or undo emails within 5 to 30 seconds.
With Gmail, you have a scheduled send feature that allows you to send emails at your convenience.
6. Microsoft Office 365

Office 365 is a web app allowing businesses to adopt enterprise solutions. OneNote, Access, Publisher, and Outlook are the most commonly used Microsoft Office applications.
The Microsoft Office 365 suite includes SharePoint, Exchange Server, OneDrive, Power BI, and Microsoft Teams.
Key Features
Excellent email facilities
It presents Mobile and web accessibility
Ideal for teams letting them complete complex tasks easily.
Its OneDrive integration lets you securely store 1TB of data.
7. Google Drive

The next best example of web app development is Google Drive. This service provides cloud-based storage for free. All mobile devices, desktops, and tablets can sync documents, photos, and more with this service.
The majority of Google Drive's functionality is accessed through its web application. Google Drive offers Android and iOS mobile applications allowing users to store, share, and view files.
Key Features of Google Drive
Easy collaboration with the team
Quick access to drag-and-drop uploads
View any files, including PDF files, videos, and various image files
It has an inbuilt feature of advanced search
Advantages of Web Apps
Web Application development comes with a long list of benefits giving business owners affordability and convenience at the same time. Here we have listed down some crucial advantages of investing in web apps.
1. Effortless and cost-effective
The cost-effectiveness of web applications is one of their biggest advantages. The web development services required to complete this are significantly less expensive than those required for other types of web development.
2. Up-to-date at all times
It is unnecessary to update these applications frequently, as with most common applications. Updates are made to the website/URL whose link is directly connected to the application.
3. Does not require downloading.
You don't have to download and install web app from Google Play or Apple's App Store. Since you can immediately link to the website through an internet application at no cost, this results in significant financial savings.
How Do You Know When It's Time to Build a Web Application?
First, you need to know what type of service your business needs. Depending on your online presence and format, a web app, a mobile app, or both may be the best option for your business.
The following situations may warrant the use of web apps:
Regardless of the device or operating system, your business application should run on multiple platforms.
This eliminates compatibility issues among all your users.
Unlike an installed program, your web app does not occupy space on your computer's hard drive.
If you are developing subscription-based web applications, you want to reduce software piracy.
It's suitable for businesses and users to reduce costs. The business has to support and maintain web apps less, and the end users must spend less on their gadgets.
Conclusion
Seeing the success story of these successful and popular web apps in the industry, you can determine the development needs for your business. However, Web Apps are the perfect and cost-effective solutions for those who have tight budgets to develop mobile apps.
To develop top of the line Web Apps, collaborating with a Web App development company has always been a great choice.  With web apps, you can spread the word about your business and keep your customers engaged with your product and services.
If developing a web app rules your business mind, Hire Web Developers to develop a feature-rich and top-notch app for your business.
Frequently Asked Questions
High-end technologies are the reason behind the success of web apps. From HTTP, CSS, and Web development frameworks like VueJs, ReactJS, and more to Programming languages such as PHP, .NET, and more are some crucial technologies used in web app development.

There is no specific industry where web apps can't
be used. They are ideal for multiple sectors, from Healthcare, Real Estate, and Education to Entertainment (music, streaming apps).

There are several popular and successful web apps in the industry. Here we enlist some of the top picks for web app examples:

Twitter
Uber
Netflix
Google Docs
Gmail