Digitization has taken industry by storm and the finance sector is also not behind. Banking applications have come a lot further, resulting in the evolution of several mobile banking trends. With numerous banking apps available, how do you ensure you develop the industry's best app?
To help you out, we have listed down the top mobile banking trends of 2023 in the article below. It is a tremendous opportunity to help you examine the current trends in the banking industry and develop an app that fulfills your user needs. So, what are you waiting for? Jump right into it and get to know about the industry's top and relevant mobile banking trends.
Mobile Banking Statistics You Must Know In 2023
Before we jump right into the different mobile banking trends in 2023, we must discuss mobile banking statistics. This will help you better understand why more and more companies are mindful of the latest trends in banking and want to follow banking app design trends.
With the progress in digital transformation, most of us check our finances, and transaction histories, and transfer money online. Going to the ATM to check our account balance is inconvenient now, which is why more and more people are reaching for banking apps.
These apps are not only accessible but also help users manage their finances and take financial decisions from the comfort of their homes. Insider Intelligence conducted the Mobile Banking Competitive Edge study, which found that 89% of the persons interviewed use mobile banking applications and services.
According to another report, the pandemic influence resulted in a 26% increase in mobile banking, while payment applications saw an increase of 46%. This transition was found by comparing the data generated and collected in 2019 and 2020. Moreover, the discovered convenience of banking applications during this period has conditioned users to the same.
Statista reports that the mobile app market revenue is estimated to reach USD 542.80 billion before 2026. These reports are further evidence that mobile banking technology has revolutionized the finance industry. This is why we believe it is a good time to invest in mobile app development services to build an app and take advantage of the market's growth potential.
Mobile Banking App – Functionality And Types
Before we jump into talking about 2023's top mobile banking trends, let us look at what a mobile banking app is all about and the different types of mobile banking apps available in the market.
Mobile banking apps are applications that let users manage their finances and perform limited banking operations from their smartphones. To keep your data secure, the app comes with login functionalities and is protected by several security measures in place.
The different types of apps under the mobile banking category are:-
Payment systems like Paypal and PhonePe for online transactions, bill payments, and much more
Netbanking apps that help people manage their bank accounts, complete transactions, transfer money, and much more
Analytical financing apps that help users better manage their accounts and transactions
Crypto investment users like Binance and Coinbase allow users to invest money into crypto and other investment opportunities
With so many different types of mobile apps available in the industry, you can get in touch with any development company to build a peer-to-peer payment app, a payment API integration service, or any other app you have in mind.
Top 3 Mobile Banking Apps In 2023
Before we finally jump into the top mobile banking trends in 2023, let us have a look at the industry's best banking apps for further inspiration.
1. Capital One Mobile
The Capital Online Mobile app is created by one of the United States' top banking institutions that helps users manage their bank accounts and perform other banking services like transferring money to other account holders, viewing transactions, and getting alerts about transactions that are out of the blue. The app also ranks 5th in the AppStore's Finance category and helps users view their spending and get personalized insights to better manage it.
2. Chase Mobile
Offered by JPMorgan Chase, Chase Mobile is an intuitive app for account holders to manage their accounts and financials. For example, they can easily pay bills, earn reward points, access credit card transactions, and much more. The app also integrates with the Zelle network to allow users to seamlessly transfer money, monitor fraudulent transactions, and plan advanced budgets.
3. Monobank
Another top mobile banking app that integrates several trends in mobile banking is Monobank. The app is from Ukraine that helps open an account without much hassle, helps with seamless payments, and offers real-time customer support. Another advantage is that the app has a user-friendly interface and includes several features that help you deliver seamless banking experiences.
Top Mobile Banking Trends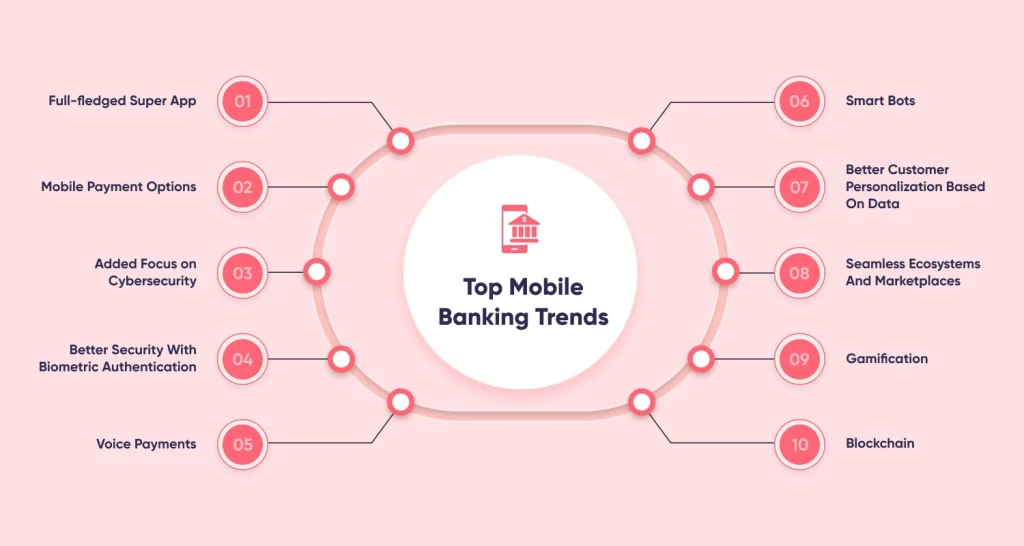 Now that we have discussed the different aspects of mobile banking, let us talk about the top mobile banking trends of 2023. Check out these mobile banking trends and get to know more about them in the following sections.
1. Full-Fledged Super App
One of the reasons due to the popularity of mobile banking apps is their added functionality and convenience. Your application must not be just another application among the numerous available finance applications. They should be a one-stop solution to your app user's financial needs and requirements.
Some essential features you must include in your mobile banking app to utilize the first among many mobile banking trends are:-
Round-the-clock access to personal accounts
One-click secure mobile transfers
Added security to prevent fraud
Fraudulent and suspicious behavior alerts
24/7 customer support for quick query resolution and grievance handling
Cashback and other reward programs
Loan payments and bill payments
Access to online payment methods and services
2. Mobile Payment Options
During the COVID pandemic, WHO recommended people switch to cashless payment methods to prevent the spread of the virus. However, no one could have predicted the drastic change in user behavior and payment preferences. People became aware of the different online payment methods and other fintech products available in the market.
This resulted in cashless transactions becoming one of the top mobile banking trends in 2021 and continuing to dominate the list even in 2023. Moreover, the added convenience of multiple digital sales channels, including a wide variety of online payment options can help elevate the overall user experience. To enable transactions and payments across the globe, some applications also include in-app currency conversion.
3. Added Focus On Cybersecurity
For any industry that deals with sensitive information and personal data, security is crucial and an essential aspect businesses must focus on. However, security has always been a challenge for the banking industry.
To ensure your customers do not follow prey to scams and targeted attacks, you must include cybersecurity strategies. Simple actions like the predictive modeling of fraud can significantly help improve user experience and enhance safety.
Some common security features included by apps following the popular mobile banking trends include:
Fingerprint login and Face ID
Voice recognition
PIN systems
Strong password requirements
Cellular network and WiFi identification
Device identification

4. Better Security With Biometric Authentication
Nowadays, hackers have advanced a lot and a simple PIN is not enough to protect your finances. For a more secure and better mobile banking experience, biometric authentication methods are mandatory.
Some common biometric authentication methods used include fingerprint scanning, facial recognition, and eye scanning. This can also help users easily access their accounts without the need for a password every time. Moreover, since it is harder to replicate or hack applications with biometric authentication, it is one of the top mobile banking trends of 2023.
5. Voice Payments
A lot of banks are enabling two-factor authentication with voice recognition for added security. However, another feature that implements a similar concept and has become one of the top mobile banking trends is voice payments.
With voice payment, you can instruct AI assistants like Alexa, Siri, and Google Assistant to pay bills, set up payment reminders, and transfer money. When combined with machine learning and with security protocols in place, voice payments will become the next big thing in fintech.
6. Smart Bots
Business Insider reveals that approximately 64% of consumers check a bank's investment offers before signing up for an account or a business deal. And, what better way to help users know about these in no time than smart chatbots?
Chatbots are a great way to communicate with users without increasing the workload of the customer support team. Another great advantage is that smart bots can also be used to allow better communication between the bank and customers.
7. Better Customer Personalization Based On Data
With more and more people using banking apps, a huge amount of data is generated which gives rise to the need for Big Data. The technology is one of the biggest mobile banking trends in 2023 and can help banks better store, manage, and analyze customer data.
This also allows banks to offer features like behavior-based expense analysis and personal consulting for better investment. These features help boost customer loyalty and add to the ultimate user experience.
8. Seamless Ecosystems And Marketplaces
To ensure users spend more time on their banking apps and to eliminate the need for other apps, banks are turning their applications into ecosystems. You can also find banking apps that include marketplace models. This helps users buy movie tickets, book flights, and pay electric bills from a single banking app.
9. Gamification
The higher your app's interactivity, the better the user experience and the higher the customer loyalty. Gamifying your application to include entertaining and amusing elements can help keep your users hooked. With features like loyalty programs, cashback, and rewards, users will be further engaged with your banking app.
10. Blockchain
One of the most prominent mobile banking trends, Blockchain transactions have grown from 10.98 million in 2016 to 81 million in 2022. Since blockchain leverages a decentralized distributed ledger, they help facilitate transactions without the need for any middle-man. Moreover, it also ensures added security and better data protection for a seamless user experience.
Conclusion
To prosper in the finance and technology world, you need to rise above your competition and quickly develop better applications for today's cashless world. From biometric verification to seamless integration of different payment methods, your banking app must contain features that implement the top mobile banking trends.
You can also get in touch with a professional banking software development company to get an app developed. These companies employ developers with years of experience who offer personal finance app development services and fintech app development services among other professional services.
So, what are you waiting for? Get in touch with us today and build a mobile banking app that caters to your users and makes their experience more seamless!
Frequently Asked Questions
Although the terms digital banking and online banking seem similar, there is a slight difference between the two. Digital banking is a broad term that refers to all collective digital advances in the banking field. On the other hand, online banking specifically refers to a bank's online system that offers web-based services.

With numerous mobile banking applications available in the industry, it can be confusing to find one to draw inspiration from. The above article mentions the top mobile banking apps available in the current industry. We also recommend conducting comprehensive market research to check out your competitors' initiatives and applications to decide your USP.

AI is one of the most talked about technological advancements with numerous applications in mobile banking. For instance, AI-based algorithms are used in current mobile banking apps to offer personalized services to users. Moreover, they are also used to analyze data available on stocks and make predictions about future market trends. You can also use AI to realize other advanced features in your mobile banking app. We recommend getting in touch with a professional app development company to discuss more about AI and its applications in the mobile banking industry.