The introduction of e-commerce has revolutionized the way companies reach their audience. Moreover, with the introduction of platforms, e-commerce has become quite accessible and affordable. Out of all the choices available, most people are choosing Shopware. If your e-commerce business is set up on any other platform, you can try Shopware migration.
But, how do you do so? Well, you can take the help of an eCommerce web development company. Or, you can do it yourself. To help you out, we have created this detailed guide on Shopware. We will discuss the platform's features and provide a step-by-step breakdown of Shopware migration.
So, let's dive right in and help migrate your eCommerce business to Shopware!
What Is Shopware All About?
Shopware is a revolutionizing platform that helps users create modern and innovative online stores. Thanks to its ever-increasing customer base, more and more people are considering Shopware migration. Other than that, the platform is highly focused on fulfilling customer needs and is quite adaptable.
Although the platform was created more than 18 years ago, it is somewhat lesser known. Notwithstanding, Shopware has become the widely chosen platform by big brands like Philips and M&M. Moreover, Shopware has a wide range of tools that you can choose from to build your perfect eCommerce store.
Due to the recent boom in Shopware's popularity, more and more companies are offering eCommerce development services revolving around Shopware. Reports suggest that Shopware currently powers more than 32,102 eCommerce websites.
What Are The Different Features Available On Shopware?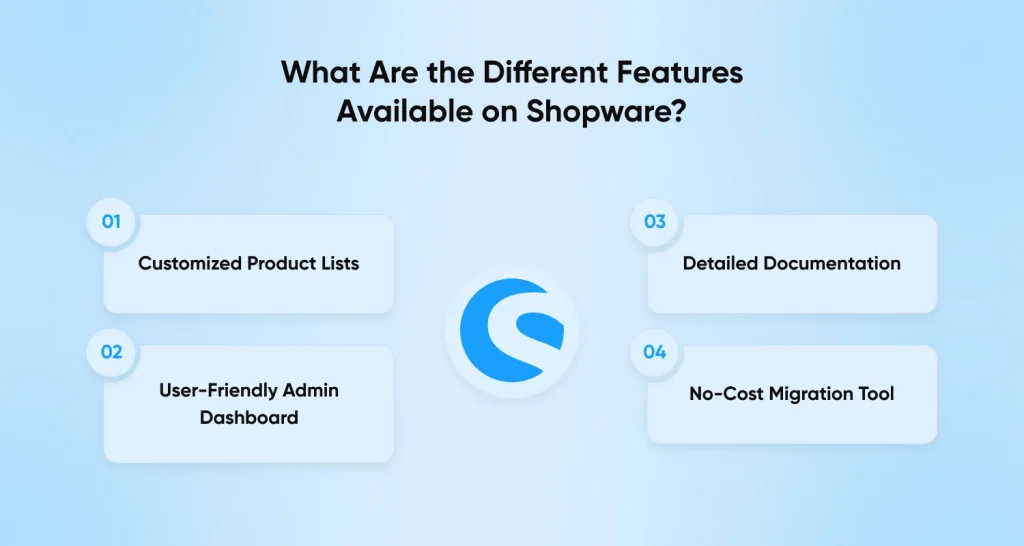 Now that we've discussed why Shopware is popular, let's talk about the different features available on Shopware. These notable features can help your business reach more customers and generate greater profits.
User-Friendly Admin Dashboard – Shopware's user-friendly admin panel has a drag-and-drop design layout, unlike other popular eCommerce development platforms. Hence, it is easier to edit products, banners, and website content.
Customized Product Lists – Shopware allows users to create customized lists for products on sale based on customer profiles. This means your customers will receive product recommendations based on their interests, which increases the purchasing odds.
Detailed Documentation – Several people look for Shopware development services because they think it is difficult to use the platform. However, the platform documentation is thorough and guides users about adding new features, customizing their shops, building email lists, and much more!
No-Cost Migration Tool – Shopware has a free migration tool that caters to the most popular platforms. However, migration Shopware 6 is easier with the help of a certified and experienced Shopware developer.
Now that we have explored Shopware's features and benefits, let us move on to the pricing plans available.
What Are The Different Pricing Plans Available?
Shopware offers four plans with different pricing structures to suit the varied needs of businesses. So, let us look at them to help you decide on one before your Shopware migration.
1. Shopware Community Edition
The free version of Shopware, the Community Edition provides users access to a powerful open-source eCommerce development platform. This version has multiple in-built features and offers over 3500 extensions for better customization.
2. Shopware Professional Edition
With a one-time fee of €1295, the Professional Edition is perfect for mid-size businesses. Other than the basic features, this version includes digital publishing tools.
3. Shopware Professional Plus Edition
Available for a one-time fee of €5995, the Professional Plus version allows access to additional features like an advanced shopping cart, promotions, smart newsletter, and subscriptions.
4. Shopware Enterprise Edition
Suitable for B2C and B2B businesses, the Shopware Enterprise Edition is perfect for building customized sites with multiple integrations. Since it is the most advanced version, the subscription price for the Enterprise edition is available on request.
Why Should I Migrate To Shopware From Other Platforms?
The wide range of benefits and features available on Shopware sheds light on its popularity. But, why should you shift your eCommerce site from popular platforms like WooCommerce, Magento, or PrestoShop? Well, the following section will help break down the benefits you will be able to enjoy after successful Shopware migration.
1. Shopware Magento Migration
Magento is also an open-source platform like Shopware. However, there are major differences between the two. Check the following table to understand the differences before your Shopware Magento migration.
| | | |
| --- | --- | --- |
| Feature | Shopware | Magento |
| Admin Panel | User-Friendly For All | Complicated For Non-Tech Users |
| Subscription Costs | Different one-time payment plans | Annual License of $22000 |
2. Migrate Shopware From WooCommerce
WooCommerce is a free WordPress plug-in that offers different eCommerce features. However, Shopware has more built-in features. Before you migrate Shopware from WooCommerce, check the table below for a clear understanding.
| | | |
| --- | --- | --- |
| Feature | Shopware | WooCommerce |
| Email Marketing Tool | Available for free | Need to buy email marketing extensions |
| Customer Support | Accessible via email and phone | Not available |
| Checkout Process | Optimized Checkout | Requires additional paid extensions |
3. Shopware Migration From PrestaShop
Another popular eCommerce development website is PrestaShop which is similar to Shopware to some extent. However, Shopware is way more reliable and advanced. The following table illustrates the differences to ease your Shopware migration decision.
| | | |
| --- | --- | --- |
| Feature | Shopware | PrestaShop |
| Security | High-level protection available | Need to buy additional plug-ins |
| Abandoned Shopping Cart Recovery Tools | Available to users | Buy additional extensions for support |
| Built-In Emailing Tool | Available | Possible through third-party apps and services |
You may like this: How to Build an eCommerce Business?
What Steps Should I Follow For Shopware Migration?
If you feel Shopware would be the perfect solution for your business, let us discuss more about Shopware migration. Follow these steps to migrate your eCommerce site to Shopware:
Data Backup – This option creates a copy of all data including product descriptions, customer information, and orders. We recommend creating a data backup to ensure your business can operate smoothly after the Shopware migration.
Data Migration – ShopWare has a free migration tool that you can use.

Download and install the Shopware migration plugin.
You will find a list of different platforms to migrate from.
Choose the appropriate one and fill in details like – username, password, address, and the standard port of the MySQL server.
Select the data i.e. properties, order status, customers, languages, and others, that is to be migrated.

Customized Designs – The Shopware marketplace has several paid and free options to choose from. However, we recommend using customized designs for a consistent brand identity. You can hire Shopware developers to create a custom design.
Integration of Custom Features – If your previous website has custom features that you want to add to your website, get in touch with an expert web developer to include them in your Shopware store.
Will I Face Any Issues When Migrating To Shopware?
Since eCommerce development platforms have varied needs and database requirements, you might face the following problems:
The Shopware Magento migration causes issues with user-defined properties. To avoid this, you can use your Shopware Admin Panel to create an appropriate attribute before the migration.
The data structure of WooCommerce and Shopware is different. Hence, users cannot migrate payments when shifting from WordPress to Shopware.
PrestaShop has an additional property called product weight. So, when shifting from PrestaShop to Shopware, the information is lost.
Conclusion
Shopware is not only an easy-to-use eCommerce development tool but also provides numerous features that can help businesses grow. The platform is perfect for businesses of all sizes and can help them make the most out of their business endeavors. This is why more and more people are looking for Shopware migration.
We hope the above article could help you understand what Shopware is all about and why it would be a good idea to shift your eCommerce store to the platform. If you're looking for some help with your eCommerce Shopware migration, get in touch with us. Our expert team of Shopware developers will help develop your store and stand beside you throughout the process.
So, what are you waiting for? Get your eCommerce store migrated to Shopware and reach your target audience globally!
Frequently Asked Questions
If you already have a Shopware 5 shop, it will be easier for you to shift it to Shopware 6. Follow these steps to migrate it successfully:

Move to the Merchant Area and select Create New Shop.
Set the default language and currency to create a new shop successfully.
Login to the admin panel using your Shopware ID.
Open the Migration Assistant via the dashboard.
Now, you need to enter a name for migration, select the profile corresponding to your Shopware shop's version, and enter the connection type as AP.
Find the API key in the Shopware 5 backend and enter it.
In the API-User field, enter the username.
Enter your Shopware shop's domain in the next field.
As soon as the correct API data is entered, the status message Connected appears in the migration assistant.
Now, you can start your Shopware 6 migration.

Does the process look complicated? Don't worry! Get in touch with our experienced Shopware developers and get your shop migrated in no time.

To help you migrate your Magento store to Shopware 6, we've broken down the process into easy-to-follow steps in the above article. In case of any problems, get in touch with our expert team.