Are you considering launching a software business? The timing is undoubtedly ideal. In 2023, Gartner predicts that end-user spending on the public cloud will be close to $600 billion globally.
However, be sure to select the appropriate niche before you begin creating. Today's software as a service market is incredibly competitive and becoming more regulated. As a result, choosing the incorrect market or demographic to target could squander months, if not years, of your work and a significant amount of money.
The top SaaS startup ideas will be shared in this blog. Hire dedicated developers to build you a great, robust application for your startup. Prior to that, we'll talk about what profitable SaaS ideas are, what kind of software SaaS is, where to find SaaS ideas for small businesses, and market research and trends in SaaS. Below is a complete list of suggestions for software solutions that will be discussed further.
Why is SaaS Business Beneficial for Startups?
There are plenty of reasons to launch a company using SaaS concepts. Below are a few of the most important justifications:
Lower Development Costs
Businesses that provide software as a service can concentrate solely on software without spending money on hardware. This has a significant impact on the initial development costs of the industry.
Early Cost Calculations
In contrast to other sectors, the costs of developing an MVP for a SaaS product idea are already known. Consequently, each stage may be planned more effectively.
Scalability
Scaling a SaaS product is much simpler than scaling any other kind of organization. Given the wealth of automation options, it's also quicker. For instance, you can utilize an IP geolocation API to provide or learn more about your users.
Maintenance
The most difficult problem for any industry is to maintain a proper service maintenance system. However, in the case of a software startup, the software supplier is responsible for software maintenance. You may relax and tell them to perform their job.
Global Access
Because of its broad audience reach, SaaS enterprises are in high demand. In contrast to traditional business, the software is hosted in the cloud. This makes it available to everyone from anywhere in the world.
12 Best SaaS Business Ideas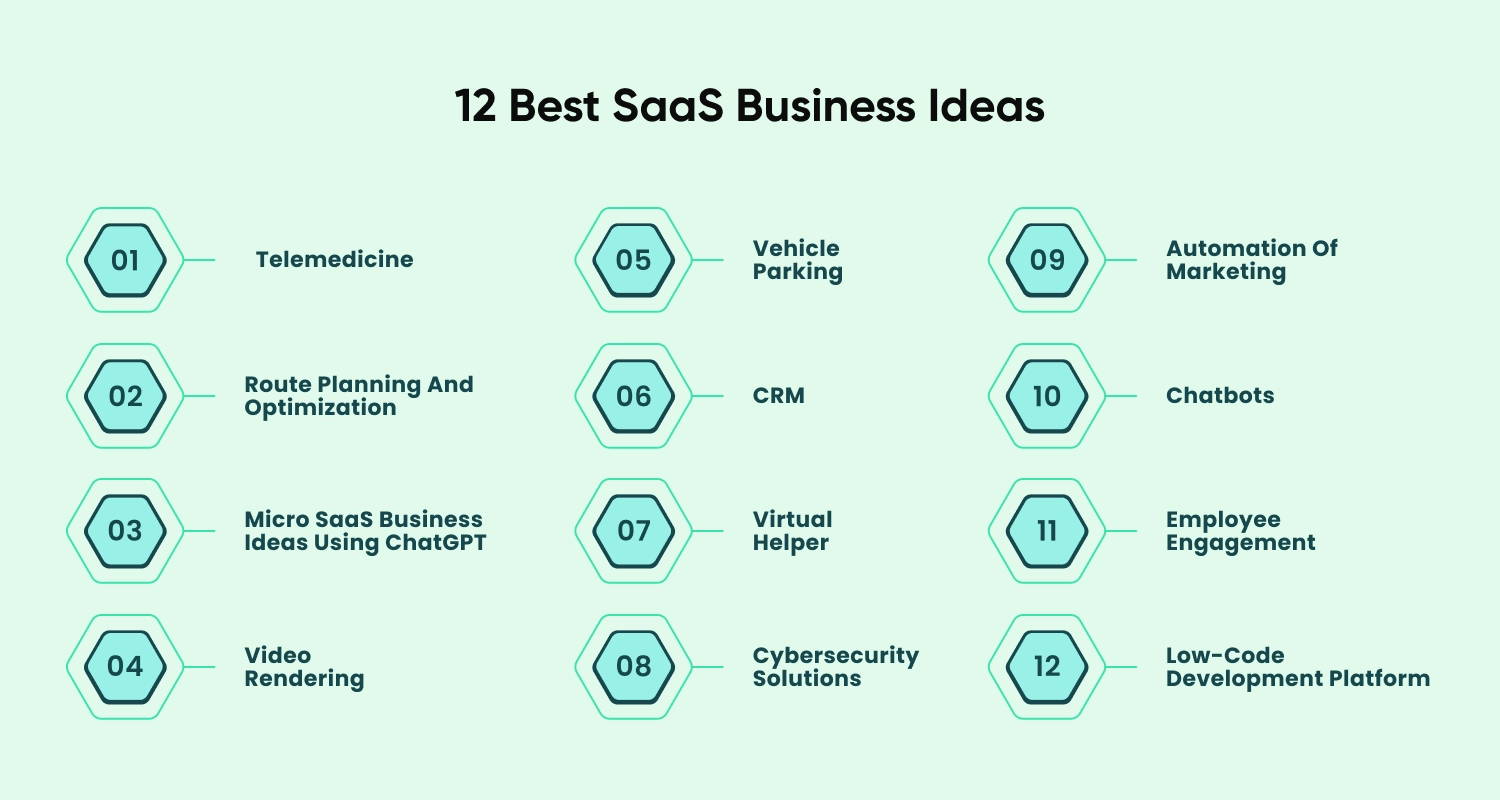 What makes some new business startup ideas successful while others fail? Many businesses fail because their business ideas did not pique the interest of their target audience or possible investors.
Let's see what SaaS business ideas are poised to emerge in 2023.
1. Telemedicine
The telemedicine market is anticipated to expand to $396 billion by 2027. And American Well and Teledoc Health Inc. are two of the major corporations that recognize the potential for this information to disrupt the healthcare business.
As a result, they can provide software support to doctors and healthcare specialists for teleconsultancy or virtual consultations. But that doesn't mean you can't start your own telemedicine SaaS company. It's an especially good example. Both doctors and patients benefit from telehealthcare software's accessibility and convenience.
This software employs live and recorded video conferencing, remote patient monitoring, and mobile health. As a result, healthcare software is a viable business model for SaaS providers.
You may like this: Telemedicine Software Development
2. Route Planning and Optimization
If the distance is great and you are not familiar with the new site, it can frequently be difficult to arrange a trip path. Using advanced algorithms, route planning software will choose the most efficient path for you. For businesses that rely on logistics, routes, or field services, this software is essential. As a result, in 2023, this is one of the SaaS business ideas that merit consideration.
Users of this SaaS software can cut expenditures and locate the quickest routes to a variety of locations. Of course, delivery companies will benefit greatly from the correct SaaS-based trip planner. Cloud-based routing software aids in determining the shortest path to make a delivery. Additionally, these apps contribute to lower fuel expenditures and carbon emissions.
Using route optimization, the cloud-based SaaS platform Routific organizes users' waypoints in the most effective way possible. Simply told, it makes it simple and quick to locate the best highways with stops.
3. Micro SAAS Business Ideas Using ChatGPT
Over the past year, ChatGPT has been increasingly popular in a variety of commercial settings. It has consequently created new possibilities for lucrative SaaS companies utilizing AI technology. But how may ChatGPT be used to create a successful SaaS product? The tool's capacity to provide fair responses to queries is one of its greatest advantages. Providing an unrivaled user experience with extensive customization is one of the newest business trends, and this tool can assist you in doing so. You can develop a number of chatbot-based SaaS products using ChatGPT.
You can develop a range of chatbot-based SaaS products with ChatGPT, including audience segmentation tools that are based on analytics. A system for organizing customer service tickets, tools for obtaining and analyzing customer feedback, including:
Offering assistance with daily tasks
A platform for customer service communications
A writing tool that makes composing paragraphs more efficient
Chat and conversation moderator tool
4. CRM
Customer interactions are essential, without a doubt. A company has nothing if there are no clients.
Large organizations like Oracle and Salesforce are aware of this. They provide excellent CRM programs as a result. Their CRM tools, among other things, can gather, arrange, and assemble data from various communication channels, evaluate consumer behavior, enhance the customer experience, and more. Do you want to compete against the CRM industry's leaders? The SaaS market is right for you if so.

5. Video Rendering
Creating your own video rendering service is now one of the finest software-as-a-service business ideas. Everyone puts a lot of effort into rendering their files flawlessly, from designers to video editors. One of the fantastic SaaS startup ideas is to create software for them.
6. Vehicle Parking
Finding a parking space might be difficult, especially during peak times. Making an app that will direct you through an easy parking experience is one of the profitable SaaS concepts. Regular customers' parking spaces may be claimed by others, causing uncertainty. Despite the availability of numerous platforms, there is still a substantial amount of demand for these apps and online SaaS business ideas.
7. Low-code Development Platform
For businesses looking to develop software, it can be difficult to find competent engineers, manage complicated codebases, and fulfill deadlines. Organizations can construct software applications on a Low-Code Platform with little to no coding knowledge. Low-code development is a platform for creating applications with little or no code app development. Applications may be made quickly because of their pre-designed components and graphical user interface. This might be a lucrative SaaS business concept given the rising popularity of low-code app development.
8. Cybersecurity Solutions
Strong cybersecurity measures are becoming more and more important as AI tools and software are incorporated into everything. Preventing a data breach is essential in an era where hackers and data thieves are ubiquitous. This is precisely why businesses require first-rate cybersecurity. Software for fraud detection, data security and privacy, access management, tools to prevent unauthorized access, employee cybersecurity training apps, and threat intelligence audit software are a few SaaS security company ideas to take into consideration.
9. Virtual Helper
A program that interprets and speaks in human language to interact with clients is known as an AI virtual assistant. Notably, 42.1% of US citizens now utilize AI assistants globally. By 2026, this percentage is expected to increase and make up 45.4% of the US population. Therefore, concepts for SaaS applications that foster conversational commerce are needed in this industry.
Virtual assistant SaaS product ideas that work enhance customer experience and cut costs. These software-as-a-service concepts can also handle resource planning, scheduling teams, and employee engagement. SaaS startups are still investigating the capabilities of virtual assistant software at this time.
10. Chatbots
Chatbots are computer programs that can automatically comprehend client questions and provide succinct responses. Because they improve customer support, chatbots are now an essential component of customer service. As a result, it is yet another of the best SaaS app development concepts for 2023.
A well-designed bot can automate the main component of the website's or app's customer care duties. Therefore, by including a chatbot on their website, business owners can reassure their customers that they will always get their questions answered. In 2023, this SaaS business strategy will show promise.
11. Automation of Marketing
In the contemporary technology era, every business aspires to lead its competitors. The most effective method for doing this is through online marketing. Every firm needs a technology like systeme.io that can automatically evaluate the facts and create a marketing strategy.
Most businesses do not fully tie marketing initiatives into their sales processes. Investments are negatively impacted by this. Consult professionals from both departments as you create your SaaS startup software ideas. Better integration into both processes will result from it.
12. Employee Engagement
Software for employee engagement makes it easier to acknowledge team accomplishments and obtain feedback from them. Such software encourages beneficial behaviors that enhance the well-being of the company's personnel.
Enhancing organizational culture can result from the use of employee engagement technologies. A greater understanding of employees can result from using such an app to enhance human resource management. A business owner can monitor changes in the workplace culture, for instance. As a result, they can spot trends and take action before issues worsen.
You may like this: Best Practices For Securing SaaS Applications
CMARIX Experience in Developing SaaS Solutions
SaaS projects are a part of our custom development experience. We create SaaS applications from scratch with the needs of our client's businesses in mind. Additionally, if a client wishes to make adjustments or transfer data from a hard drive to cloud storage, we optimize existing SaaS.
Conclusion
You were all probably excited after reading the previous ideas for launching your SaaS business. Starting a SaaS company from a single concept is more difficult than it seems. When developing a SaaS platform, extensive study, and analysis are needed at many different levels.
A startup, however, always begins with an idea. If you have discovered the ideal idea for you, it is now time to validate the concept for your software.
After the SaaS concept has been verified and you are confident in realizing it, you may move on to the SaaS development phase. You can hire SaaS web platform developers to handle web development if you want your cloud software to be developed successfully. A suggestion that can make life easier for the people will surely be successful.
Frequently Asked Questions
The most profitable SaaS businesses often fall into categories like customer relationship management (CRM), enterprise resource planning (ERP), project management, marketing automation, and collaboration tools.

Five examples of SaaS businesses are Salesforce (CRM), Slack (collaboration), HubSpot (marketing automation), Zendesk (customer support), and Shopify (e-commerce).

To find innovative SaaS ideas, focus on solving real problems, conduct market research, engage with potential customers, leverage emerging technologies, and explore niche industries with untapped potential.