Today's world is full of opportunities that always keep us on our toes. In such an event, it is hard to control and manage finances. Fortunately, there are ways to keep your financial plans on track even when the world throws unexpected curves. One of the best ways to manage your finances is using a financial app development company, which can bring you a pocket assistant to manage your finances easily.
This also gives the opportunity to keep a check on your budget, as it set rules for how much money you have available to spend on certain things, such as groceries or gas, and how much you have left to save or spend on other things, such as a rainy-day fund or a vacation. By creating a budget and sticking to it, you can better manage your finances and avoid the temptation to buy that iPhone.
No wonder, the new age of technology has brought us many advantages, and one of them is to access everything digitally. Here, the ability to manage our finances is also not an exception and gives ways to handle everything with a click of a button.
Today, finance apps make it possible to send and receive money from friends and family quickly and easily, eliminating the need to hand cash or physically make in-person payments quickly and easily. This has made managing one's finances far more accessible and more convenient than ever before, allowing us to focus better on the things that matter.
Curious to know should you Hire mobile app developer to build an engaging finance app?
Fret not; this blog provides detailed insights on stepping ahead in the fintech space with an engaging personal finance app. Let's explore it more.
Why Do People Need a Finance App?
Finance apps are designed to help users manage their money and budget their expenses. Some finance apps are designed to help users control their expenses, while others are developed to help users advise where to invest their money.
These apps allow users to manage their finances in a variety of ways. Some finance apps are dedicated money management apps that enable users to manage their finances. Other finance apps are dedicated budgeting apps, which allow users to create and track a budget.
Controls spending
Brings offers from third-party vendors
An easy transaction from any corner of the world
Tax calculation
Types of Personal Finance Apps
Finance Apps Can Be Classified Into Two Categories:
Manual (simple)– In this app type, the user enters the information themselves, rather than automatically pulling it from the internet. This gives the user a feeling of control and ownership over their data and helps them feel safer when sharing personal information with an app. It also allows for more complex and customized experiences, such as sharing a map location with a friend and having their friend navigate to the exact location without exposing the user's actual location. The downside is that, without a digital assistant to help with the data entry, the user experience is much more manual and time-consuming.
Automatic (complex)– In this app type, when using an automatic app, the user experience is almost the same as a manual app. The user interacts with the app just as they would with a manual app, except the app performs the necessary electronic transactions on the user's behalf. This allows the user to access their information without having to manually enter it, which in turn provides a better user experience. The only difference between an automatic app and a manual app is that the automatic app performs the necessary electronic transactions on the user's behalf.
See Also: 6 Key Pillars for Finance And Banking App Development
Is There a Way to Build a Budget App?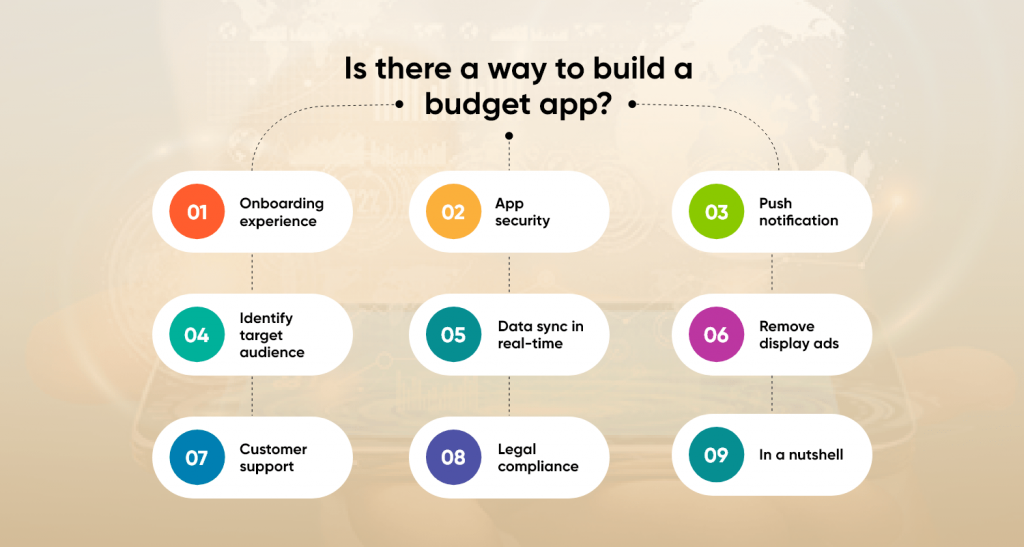 Most of the time, users access the app without knowing its motive, as they just want to use it. Their friends and family members recommend it to them, and they aren't so sure of what to do with this app.
This explains that your Personal Finance App Idea needs to sound extremely useful from the home page so users are inclined to use the app. It need not be dull with too much content but should give users a seamless experience to solve their issues and challenges.
Below We Have Brought You Key Differentiators That Enable You to Build a Robust Personal Finance App Solution.
1. Onboarding Experience
A well-designed user experience improves the trustworthiness of a company brand and helps users solve their problems faster. A good user experience also boosts the user experience and improves the app's ranking in app stores. When developing an app, the UX designer should thoroughly research the industry, the target audience, the needs of users, and other aspects of the app. This will help them develop a design concept that is effective and user-friendly.
A finance app contains different steps and buttons to carry out a seamless transaction and other money-related commands.
If users require a tutorial to access your app, this alarm signals that the current user experience is not good enough. User experience designers constantly communicate with developers to fine-tune the user experience, and the feedback they provide is critical to the app's success.
User experience designers must also be concerned with the app's interface's design and the app's look and feel, which can be explored while working on the UX design. Some areas where the experience design comes into play include UI/UX design, user interface, user experience, user interface design, user experience design, and interface design.
2. App Security
In a world where hackers are constantly exploiting apps, you must ensure that your app is as secure as possible. This means you must take steps such as encrypting sensitive data, enabling Two-Factor Authentication, and more. You should also consider hiring a security specialist if you're able to, as they will be able to provide you with additional tips and advice.
3. Push Notification
Regarding finance apps, push notifications are one of the essential features. Not only do they allow users to stay up to date on their most important data, but they also provide a way to keep users invested in the app. Users may feel that their app has forgotten about them without push notifications and move on to a different app. However, with the right push notification strategy, developers can keep users engaged and increase app retention.
Notifications are one of the most important ways to keep users engaged with your app. They provide a way to keep users in the know without cluttering their screens and allow you to keep users informed without interrupting them. But when it comes to notifications, finance apps often neglect to consider push. Instead, they rely on traditional methods of email and text, which can feel old-fashioned and not as engaging as they could be.
4. Identify Target Audience
As app development is an opportunity for your finance business, it's important to consider who you want to target with your app. Will your app be used by small businesses to find great talent? Would you instead build an app that helps people find great babysitters? Perhaps you want to develop an app that connects people with nearby parking spots or one that helps people find local restaurants with healthy options.
See Also: Top Apps to Transform the Fintech Industry
5. Data Sync in Real-Time
The ability to sync data between bank accounts and mobile devices is also vital to any financial app. It allows users to access their accounts from any device, which is especially important for those who might not have access to a computer or a tablet. They can view their bank balances and recent transactions on the go, which is convenient and saves a lot of time.
6. Remove Display Ads
It is hard to ignore the impact of display ads on financial apps. When people are conducting a transaction (e.g., transferring money, paying a bill) and a display ad pops up, it can be annoying and cause people to get irritated. People using their financial apps for their personal business don't want to be interrupted by display ads. With leading mobile app development services, you must aim to solve this problem by making the experience of using financial apps ad-free.
7. Customer Support
One of the best ways to improve the overall app experience of your finance app is to add additional support features. For example, offering customer support within your app can help resolve multiple queries in a single interaction, which enhances the app experience for your users and increases their loyalty. You can offer a range of FAQs to help answer the most commonly asked questions, which will help solve multiple problems in one place.
8. Legal Compliance
The financial industry is one of the most heavily regulated industries in the world. This means that regulations and laws can often change, and this causes a lot of upheaval in the financial landscape. Your app developers must be aware of these regulatory changes to update their products promptly to ensure that their users operate within the law's letter.
SEE ALSO: How to Build a p2p Payment App?
In a Nutshell
Many finance apps have been developed to help users manage their money better. These apps have been able to help users save money, manage their finances, and perform other financial tasks without needing to go to a financial adviser.
This has resulted in a growing demand for these apps, which has led to many developers coming up with new and improved versions of their apps. The market for finance apps is expected only to increase as more users realize the benefits of having these apps on their phones.
Suppose you are interested in developing a personal finance app but don't have the skills to do so yourself. In that case, you might be interested in speaking to a leading Mobile App Development company, none other than CMARIX to take your ideas to the next level.