A growing number of companies are capitalizing on the opportunities presented by digital platforms. These days, no company can survive without at least having a website. And laravel, widely regarded as the finest PHP framework, is the one that is commonly preferred by business owners.
When do you plan to start working on your website's app? Have you settled on eventually giving form to your ideas? The challenge of learning your market, pinpointing your clients' problems, and coming up with effective solutions might be intimidating. And if you think these are your only preliminary considerations, we're sorry to break it to you, but you're not even getting there.
Not to worry you, we are here to arm you with knowledge so that you can go on your digital adventure with complete assurance. Choosing a framework for web app development is, thus, one of the most important initial considerations when launching a web-based business. And Laravel has established a solid reputation as one of the top PHP frameworks among the numerous others that are available.
Not sure if you should hire a team to create in-house or outsource Laravel development?
When looking to hire a development team or Laravel development services, go no further than this comprehensive guide to the Laravel framework.
Why is Outsourcing Superior to Hiring In-House Laravel Programmers?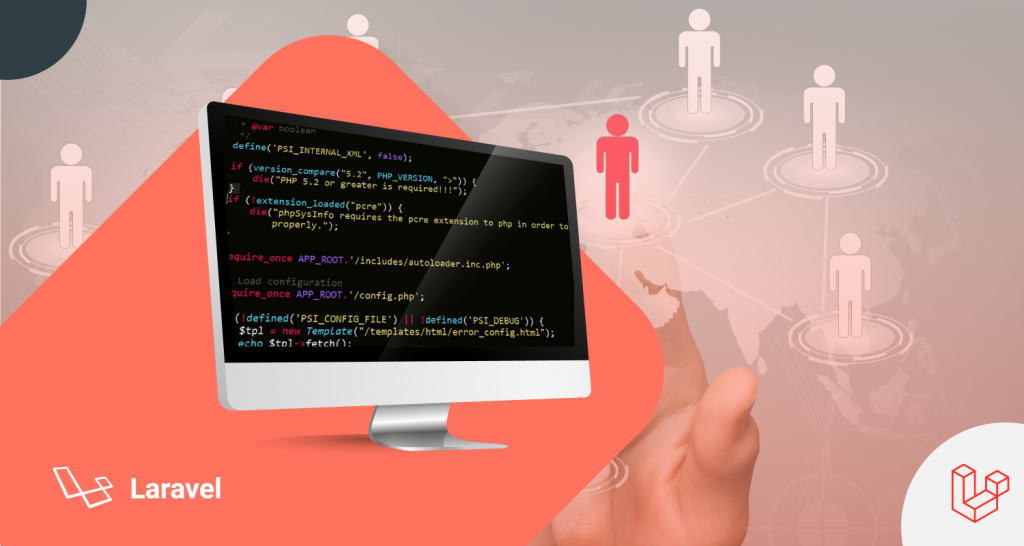 Hiring developers and other workers for in-house development will be a time-consuming and sometimes a chaotic process. In addition to hiring a team, you'll need to invest in web technology (not laravel, which is not free and open-source) and build up the necessary infrastructure to support it. Paying them is obligatory even if they are not actively working for you. It's simply too expensive.
When you outsource, you engage/ Hire Laravel developers and only pay them for the hours they work. There is also no need to build any infrastructure. Despite being a cheap PHP framework, laravel does produce outcomes that are above and beyond expectations.
That's why it's best to outsource your Laravel projects.
When Should You Consider Outsourcing Laravel Development?
Laravel is unquestionably one of the best PHP frameworks with the most attractive and expressive syntax. A web application needs to be straightforward and easy to use. Additionally, Laravel can assist developers in creating engaging online applications.
Let's look at a few of the situations where hiring outside developers for Laravel can be beneficial.
Companies Working With Backend And Data Management
The development of CRM software and content-centric apps are two good examples. Laravel can be used to build a scalable CMS from the bottom up, or it can be combined with an existing CMS.
Appropriate for Large Organizations
These are clear prerequisites for commercial organizations. This includes fields like entertainment and healthcare, as well as any business with a high-traffic website (like e-commerce) that requires the processing of large amounts of data.
Those Just Starting Out
When it comes to frameworks, Laravel is among the most accessible, powerful, and quick options available. This is why many newer web development companies prefer Laravel.
It has a sizable developer community, educational initiatives including free, in-depth tutorials and Laracasts, as well as other useful technologies like Lumen, Spark, Vapor, Valet, and others.
Commercial Growth
The Laravel framework, with its underlying microservices architecture, is a great choice for satisfying the scalability needs of small and medium-sized enterprises. It simplifies the process for businesses to develop a website with real-time update capabilities.
What are the Benefits of Outsourcing Laravel Development?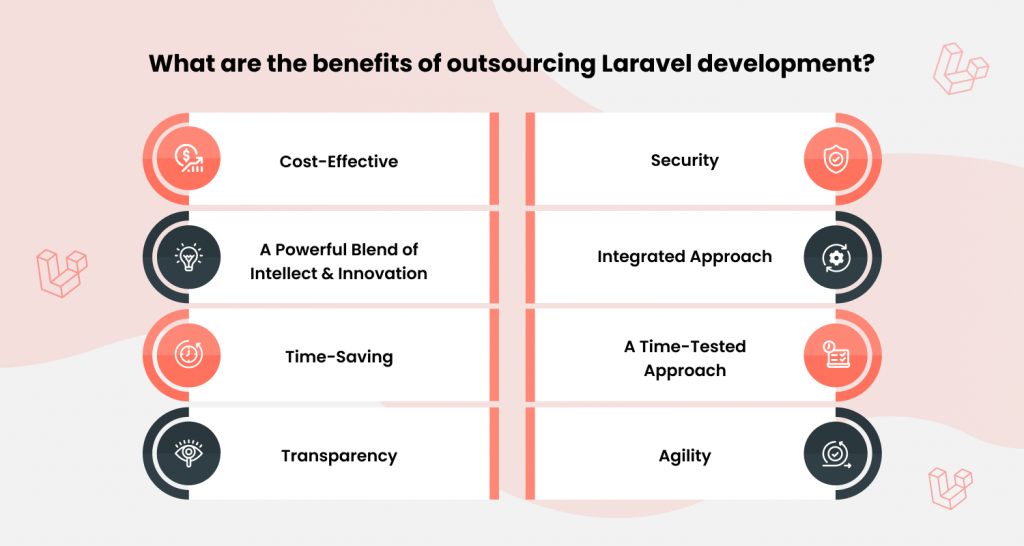 We'll get to that shortly, I suppose. Here are a few convincing arguments for hiring outside developers to work on your next Laravel project. Let's get started.
Cost-effective
Whether to employ an internal development team or outsource the development services is a long-standing controversy. When opposed to outsourcing, in-house recruiting is typically highly expensive. This is also the primary reason that many overseas companies use Laravel developers based in India, as they provide high-quality web applications at reasonable prices.
A powerful blend of intellect and innovation
By outsourcing Laravel development services, you may be able to strike the jackpot when it comes to finding the ideal blend of expertise and technology. By going the route of outsourcing, you can find some of the most talented coders with an exceptional understanding of modern technology. You will therefore only gain in the long term by outsourcing such talent.
Time-saving
Outsourcing Laravel developers is, in reality, a time-saving strategy, as many companies have acknowledged. How come, though? Well, the entire process of developing an app accelerates when a project is given to an outsourcing team. On the other hand, setting up the infrastructure and hiring in-house developers may take a long time.
Transparency
One of the best things about using a third-party development company is the level of openness you get. Because greater client collaboration can be expected during every phase of development when there is open communication between all parties involved. Thus, there is certainty that the client's needs will be addressed incrementally.
Security
Businesses today simply cannot take any chances with their security, especially given the rising number of potential breaches. When you hire a reputable outsourcing business to handle the development of your product, you can rest assured that their development teams will take every precaution to ensure the safety of your product. Some Laravel developers even go the extra mile to provide additional safeguards.
Integrated Approach:
Businesses often view Laravel providers as one-stop solutions. They can manage any situation. bespoke development, from product concept through testing. They are also able to offer a wide variety of services. Cloud services and digital consultancy are a couple of them.
A Time-Tested Approach:
To overcome obstacles and create a high-quality output, Laravel development service companies employ the best methods and strategies available on the market. Agile approaches are employed. They operate in total transparency and adhere to a well laid out process. Because of this, the Laravel website developers here make sure the final product is of the highest caliber at all times. In order to determine whether the developed product fits the customer's expectations, other tests are also conducted. If it doesn't, the product is sent back to the designers so they may fix it.
Agility:
When you contract out Laravel app development services for your project, you provide your internal team of business professionals maximum choice. This enables them to focus on their core strengths, which can speed up the growth of your business.
After the team of highly skilled Laravel web developers adopts leading industry practices, the agile strategy enables the collaborative team to advance swiftly yet dynamically.
As part of their agreement with their clients, outsourcing firms are obligated to provide periodic updates throughout a specified time frame. In addition, the customers are involved in the Laravel web development process from the very beginning. The needs of customers must be satisfied by businesses. Once it's been implemented, clients will have more faith in the developers. This could only result in increased client satisfaction and retention.
You May Also Like: Difference Between Laravel and CodeIgniter Framework
How To Select The Right Laravel Development Services
Of course, it won't be simple to outsource Laravel development. However, you can engage a Laravel consultant for your business by following the steps below:
1. State the Objectives of Your Project
Before hiring a Laravel developer, be aware of your needs. The majority of businesses make errors by failing to evaluate their needs. You need to know what Laravel will be used for.
A committed Laravel developer will be able to provide you with the precise result if you are aware of your needs. It could result in significant losses if you don't carefully evaluate your demands.
You must outline your project requirements before selecting a company in order to choose the ideal resolution. then work with a skilled Laravel developer.
2. Don't select the first thing you see
It takes time to hire the best Laravel development company. Typically, businesses pick the first option they see. This may be the error you regret making the most. Making a checklist of the top companies is always a good idea. Next, analyze, evaluate, and hire the best talent.
3. Study Their Portfolio
Any reputable and experienced Laravel development firm must publish their work online. The works and projects they've completed in the past, together with the ways in which they've employed certain qualities, are displayed in such portfolios.
Their portfolio will demonstrate their range of abilities. You can tell if they are the proper team to outsource your Laravel project by looking at the work they have completed in the past.
4. Read Customer Feedback Before Deciding
Read online testimonials and evaluations after examining the portfolios of the Laravel development firm. Inquire about the standard and quality of their Laravel development services.
Check up customer reviews on independent websites or directories. You will get more specifics about the business you intend to outsource from this.
5. Consult the Clientele Base
It can be useful to have first-hand expertise from previous clients. Consult with the company's former clients to confirm its reputation. Visit their website to learn more.
6. Their Technology Stack
A software developer's meticulous approach can be seen in the technical stack. The stack contains a list of the technologies and tools needed to create websites and apps. You can use this information to assess whether you're hiring the right Laravel development services.

7. English Proficiency
The importance of languages cannot be overstated when considering an outsourcing partner for Laravel development. If you're going to outsource development, be sure the company you go with has developers who are fluent in English and have excellent communication skills.
It avoids communication gaps that could lead to misunderstandings or ambiguity. Additionally, it will make discussing efforts and interacting with them simpler.
8. Identify Experts
The business you outsource to must have a staff of professionals. Even though Laravel is a simple framework, not just anyone can use it. Due to this, most Laravel development services are unable to produce the desired results. Make sure you outsource Laravel development to a company with in-house IT professionals.
9. Interview the Programmers
After identifying the Laravel development firm you wish to outsource to, conduct interviews with their developers. Naturally, you need to know who will be in charge of your project. Assess the candidates' abilities in coordination, interaction, and Laravel development.
10. Flexibility
Among the most important qualities to seek while outsourcing Laravel development for your project is adaptability. Ensure the company you select can make adjustments mid-project. Be sure that the Laravel development company can assist you even if you are in a different time zone.
Closing Words
In reality, outsourcing is a wonderful choice because it saves both money and time compared to hiring a developer to work in-house.
In-house teams are being replaced by outsourcing developers as Laravel has become the greatest PHP framework in recent years. Contact CMARIX Technolabs if you want to hire Laravel developers from an Indian outsourcing Laravel development company. When it comes to offshore web and application development, we are the most reliable option. Finally, if there's anything else we can do for you, please let us know.
Take a look at
Frequently Asked Questions
Compared to other frameworks, Laravel offers the best object-relational mapper. You can use expressive syntax to interact with your database objects and relationships with this object-relational mapping. There is an in-built template engine in Laravel called the Blade Template Engine.

The hiring process for a Laravel developer is straightforward. Figure out what it is you require. if you have a strong understanding of your own requirements and objectives. It gets simpler for you to locate skilled coders.It's best to take the following action after shortlisting developers.

Evaluate their technical abilities.
Examine their background and experience.
Examine past performance records using client endorsements
Direct communication with the developer will allow you to gauge how well they communicate.
Hire developers from offshore companies

The length of time it takes to build an app with Laravel is entirely dependent on the specifics of your project. We at CMARIX are glad to state that we are among the best Laravel development companies in the business. Because we have highly skilled developers, we accomplish projects in the shortest amount of time possible.