Like the on-demand apps across all categories, insurance and financial consultancy through mobile apps are also gaining momentum. When it comes to on-demand app development strategies for insurance, an app should equally serve the purposes of users, agents and insurance needs.
It is no longer just a novel idea to launch an app that allows people to find insurance agents and appropriate policies for their needs. An agent finder app can really help customers find insurance agents and the policies and plan they need. An app to take care of all insurance-related needs of clients is a truly promising idea.
Here through the length of this blog post we are going to explain how this idea can give birth to a successful app and help people satisfy their insurance needs.
Some Credible Insurance App Ideas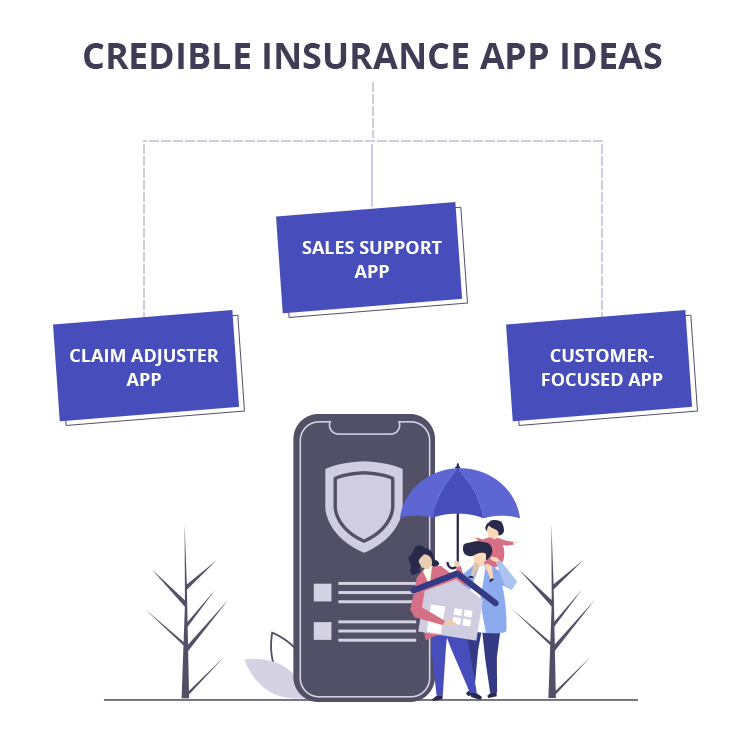 As technology is increasingly becoming a disruptive force for the financial and insurance industry as a whole, mobile apps are becoming the most lucrative technology to present insurance products and marketing insurance products to their customers. Whether you choose an Android app development company or an IOS platform for your first insurance app, you need to have a clear idea about the app type and required features.
While the possibility of insurance apps in satisfying customers and marketing insurance products seem to be limitless, there are some app ideas that really stand out from the rest. Let's explain some of these ideas.
Insurance claims remain always in the center of contention as the claiming process involves several complex calculations and several considerations. This is why a claim adjuster app taking care of each and every aspect of insurance claim settlement can really play a great role.
An app for providing support to the insurance team can be another great idea. Insurance agents through such an app can track their prospects, manage leads and get access to customer information in real-time. At the same time the app can allow the insurance professionals all the required industry data and insights that can be utilized to sell the insurance policies and products.
Insurance apps can also serve customers. An insurance app helping customers to evaluate their insurance needs and various policies in the market can actually make insurance purchase and decision making easier than ever before.
Key Features of Insurance Apps
Now, let us have a look at the key features of the insurance apps in the market.
User Panel
The user panel of the insurance apps should have the following features.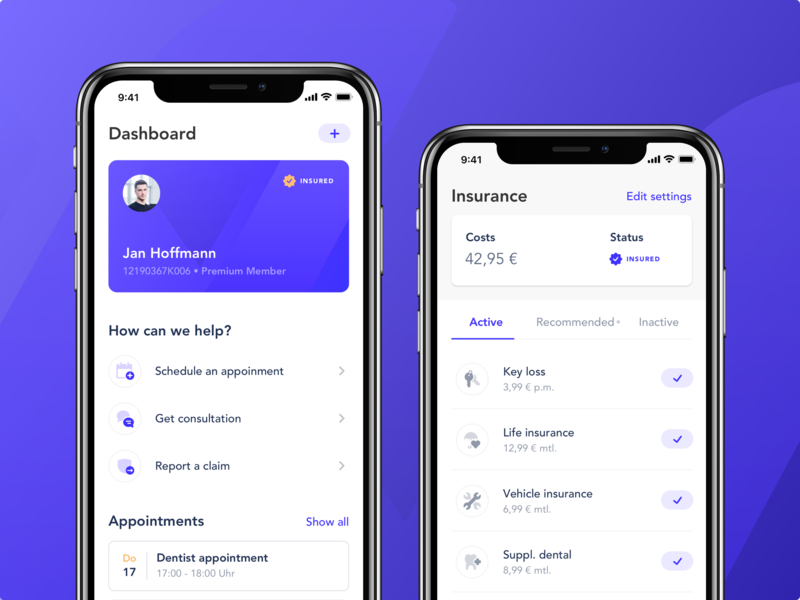 Like any other app where users will be requested to register or skip or just opt for any of the social media and email registration options.
Evaluate Insurance Profile
This section allows the users to evaluate the insurance needs and accordingly take decisions for the right insurance policies.
Knowing Agents for Availing Particular Policies
An intelligent insurance app can add agents to the particular policies requested or needed by the users and accordingly can help insurance purchase.
With this feature the user can actually schedule insurance appointments as per his convenience.
Based on user satisfaction and feedback, users can actually rate the app and can review the app.
The users for their chosen insurance policies can almost make payment using any of the popular payment gateways and channels including PayPal, Net Banking, Credit/Debit Cards, etc.
Agent Panel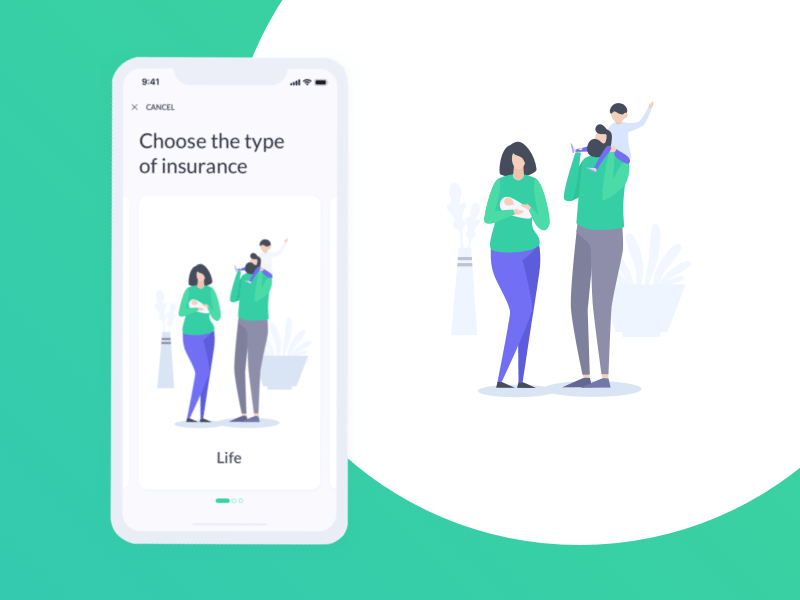 The agents also need to register with the app by providing their credentials or through social login.
Through the app, agents can upload the policy documents.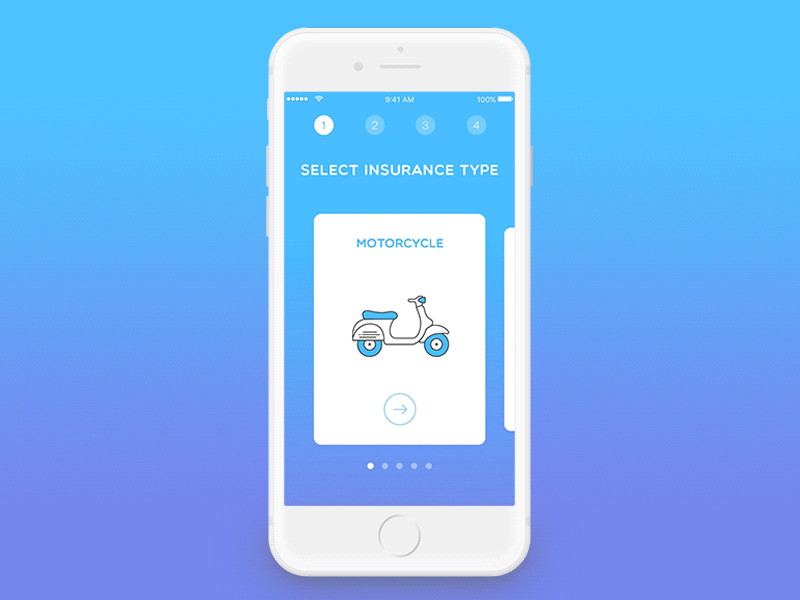 The insurance agents through this panel can choose a service niche of their preference.
Agents can see his earnings from selling the insurance policies and they can also see the historical, report of their earnings.
The agent panel of the app will also allow agents to receive payments from the accumulated insurance commission
Admin Panel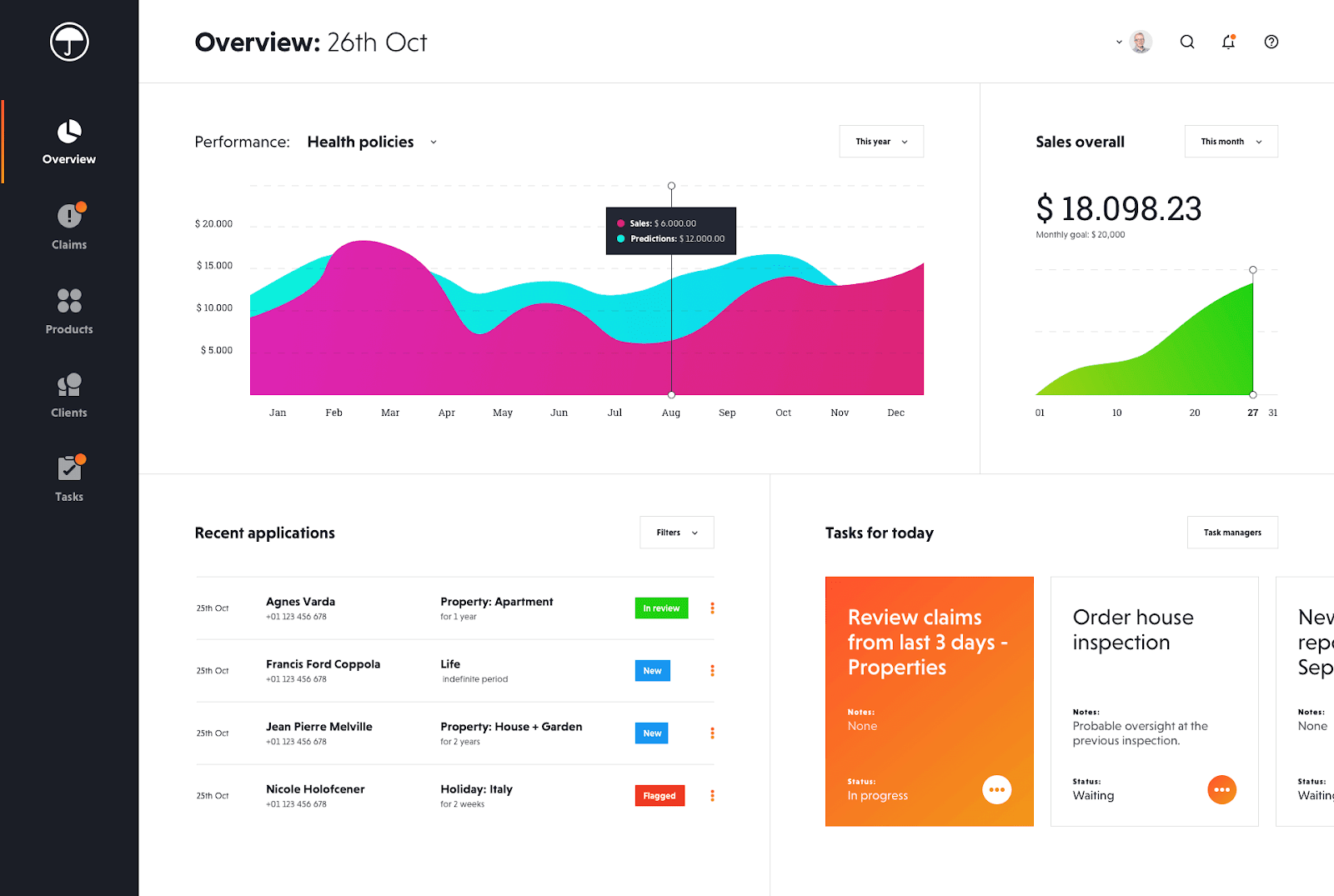 Through the dashboard all the requests including the assigned, finished or pending ones can be viewed and evaluated. Admin panel can also help to suggest agents for the right policies.
The admin panel will provide the strategists and decision-makers to manage the agents and the users.
Through the admin panel the top management can actually evaluate the entire reports about the policies, claims, cost, etc.
This section also allows the top management to manage the rates for different insurance policies.
Through this the admin can also make payment to agents and can make claim payment to the users.
Advanced Features of Insurance App
Apart from the three panels that every insurance app comes loaded with, there are some advanced features that every insurance app should have. They include the following.
One tap policy selection with a lot of filters and controls.
A robust CRM solution to help marketers and the insurance company to drive sales.
Easy payment processing through in-app wallet, NetBanking, Credit/Debit Card, etc.
Policy comparison chart to help customers make the faster decision making.
GPS based tracking of agents and users to help both parties contacting each other.
Cloud support for data management and data access across all locations and devices.
Heat Map View to locate insurance agents in locations.
On-Screen Signature to help customers provide a signature of consent on the mobile app.
Online policy selection and preliminary verification to help insurance buying and validation.
Notification and alerts: to keep agents and users informed about the latest developments.
Conclusion
A highly equipped and loaded technological stack is required for building an insurance app with a rich set of features and capabilities. The technology stack should also take of the UI/UX elements. An insurance app should be fluid enough in streamlining information besides offering an extremely easy user experience.