"App creation? Ah, no! I'm not very computer savvy.
App development? Are you not tech user-friendly?
But what if you don't even need to be a techie? Say hello to the no code development platforms that help you develop an app without any code.
By the name alone, many non-technical people have remarked that it sounds too wonderful to be true. Although it seems unbelievable, we both concur that it isn't. You'll wonder why it wasn't thought of sooner once you dig into the specifics and comprehend how it operates. The future of development is essentially no-code development, and we have already stepped into that future.
We will discuss all the no code development platforms that help with app development without coding.
What is no-code?
People without coding expertise can build software using graphical user interfaces rather than writing code thanks to no-code apps and tools. Prior to no-code options, programmers have required the creation of websites and apps. By removing that obstacle, a lot more people are now able to create stunning, useful websites and applications without knowing how to write code.
17 Best No-Code Development Platforms of 2023
We'll list some of the best no-code tools that enable non-programmers to create chatbots, e-commerce sites, processes, websites, apps, and more in the sections below.
CMARIX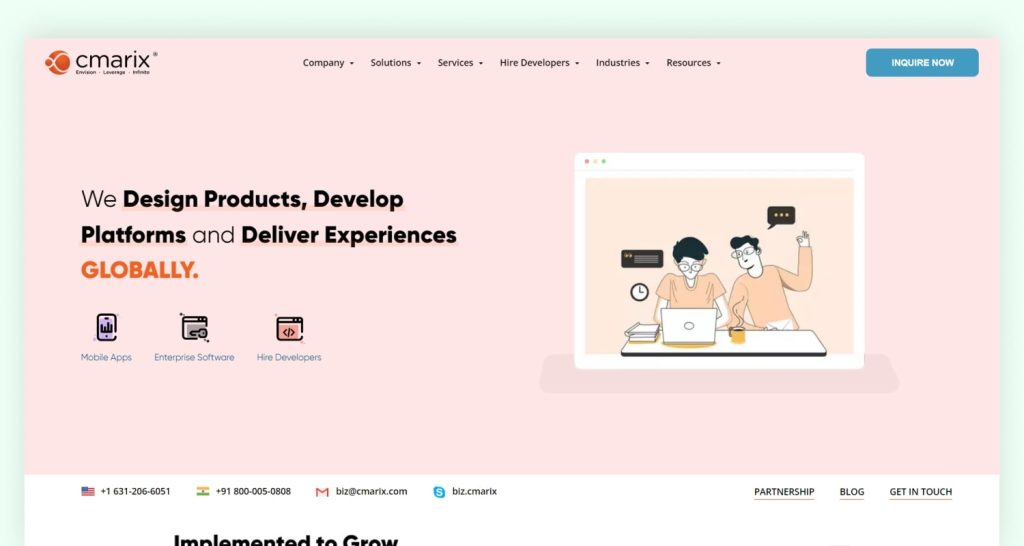 Okay, we'll start this list with ourselves. We have a site, right? But in all reality, we are enthusiastic about giving everyone access to the development tools they need to create high-quality websites. Without understanding a single line of code, CMARIX is one such app development company that enables you to build any type of website you desire, including fully functional (and cloneable!) job boards, e-commerce sites, or SaaS app development.
You can launch your no code apps rapidly thanks to various templates that will help you get started and a simple drag-and-drop user interface. CMARIX allows for complete customization, whether you want to start with a responsive template or create from scratch. And if you chance to know how to code, you can always look at the code that's used to create the design.
The use of CMARIX as a low-code platform by many of our developers allows them to fully investigate the possibilities. No matter your level of expertise, visual coding, and development enable anyone to take their ideas and turn them into functional products.
Bravo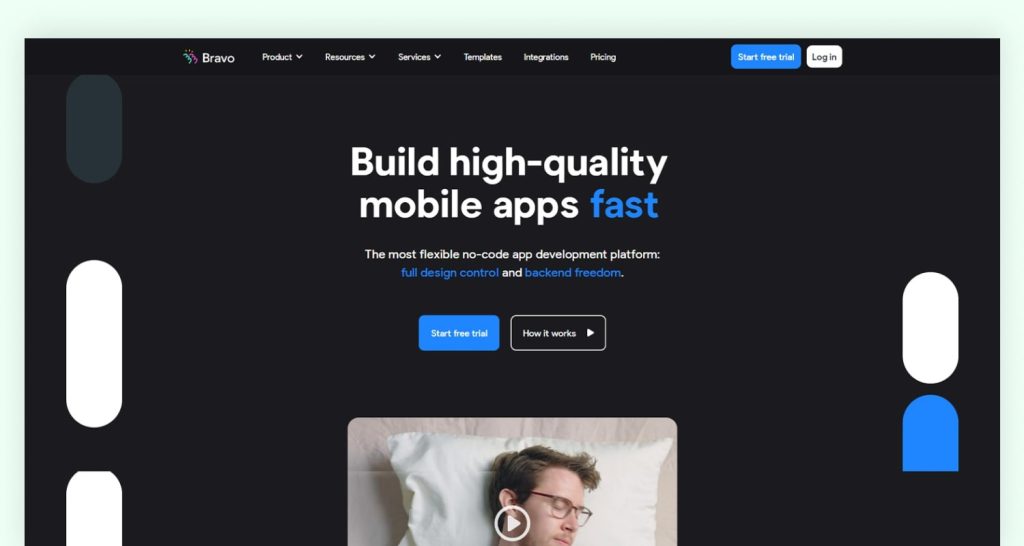 Because it enables you to turn designs created in Figma or Adobe XD into native applications for iOS and Android, Bravo is one of the most well-liked no-code app builders among designers.
Bring your own design and infrastructure, according to Bravo, an app builder. You link to one or more databases or APIs of your choice after creating your design in Figma or Adobe XD. The process of converting a design into a usable app is made easier by Bravo's graphic design interface. You can share test access with coworkers in addition to testing the app directly within the tool. Additionally, Bravo's no-code app builder interface allows you to publish straight to the Apple and Google Play app stores once you're ready to go live.
Mailchimp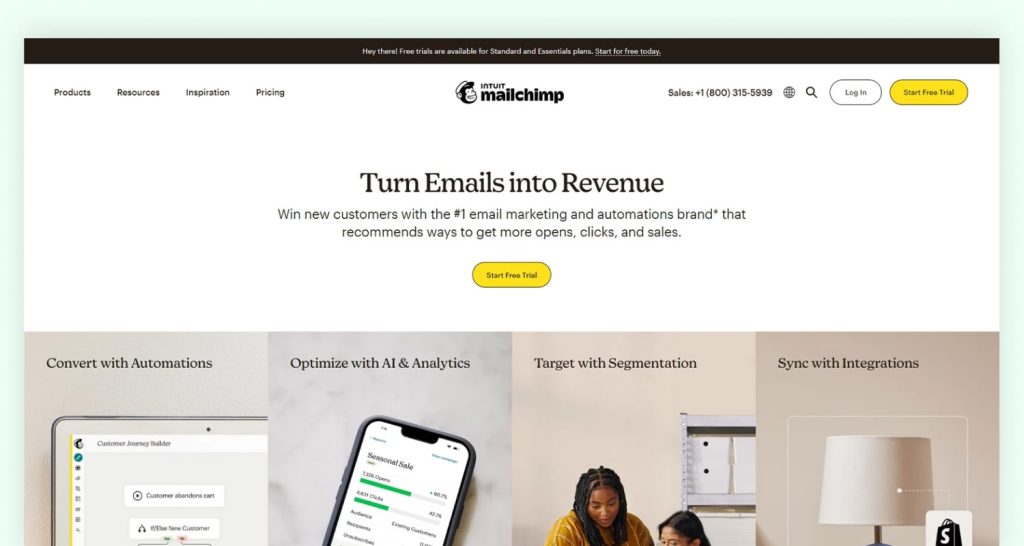 Growing and comprehending your audience is essential to build a small business. The platform provided by Mailchimp has everything you require to gather client data, assess your audience, and communicate with them.
From Mailchimp's all-in-one marketing platform, you can run surveys, start social media campaigns, and classify your client databases. Additionally, they provide a number of no-code interfaces for programs like Square and LiveChat, making it flexible and easy to automate any task you require.
Growing your customer base and keeping in touch with them is crucial, particularly when starting a startup. The Mailchimp web tool streamlines and streamlines this procedure.
Parabola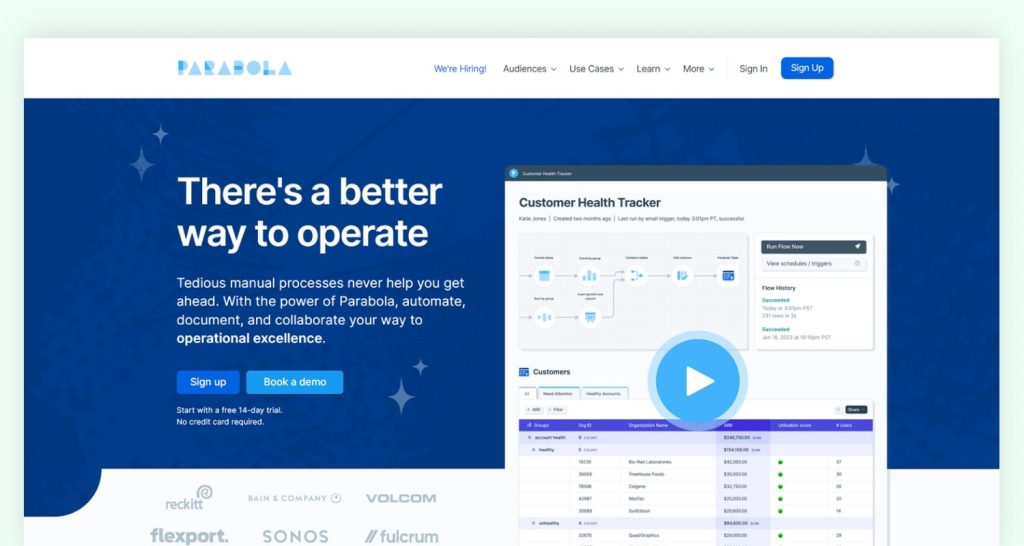 It can be difficult to integrate data into automation and link apps. This is all doable thanks to the parabola. Parabola simplifies the process of connecting and automating data-related chores in a visually focused user experience, regardless of whether it's an API, an external database, or the complexities of e-commerce.
You can build a workflow or automate a process using Parabola's drag-and-drop tools. Parabola is a crucial data management tool for your company, whether your data is in Salesforce, Mailchimp, Shopify, or one of the many other platforms they handle.
Voiceflow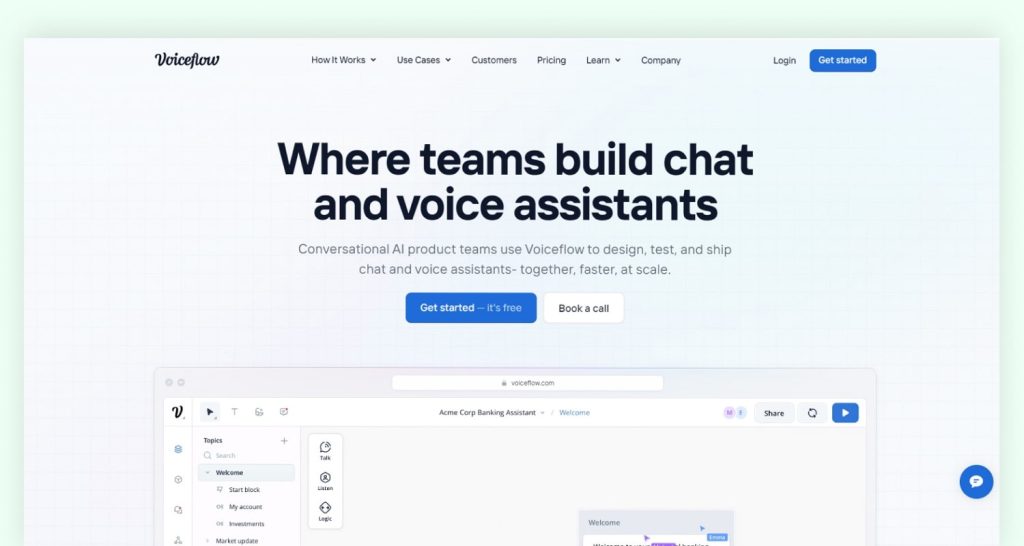 It was difficult to fathom how far voice-activated technology would advance just a few years ago. Siri and Alexa were just titled not too long ago. They are currently preferred voice-activated aides.
The use of voice applications shouldn't be restricted to programmers only. Without writing a single word of code, anyone can create voice apps using Voiceflow.
Drag-and-drop building blocks are used to arrange a voice app's logic and structure, allowing for quick application creation. It has an intuitive visual interface that takes away all of the complexity involved in developing speech applications for Google, Alexa, in-car assistants, chatbots, and other voice assistants.
Voiceflow's no-code application creation platform enables you to create voice assistants if you're an aspiring app developer.
Bubble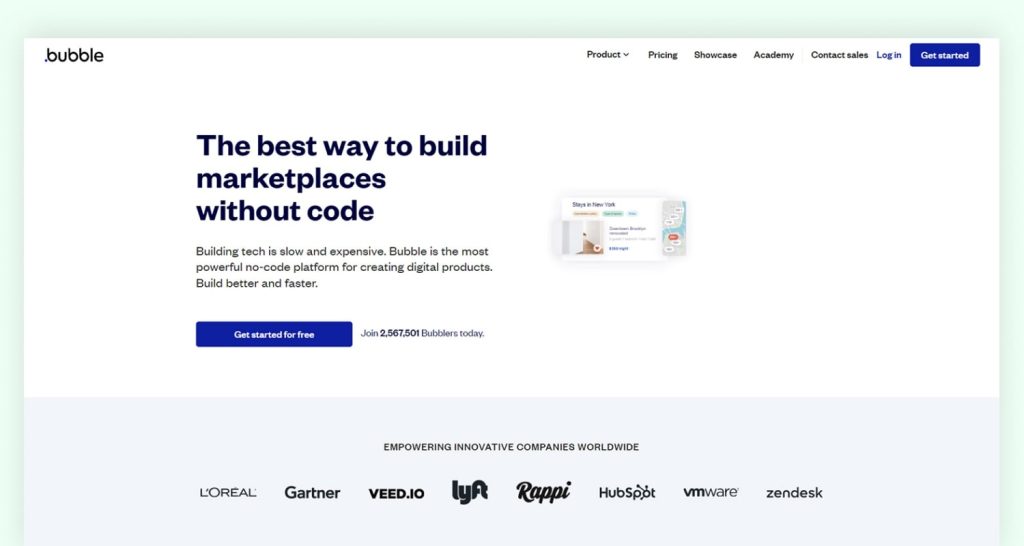 Additionally, no-code eliminates software development's roadblocks. You can create your own game with Bubble without having any programming experience.
Hire no code app developers can assemble and release completely functional end products using a visual set of components provided by Bubble's no-code app builder. Bubble is a potent tool for software creation and for creating apps, dashboards, CRMs, social networks, and more due to the wealth of functional customization options.
Anyone with an idea can create, prototype, and introduce it to the world using Bubble. Regardless of their skill levels, creatives can now realize their ideas thanks to No-code.
Makerpad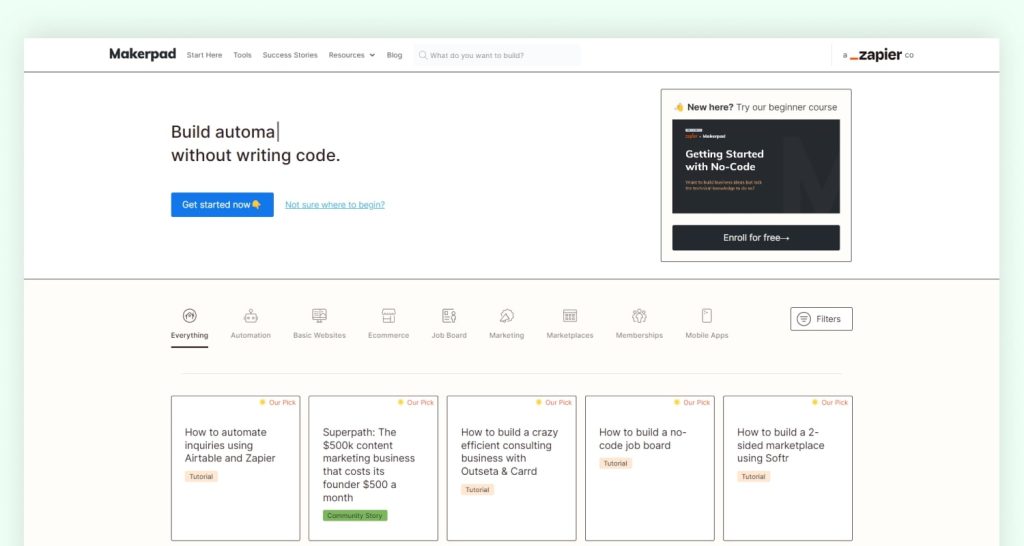 You might have a basic understanding of what no-code can do but want to know more. Perhaps you want to make something but are unsure of what resources are available to you.  Makerpad has case studies, apps, tools, and other resources to assist anyone looking for an answer to any issue.
Along with these tools, Makerpad also offers paid services that supply no-code startups and business owners with training, execution, and support. Makerpad has a vast selection of everything no-code related if you're searching for it.
Stage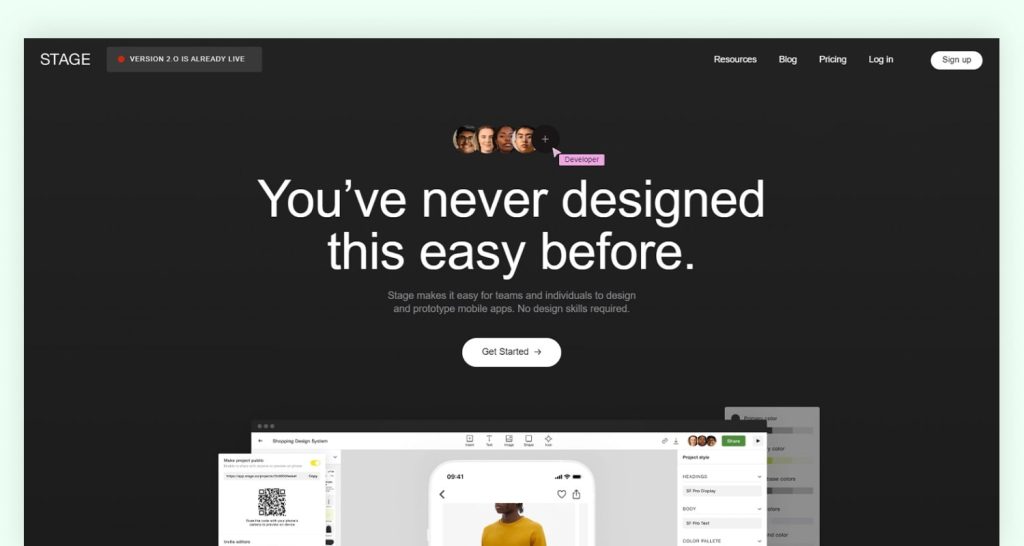 The stage is the right tool for you if you want to make an app but lack any design or coding expertise.
You can choose from a library of mobile patterns and a variety of templates using the visual interface of this no-code app builder, saving you the time and effort of having to start from zero. Once you've laid the groundwork, you can change the font, the hues, and more. The stage is a collaborative instrument that enables real-time teamwork and the creation of live prototypes.
Airtable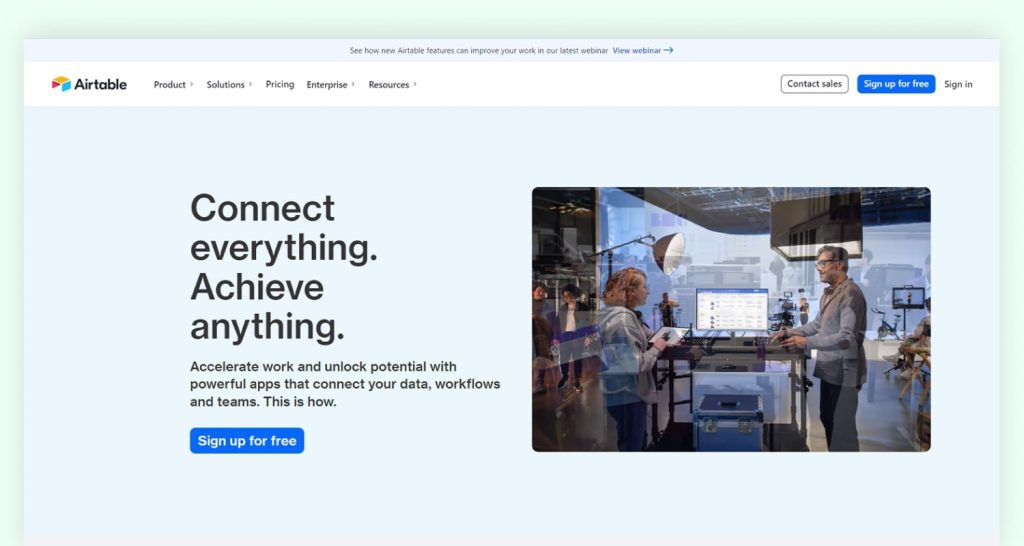 Imagine having all the features of Excel or Google Sheets combined with the ability to manipulate data in sophisticated databases without having to input a single formula. Databases and spreadsheets are combined in one application called Airtable.
Because it offers a flexible and customizable product that can be used for so many different things, Airtable distinguishes itself from other business apps.
Airtable makes it simple to create and work on any type of information organization, whether you need to assemble a customer list, arrange a calendar of project deliverables, or organize any other kind of information. You can go beyond simple spreadsheets with their modular system of creating customized tables, allowing you to create precisely what you require.
Coda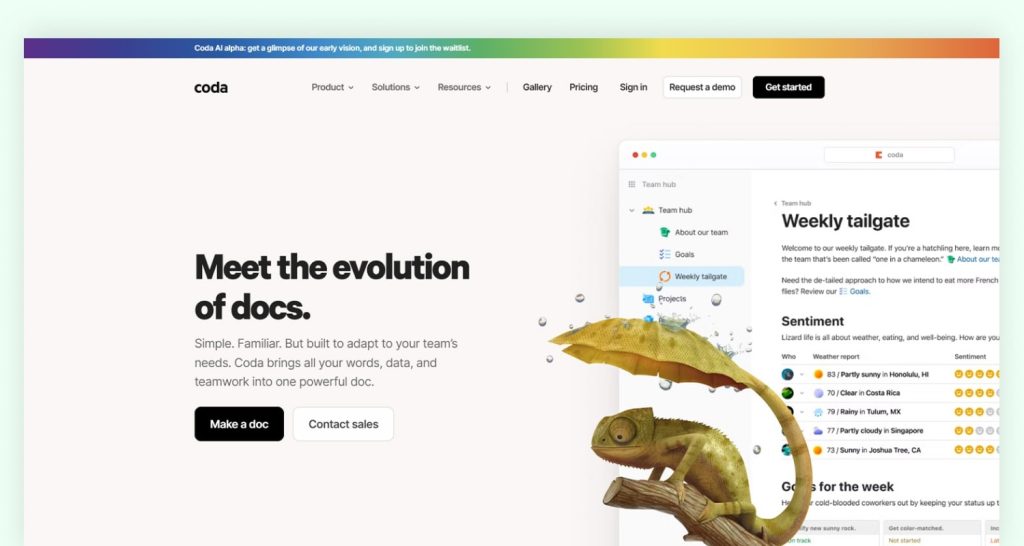 Your routine should be unified thanks to Coda. Coda organizes spreadsheets, apps, and datasets into a single, cohesive Coda doc rather than a disjointed web.
Coda Packs enable the connection of Documents. Without having to fear, you can connect Slack, Google Calendar, and Jira. The Coda building block system makes it easier to create Coda docs (complete with entertaining graphic embellishments!) and facilitates dialogue between teams.
Zapier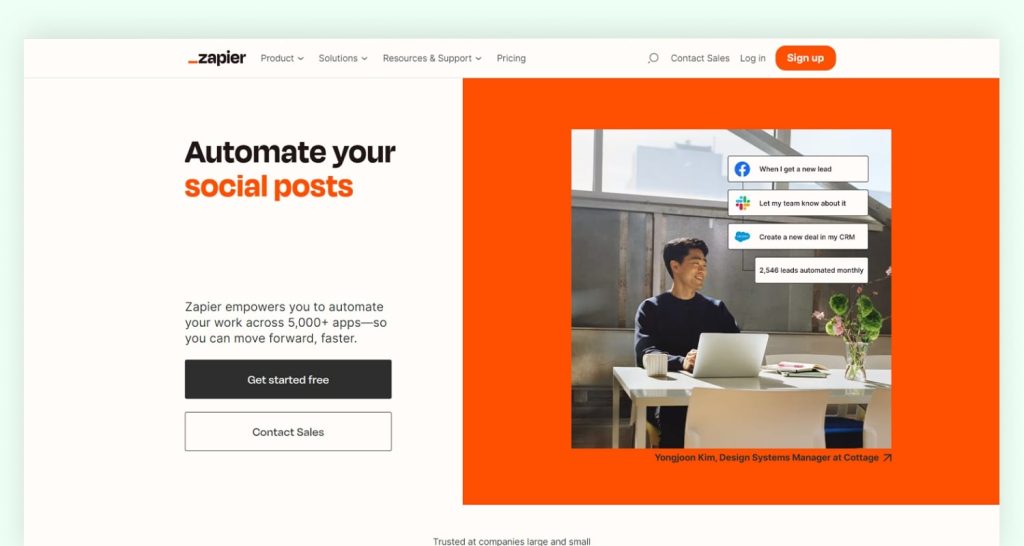 Do you want to connect your various applications-which are all producing vital data-into an automatic process? Zapier enables you to automate and speed up your workflow by connecting various software platforms to develop no code apps.
Many of the common business tools can be automated with Zapier. You can incorporate services like Shopify, Dropbox, Slack, and Twitter into an automated process. Zapier is a no-code app that is popular among users for helping you handle business needs through straightforward but effective workflow automation. Users range from lone freelancers to large SaaS companies.
Gumroad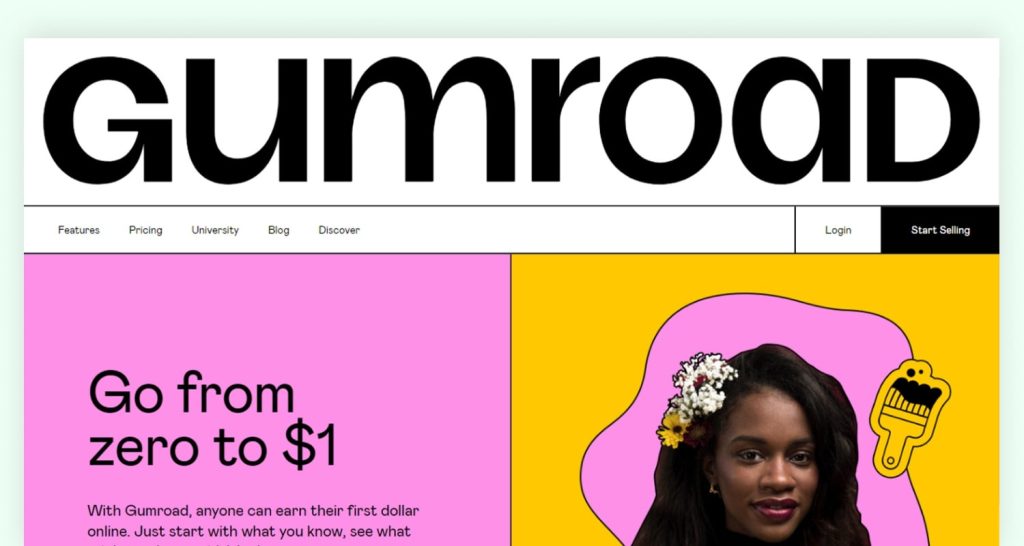 The vast, dazzling world of technology comes to mind for the majority of us when we speak about startups. However, those with business ambitions are not just online. Many individuals want to support themselves through their own creativity.
Gumroad may be the no-code program for you if you produce drawings, podcasts, beats, or even want to start your own online course. This tool provides an eCommerce option to help you market your creativity, enabling artists to start their own businesses.
Landbot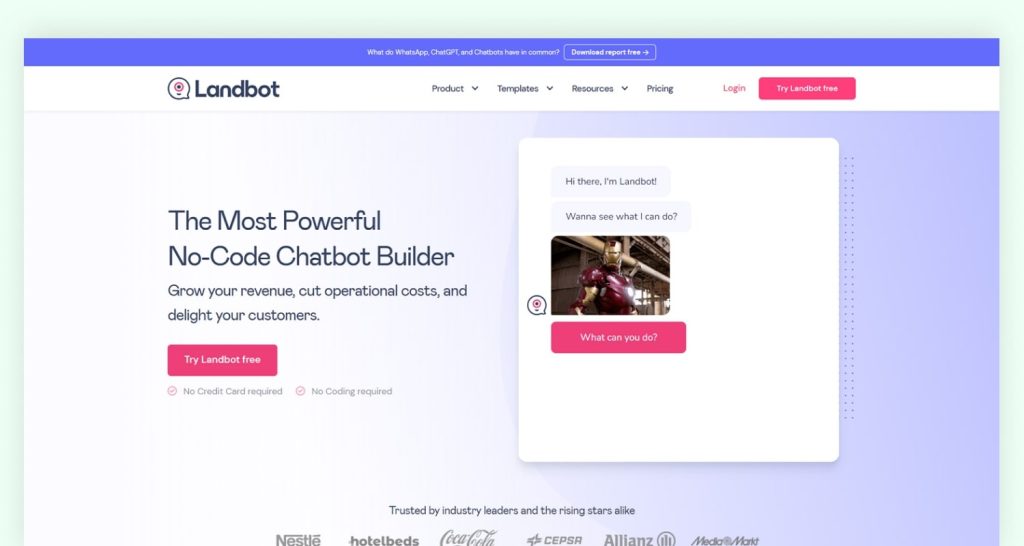 When used properly, chatbots can be a beneficial instrument for companies and a valuable resource for clients. Chatbots can welcome site users, direct them to the information they need, and collect quality leads that a human can pursue. However, pre-programmed chatbot responses will not impress your clients; customized chatbots are essential.
With Landbot, you can build your own chatbots and design user-guiding dialogue prompts. You can connect all of the various threads of a discussion together with an easy-to-follow workflow. Additionally, by integrating WhatsApp, you can speak to your brand's followers where they are already conversing.
Typeform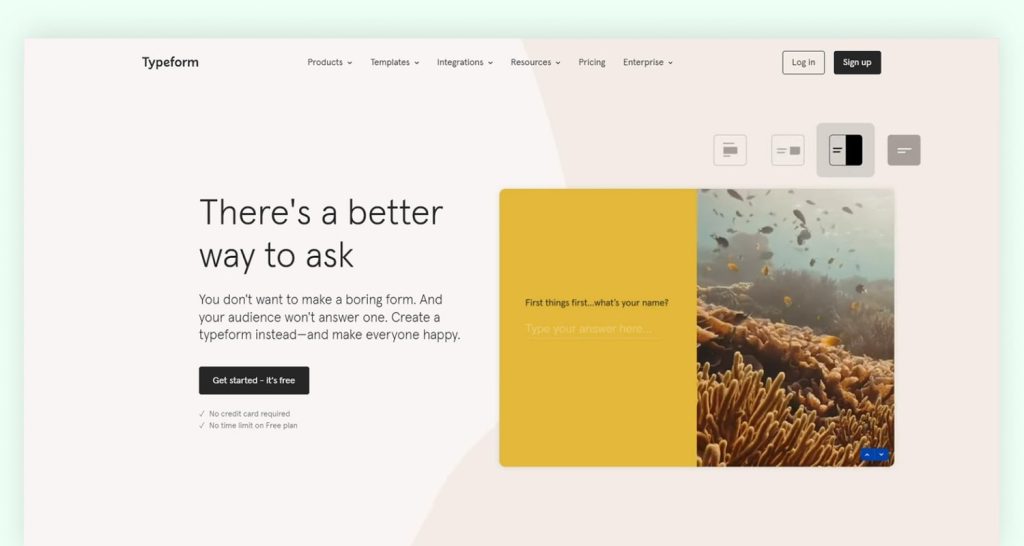 Typeform is a fantastic no-code solutions tool if you're looking to build submission forms and surveys or find methods to generate leads. Data collection is made simple with Typeform, which also provides an excellent user experience that can be completely customized to match your brand.
The lessons on Webflow University will show you how to incorporate Typeforms into your no-code stack and they are incredibly simple to create. Because Typeform offers so many different forms kinds, including tests, polls, and quizzes, it can be used for a wide range of purposes, including lead generation, research, and feedback gathering.
You can design unique inquiry paths and logic jumps using Typeform Professional. More than ever, creating personalized experiences for various personalities and customers is possible with Typeform.
Polyflow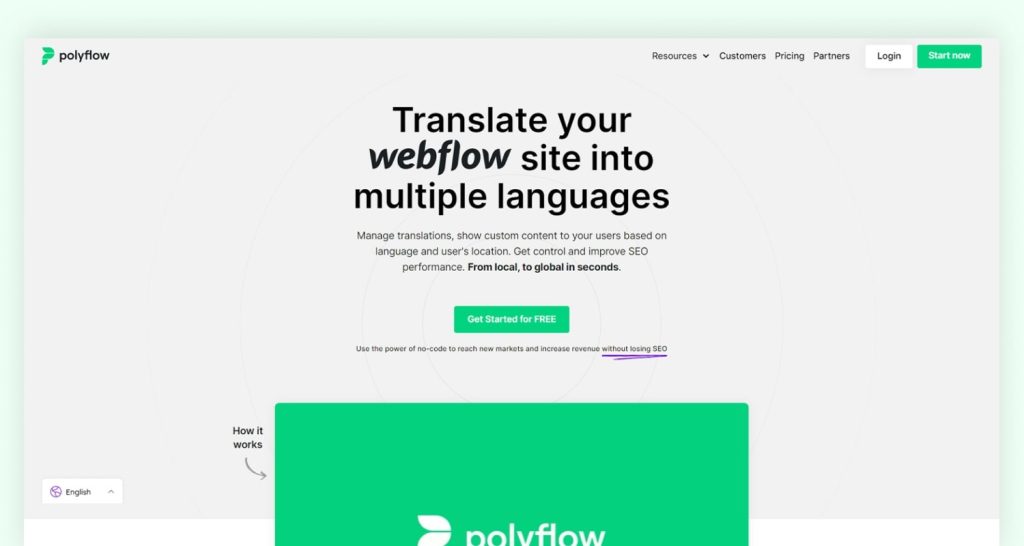 With this no-code utility, you can translate into more than 120 languages and sync all of your static and dynamic content, attributes, components, and images. Following best practices to inform Google about localized versions of your website, Polyflow enables you to add language alternatives for every page and CMS content with custom URLs and subdirectories once your Webflow project has been synced. A unique solution called Polyflow was developed by Webflow's Enterprise partner, Minimum, for Webflow websites. run to develop no code apps.
Thunkable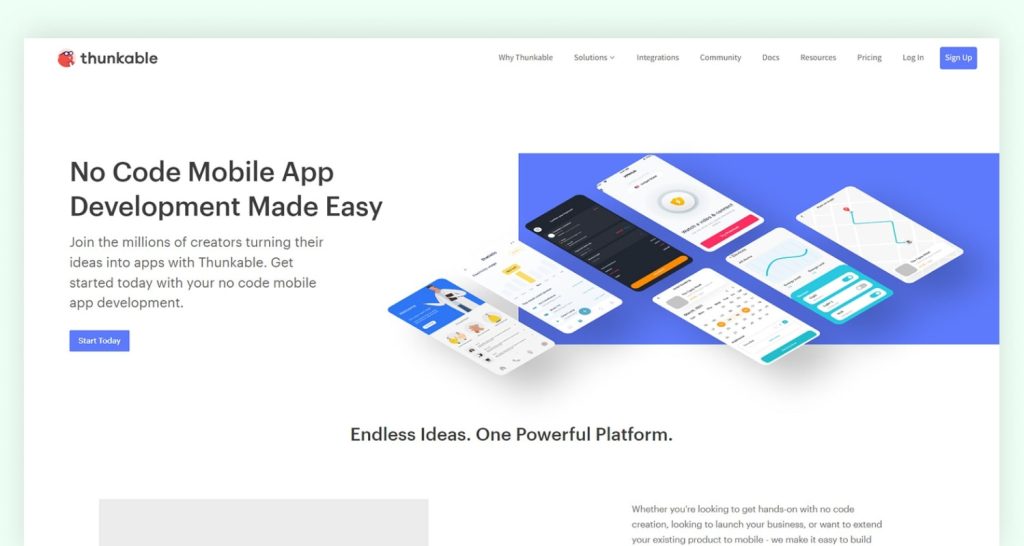 Thunkable provides a no-code app development platform for helping you create and launch your digital creations if you're looking for another option for developing mobile applications.
Thunkable's drag-and-drop feature enables you to link a variety of functional elements to create various user flows for your own app development. Without requiring any modifications from you, your finished mobile software will run on both iOS and Android. You can build native no code apps for the Apple and Google Play stores using Thunkable's no-code app builder without having to start from zero because it offers a variety of open-source projects for free.
Glide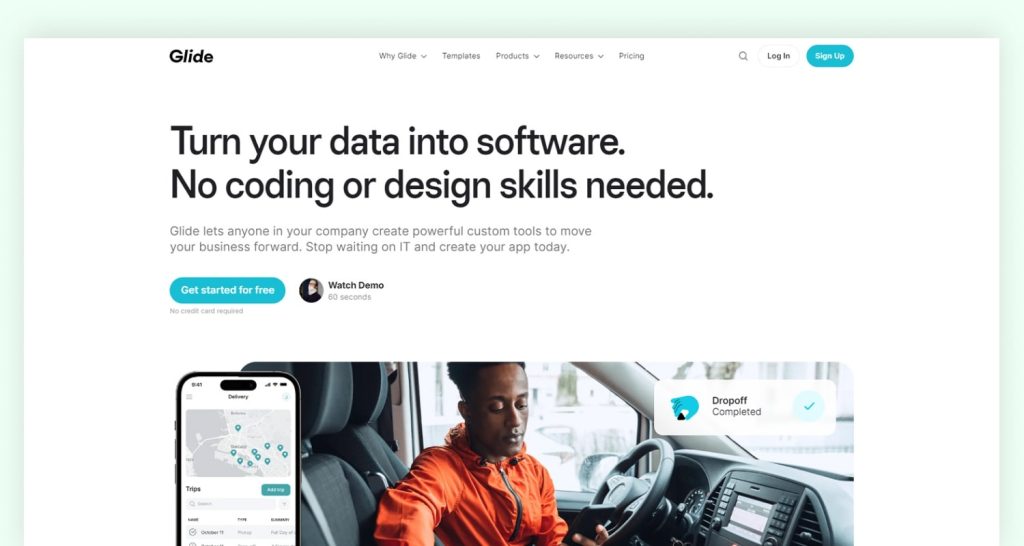 You can use Glide's no-code app builder if you have a rudimentary understanding of spreadsheets. This drag-and-drop platform asks you to add visual components using a drag-and-drop UI after it pulls data from sources like Google Sheets or Excel files. It is very accessible to those without any coding expertise because of the variety of templates and pre-built components. Additionally, Glide transforms your spreadsheet into a potent progressive web application rather than just making it simpler to view.
For creating no code apps for mobile for particular internal business procedures, Glide is fantastic. No code apps that track your sales pipeline, manage supplies or keep an employee directory come to mind.
You may like this: How to Find a Developer for Your Dream App?
How good are no-code platforms?
Let's learn its benefits to understand better.
1. Integrate IT and business
No code development platforms make it possible for business and IT to work in perfect harmony while utilizing each other's special talents and expertise. Watch this quick film with Forrester expert John Rymer to learn more.
2. Quicken product industry entry
Rapid prototyping is made possible by the no-drag-and-drop code's functionality, which speeds up product development compared to conventional programming. Check out this webinar where we put a programmer and a no-coder through a speed challenge.
3. Promote civic engagement
Employees on the business side are the only ones who truly comprehend company processes and customers. It is extremely valuable to incorporate this special knowledge into the software development process. It's referred to as citizen development, and it's not made feasible by code.

What can you build with no code development platforms?
Although it would be nearly impossible to cover all of the functionality offered by no-code tools in a single article, we can at least categorize the most typical types of apps that users are likely to want to create.
1. Online stores: Consider web pages like Etsy. eCommerce sites primarily allow vendors to display their goods, after which customers can browse and purchase them. These are crucial attributes created with no-code tools with utmost capabilities.
2. Making reservations: This covers programs like Calendly. These applications enable you to share calendars, schedule meetings, and appointments, send notifications and reminders, and even integrate payment systems. You can create an app like this or add these functionality elements to another app using no-code platforms.
3. Directory directories:Â  For example, real estate listing apps like Zillow or job board apps like Indeed, which mainly just need listing and search functionalities, fall under this category. A very popular category of no-code software is listing directories for specific niches.
4. CRM: Systematic approaches to managing client relationships (CRMs). Consider businesses like HubSpot. CRMs aid in the management of your leads and clients. Numerous functionalities are available here, and adaptable no-code systems ought to be able to meet your CRM requirements.
5. Texting: Group chats, forums, private chats, and other features can be found in messaging applications. Consider Quora. You can create a messaging app that runs independently or incorporate messaging capabilities into a bigger app using no-code platforms.
6. Social: Some of our own customers include social features in their apps, even though the majority aren't trying to create the next Facebook. You can absolutely build an app that enables users to connect or interact with other users if you need some form of social interactivity within it.
Conclusion
No code development platforms are not the same as anti-code. The skills of developers will always be in demand. However, not understanding how to code shouldn't prevent people from launching their ideas, starting businesses, and pursuing their entrepreneurial dreams. It's exciting to see how many platforms exist that enable non-programmers to produce without writing any code.
Take a look at
Frequently Asked Questions
While no-code platforms allow business users to create no code apps without any coding to address their business requirements, low-code platforms are typically used by IT professionals with coding expertise to create complex custom applications. You might need to integrate info from a variety of platforms, depending on the type of app. No-code platforms frequently fall short while low-code development platforms frequently offer outstanding system integration adaptability. Because the creation of programs without proper oversight or inspection could result in shadow IT. Possible outcomes include security issues, regulatory difficulties, integration problems, applications that use more resources than required, and escalating technological debt.

It would be inaccurate to state that low-code, no-code software development is the way of the future. Low-code no-code has its uses because it helps companies in a number of ways, but it is unlikely to replace all software development or the need for qualified developers.

There are multiple no code platforms like those mentioned above in this blog. Whereas, below is the list of top low code development platforms of 2023.

Visual LANSA
Retool
Google App Maker
Quixy
Jotform
GeneXus
Zoho Creator
Web.com
UI Bakery
Strikingly