Nowadays, promoting mental health has become more crucial, particularly in light of COVID-19's serious impact on people's mental health. Most people today deal with stress daily. Sadly, doctors and clinics cannot always be accessed offline, and that is where Mental Health App Development is very valuable.
Healthcare software development revenue will increase globally to $51.7 billion by 2028.
Telemedicine Software Development is essential for improving the efficiency and effectiveness of treatment. Smartphones with 24/7 online therapists or support are becoming increasingly popular worldwide.
People who deal with their mental health can benefit greatly from apps designed to help them cope. This blog will teach you about creating a mental health app, its benefits, and how to develop them. In short, it provides you with a step-by-step guide throughout the process. Here we go!
Mental Health App Development
A mental health application is software designed to assist people with psychological problems. The niche provides various services, such as overcoming illnesses, facilitating therapy, and helping individuals overcome anxiety, depression, and despair.
Mental Health App Development: Market Overview
Over one billion mental health problems worldwide yearly and depression is among the most common.
Between 2019 and 2027, revenue from mental health apps is expected to increase by 23.7%.
More than 45% of mental health app revenues come from iOS users.
Types of Popular Mental Health Apps
Mental health apps come in different types, so decide which category you will follow. This way, mental health apps can shine. Listed below are the various kinds of mental health apps available today:
Mental Disorder Apps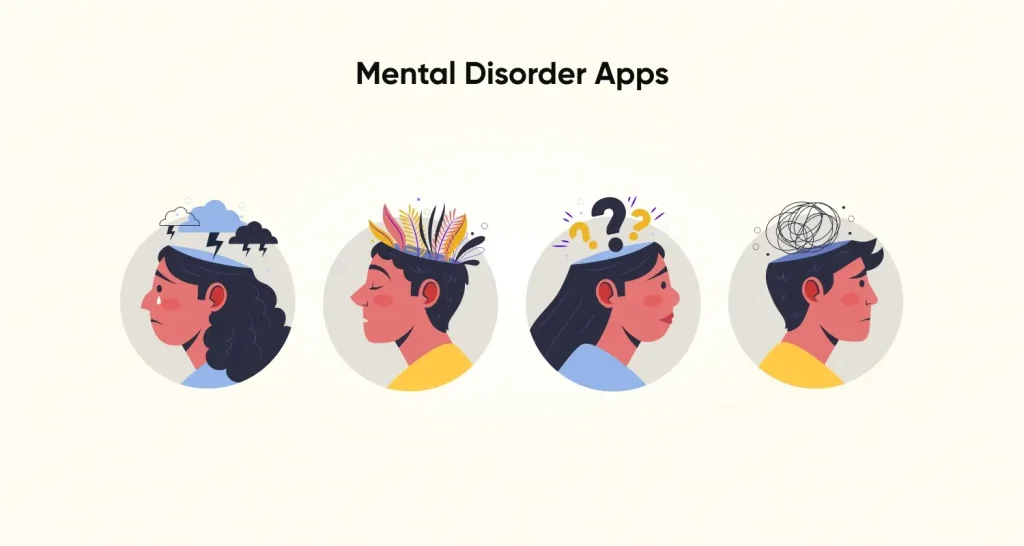 Depression, stress, anxiety, bipolar disorders, and other mental health disorders can be addressed with such applications. There are applications for all these disorders or just one of them, and a journal app, a psychotherapy app, and more offer these features.
Mental Self-Improvement Apps
Generally, self-improvement applications are intended to alleviate minor psychological difficulties such as stress, anxiety, negativity, frustration, and bad habits.
Multipurpose Apps
Apps related to mental health provide a wide variety of services related to mental health. A good example of a multipurpose application is telemedicine platforms.
In addition to online marketplaces, individuals can access individual therapy sessions, couple therapy sessions, psychiatric consultations, etc.
Benefits of Mental Health App Development for Hospitals and Healthcare Centers
As digital health technology grows rapidly, mental health apps significantly benefit hospitals and patients.
An Analysis of the Effectiveness of App-Based Interventions
The use of smart gadgets allows for remote treatment. Thus, you should become familiar with developing a mental health app to increase access to care. If there are no clinics nearby, having an app is awesome. However, the treatment and recommendations must be updated and supported by the latest research to ensure their efficacy.
Enhances the Quality of Treatment
Collecting and monitoring patient data is necessary when your mental wellness application does not include holistic treatment. Clients are usually advised to utilize such applications during medical consultations. The treatment plan will be adjusted after a care team member reviews the records.
Improves Patient Satisfaction
There is no doubt that mental wellness applications can be beneficial in dealing with the aftermath of a disaster. A few of its features include tracking mental health conditions, scheduling appointments, and requesting prescription refills. Furthermore, the uncertainty inherent to developing a mental health application from the ground up plays an important role.
The Convenience of Mobile Devices
Smartphones are available to almost everyone these days. Therefore, mobile apps for mental health make therapy much more convenient since no physical location is necessary. As such, mental health apps grew in popularity during the pandemic.
The option is also convenient for those uncomfortable discussing their issues with strangers. It is now possible to receive mental health services without meeting in person.
Safety
It created a significant risk of contracting the disease through physical contact during the pandemic. This prevented people from seeing their therapists in person. However, healthcare companies have developed a growing number of mental health apps. Both patients and professionals have greatly benefitted from mental health apps.

Core Features of Mental Health Apps
Here are some incredible Mental health app features from patient to therapist:
Patient Portal Features
Easy Sign-up: A simple and minimalistic registration and login process is essential.
User Panels: Personal profiles should be available for mental healthcare service users.
Professional consultation: To resolve their mental health issues, users of mental health apps may wish to consult with professionals.
Communities: The use of mental health apps often leads to the development of communities that aid in the development of individuals.
A self-monitoring system: Wearables must be integrated with mental health apps after development for accurate metrics.
Emergency Feature: There is no warning that an individual may suffer from a sudden panic attack or depression attack. A person in such an emergency should be able to transmit an emergency message to their doctor or caregiver as soon as possible.
Therapist Panel Features
The role system: With this feature, admins can determine each application user's roles as they interact with patients.
Treatment Plans: Therapy plans and prices may vary between therapists and doctors. It is, therefore, necessary for them to provide a list of their plans and prices following mental health apps.
Calendar with smart features: To manage the schedules and appointments of the therapists, an interactive calendar must be provided in the app.
Dashboard with smart features: The therapist can monitor and track each patient's progress using this dashboard.
How to Create a Mental Health App?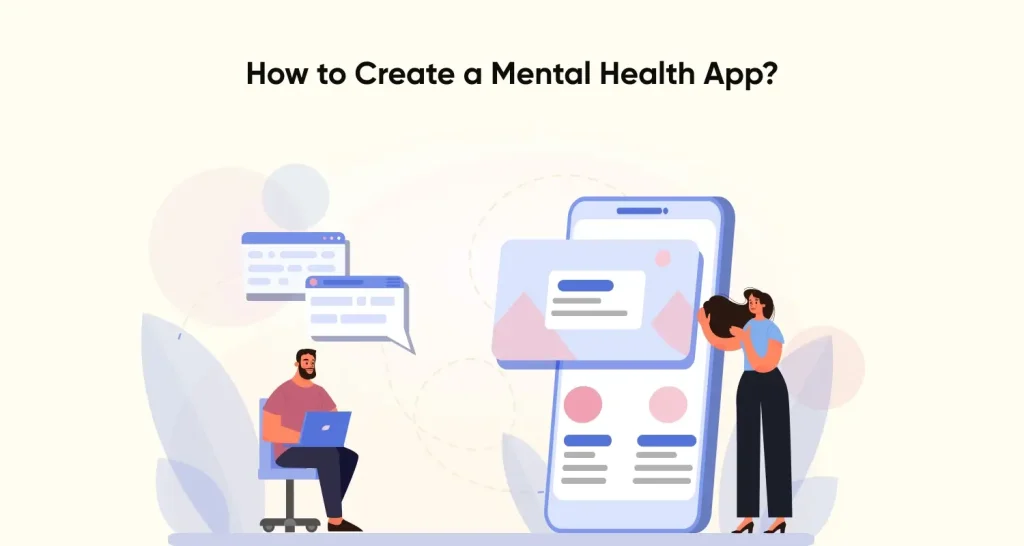 Developing a mental health application involves several steps, and it describes how to develop a user-friendly mental health application. The steps are as follows:
Research the Target Audience and Identify It
Getting insights into your audience is key to creating an effective mental health app. You must determine the platform to use depending on who you target – seniors, children, adults, or teenagers.
Everything depends on the problem you intend to solve with your product and the intended audience for it.
Get a Team of Professional Developers
When creating an app to treat mental health issues, it is essential to hire a competent team of mental health app developers, team leaders, designers, and quality assurance specialists.
Consider outsourcing mental health app development with experience working on health-related projects if your company doesn't have a team of developers that can comply with GDPR or HIPAA.
Prototype Possible Features and Draw Out Possible Features
A prototype is essential at this stage to test all the features that should be included in the MVP.
It is essential to have a prototype designed to test your app idea and assure you that the result will be as expected.
Using a clickable prototype allows you to simulate how your application will work without having to write any code to get an idea of how the application will look and feel without having to write.
Development of Mobile
Your app's safety and user-friendliness requirements should be met while coding it. During your development process, this is the most time-consuming step. As each iteration progresses, conduct interim tests.
Develop a Minimum Viable Product
Once you have tested and analyzed various solutions, you should deploy your first version. Why should you develop a mental health app? Make sure to focus on creating unique functionality. An MVP means creating something that can go to market with minimal resources. Show off your unique meditation framework.
Analyze and Monitor Performance
You're just starting your app's journey, whether your MVP or a full product; much work lies ahead.
Keeping a mobile app relevant requires regular updates and improvements. The more you understand what makes users stay and what drives them away, the more likely you will be able to create updates that will benefit your audience.
All Aspects of Testing
A mobile app development cycle would only be complete with testing. Yet, before delivering the solutions, much testing is carried out. We cover a few types of app testing commonly used to check their quality.
Functional testing
Performance testing
Unit testing
Stress testing
Maintenance & Launch
Once you have thoroughly tested your application, you can invite users. It appears on the app store after a series of accommodations are made.
In this situation, you can track the application's performance by utilizing the in-app analytics tools you created during the development process, assist users, and ensure the application remains functional.
You may like this: Best Healthcare App Ideas for Healthcare Startups
Cost of Developing a Mental Health App
Anyone with a new business idea always considers the feasibility and cost of a new business idea. Thus, providing a cost estimate for developing mental health apps is essential. Although numerous factors can affect the final cost of developing mental health applications, a few stand out.
An app's complexity and the number of features could significantly impact its cost. Still, the cost of developing an app for mental health usually ranges from $20,000 to $70,000.
By choosing a custom software development services provider, you can create mental health app that goes well with your hospitals and healthcare center and develop it at an affordable rate.
Frequently Asked Questions
Developing a mental health app can vary wildly in price, largely due to the app's complexity, the tech involved, and the post-launch support. A basic healthcare app typically costs $20,000 to $70,000, while a more complicated and feature-rich app costs $200,000.

Freemium offers free access to certain content but requires a subscription or one-time fee to access the full content offering. A paid download generates more money at once but not over time, whereas a subscription generates minor but consistent revenue.

This app provides mental health well-being assessment, prevention, support, and regulation tools. Anxiety, stress, or mood are some examples. Apps like these can help users connect with doctors, check for symptoms, and make recommendations.