Smartphones have revolutionized the way we lead our lives and digitization has transformed the way we lead our lives. It has led to the globalization of the whole world and has paved the future. This has fueled an increase in quick, online transactions and has surpassed all borders. It has also helped more and more people as well as small businesses go global due to the added ease of performing international transfers. This is why more and more people reach for currency converter apps. We recommend you develop a currency converter app and leverage its current growth potential.
So, what is it all about, and how do you develop one? Well, the following article discusses a currency converter app and the crucial steps followed by the top mobile app development company.
What Is A Currency Converter App?
A currency converter app helps users and businesses precisely convert currencies according to the updated rates. The best part is that it quickly processes and shows the converted amount within seconds. This helps users keep track of the constantly fluctuating rates and provides real-time results without much effort.
A currency converter app can also have other multi-functional features for quick and effortless conversion. Let us discuss some of these important and crucial features that better the overall user experience and customer satisfaction. You can also hire mobile app developers with years of service in the industry to reduce your overall workload.
What Are The Features Of A Currency Converter App?
Although a currency converter app can have several additional features, some primary ones that you should always include when you use a company offering SAAS app development service to develop a currency converter app are listed below.
Compatible With Multiple Currencies
The main focus of a currency converter app is to convert amounts from one currency to another. For example, when you develop a currency converter app, you should ensure that it can easily convert USD to GBP and CAD all at the same time. Ultimately, it reduces the need to track ever-changing currency rates and make better payment decisions. This is why it is important for your currency converter app to be compatible with multiple currencies.
Works On Real-Time Exchange Rates
The major problem with currency conversion is the continuously changing currency rates. It becomes very difficult for businesses to stay updated and use them for international payments and transfers. Using real-time currency rates for conversion can help you and your business ensure error-free payment conversions. This prevents financial problems and one can easily avoid conversion inaccuracies.
Shows The Different Currency Trend Charts
The fluctuating currency conversion rates make it imperative for businesses and people to track these changes. We recommend you hire dedicated developers to enable viewing currency trends and charts more easily. The feature makes it easier for business owners and people to analyze these fluctuations and determine patterns.
Enables Real-Time Calculations
When you develop a converter app that lets convert currencies, you should ensure that it is capable of performing basic calculations. The money converter app should allow users to add, multiply, subtract, and divide currencies on the same screen for convenience.
What Extra Features Should Your Money Exchange App Include?
To ensure you develop a currency converter app that is the industry's best, you should include the following extra features. Some important ones the best currency converter app must have are detailed below.
Instantly Converts Money To Cryptocurrency
A money exchange app is also important for businesses to convert money into its digital form, i.e. cryptocurrency. However, only a few currency converter apps seamlessly integrate with Blockchain and offer related functionality. Hence, we recommend you develop a currency converter app that includes this feature to help it become the best in the existing market.
Allows Visual Views And Graphs
Statistics prove that pictures can communicate way more effectively than textual data, which makes it necessary to include visual data in your money exchange app. When your app allows users to visualize trends, it becomes easier to analyze data comprehensively, predict future values, and make informed decisions.
Why Should You Have A Currency Converter App?
There are several currency exchange apps available in the market. But, all of these cater to different business needs and are effective only in specific scenarios. Hence, it is a good idea to develop a currency converter and invest in one to enable easier international money transfers. Nowadays, the increased globalization of small businesses and large enterprises also makes it necessary to customize and develop a currency converter app that fulfills all business needs.
Although it might be difficult to find a competitor's weakness, we guarantee that there's still room for the development of precise currency converter apps. So, whether you're an entrepreneur looking to develop a currency converter app or an investor looking to capitalize on the market potential, you should definitely take the leap.
How To Develop A Currency Converter App?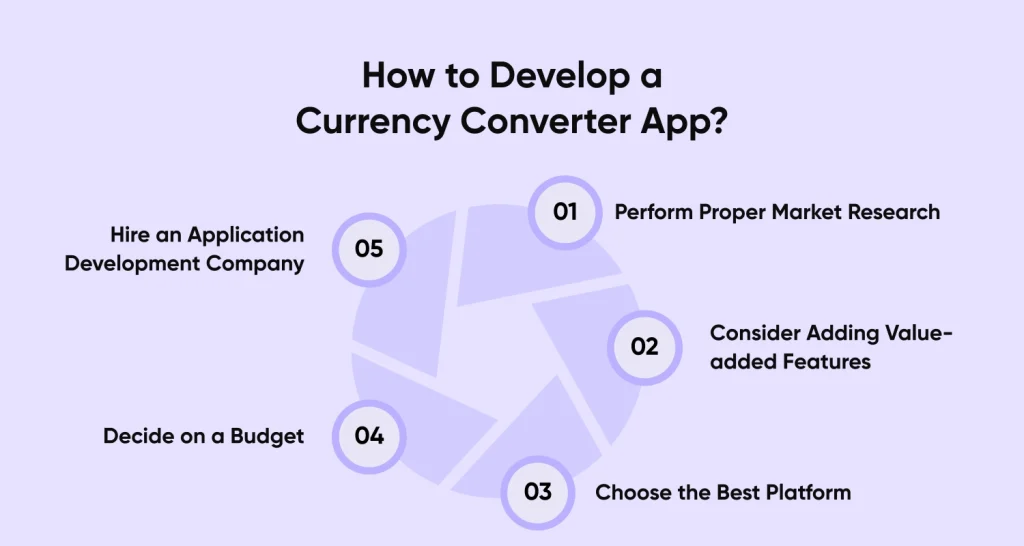 Considering hiring a team to develop a currency converter app from the basics? The following section breaks down the steps in detail to help you get started.
Perform Proper Market Research
It is imperative to conduct proper market research before you develop or launch any app. When you identify the market needs and examine the weaknesses of existing applications, your app's goal and focus become clearer. It can also help analyze market trends and existing user behavior to make profitable decisions.
Choose The Best Platform
Your target should be to develop an app that you can release on the two major platforms – iOS and Android. As soon as you have determined the appropriate platform for your app, your development team can start designing and creating one. For iOS, they can use Swift or Objective C to develop a currency converter app. On the other hand, Android developers can use Java or Kotlin. But, it can be difficult for beginners to choose a platform based on their business needs. Some companies develop cross-platform apps to reach more and more people.
Decide On A Budget
Without proper planning, the development phase can take up a lot of time. It might also require a huge investment and continuous changes add to it. Hence, it is crucial to fix your budget to ensure your team has reasonable targets. The cost to develop a currency converter app can range anywhere between $20,000 to $200,000. You can also get in touch with an experienced app development company for a pricing quote.
Hire An Application Development Company
Although one can develop a currency exchange app from scratch, the project can take up a lot of time and effort. It is important to spend time making profitable business decisions and hiring a reputed application development company can make the task easier. We recommend you look for agencies offering iPhone app development services and also catering to Android devices for better estimates and added convenience.
Consider Adding Value-Added Features
We have already discussed the essential features your currency exchange application should have. However, adding functionalities that improve user experience and lead to better customer satisfaction can help generate revenue. It can also help you get the limelight you deserve. Some features that you can consider before you develop a currency converter app are:-
Supports a wide range of currencies
Offers access to real-time conversion rates
Helps users track fluctuations in currency conversion rates
Can quickly process money according to current currency conversion rates

Can You Earn Money From A Currency Converter App?
After you develop a currency converter app, you need to consider the potential revenue streams. Good news – mobile currency conversion apps can help you make a lot of money. Two types of currency conversion mobile apps available to us are:-
Paid Currency Conversion Applications
Some apps charge money upfront to be downloaded. Generally, paid apps are downloaded less than free apps. However, this method is best for businesses looking for immediate revenue. To ensure your app is popular among users, you need to focus on offering top-notch performance and helping users get a higher ROI.
Free Currency Conversion Applications
Although these apps are not dependent on download fees for revenue, there are several ways in which they can earn money. Some commonly-used methods are:-
Advertisement – After you develop a currency converter app, some common ad types to run include – video ads, reward ads, banner ads, in-app ads, and pop-up ads.
Freemium Model – These apps are free to download and use, but they also contain some added premium functionalities for a better customer experience.
Money From Data – In today's world, data is at the center of all activities and is worth a lot. However, you should always ensure that you develop a currency converter app that requires user consent.
Transaction Fee – Your app can generate revenue by charging a small fee for each transaction.
Subscription – An increasingly popular way to generate revenue, subscription models offer users content for free until the app gets enough downloads.
Conclusion
The market for currency exchange apps is still left untapped and has a huge growth potential. You can develop a currency converter app to take advantage of it and boost the globalization of technology. We hope the above article helped break down what a currency exchange app is all about, its functionalities, and the complete development process.
So, what are you waiting for? Hire Android app developers or iOS developers and develop a currency converter app to capture the market.
Frequently Asked Questions
Although no single application can cater to varied business needs, most reviews suggest XE Currency is the best currency converter app. However, you can still develop a currency converter app with the potential to become the industry's best.

It can be quite difficult for beginners and people with no coding experience to develop a currency converter app. However, the above article breaks down the complete process to help you build one from scratch. You can also hire the best application developers in the industry to save time and money.

With an overall rating of 4.3 stars and 238 ratings, Convertium is currently the best currency converter app for iPhone.

Currently, Multi-Currency Converter Hero by Booster Apps is the best currency converter app for Shopify.