The Internet and social media have greatly changed consumer behavior and made it easier for them to get in touch with businesses. For example, more and more people are booking hotels, resorts, and vacation stays online. In fact, a whopping 88% of adults in the US book their hotels online instead of physical bookings. This is why more and more hotels are looking for how to create a hotel booking website.
Creating a hotel booking website in 2023 can also help you benefit. It is estimated that over 700 million people will make at least one online hotel booking by 2023. This goes to show that it is the best time to invest in a web application for better business revenues. But, how do you do that? Well, the following article discusses how to Build a hotel booking website in detail, the features you must choose, and the step-by-step breakdown. We also discuss the investment you might need to create a hotel booking website in 2023.
So, what are you waiting for? Get right into it and learn how to create a hotel booking website that can help bring better revenue to your hotel!
Hotel Booking Market
Nowadays, it has become easier for more and more people to travel to distant places which has helped the travel industry grow and reach new heights. The global travel industry is currently valued at USD 1.6 trillion and is projected to reach USD 854.7 billion in 2023. Moreover, the industry is expected to show an annual growth of 4.42% CAGR (2023-2027), reaching USD 1016 billion by 2027.
This is why more and more businesses are looking for Food and Beverages Website Solutions to create intelligent hotel booking websites. But, before you do that, thoroughly read this guide to get an idea about how to create a hotel booking website and shortlist features based on your business needs.
Types Of Hotel Booking Websites And Applications
Before we jump into how to Build a hotel booking website, let us look at the main types of hotel booking websites and applications available. This section will help you understand the majorly used models and decide which is the best fit for your business.
Hotel Booking Website For Hotel Chains And Brands
Nowadays, more and more hotel owners and chains are searching for how to create a hotel booking website. But, how can it help them out? Let's explore the advantages of an intuitive hotel booking website design for hotel chains and independent hotel owners.
Advantages Of Creating A Booking Website For Hotel Chains And Brands
Digitization – With the help of an online booking website, you open a channel for online sales. It helps you digitally transform your business and offer additional services for better customer satisfaction.
Better Revenue – Hotel booking websites help hotels make more sales and attract a new audience. It also becomes easier for your hotel to showcase your brand values, the wide range of services you offer, and your staff's work ethic to get more customers.
No Additional Fees – Most third-party hotel booking marketplaces charge an additional fee which varies from platform to platform. Your own hotel booking website can help your clients save on commission, which increases the chances of booking conversion.
Better Booking Management – Using your own hotel booking website can help you manage all the bookings collectively and make changes via a single platform. This reduces your team's back-end work and the overall time required.
Hotel Booking Marketplaces
Hotel booking marketplaces act as the middle-man between hotels and customers and are highly popular as they provide customers with information about multiple hotels in a single platform. These websites generate revenue mainly by charging a small fee for every hotel booking and advertisement. But, should you know how to create a hotel booking website and marketplace? Check out the benefits that this model can bring and decide your next step.
Benefits Of Creating A Hotel Booking Marketplace
More Customers – Unlike independent hotel websites, these marketplaces have a huge database of hotels and businesses of different sizes. This means that there is something for every customer and makes it easier for small and midsize businesses to get bookings.
Easier Hotel Promotions – Although most hotels invest money in SEO to reach a wider customer base, it can be quite expensive. However, listing the hotel on a booking marketplace can facilitate better promotions. You must still learn how to create a hotel booking website for a better brand image and online presence.

Main Features Of Hotel Booking Websites
Jumping into how to create a hotel booking website will be futile without knowing what features you must include. The following section lists the main features of hotel booking websites to help you get an idea before you get in touch with a professional development company to build a web application for your business.
Home Page
This is the first page that your users see and must include engaging content to grab their attention for more bookings. We recommend including a search system on the homepage to help customers better find your features. This will also help them easily navigate to relevant web pages to find answers to questions they have. Your homepage can also show customer-intelligent sessions and locations to better fulfill customer needs.
Sign In And Sign Up
Since most hotel websites need to store user information for seamless booking and payment processes, enabling the creation of user accounts is a must. We recommend enabling sign-ups and sign-ins with users' Google, Facebook, and Apple accounts.
User Profiles And Dashboards
User profiles will help customers view their personal details stored in the database and edit them. On the other hand, a dashboard helps users easily manage their bookings, notifications, and reminders. In the case of reward programs, you can also display the information and reports.
Search System
Before you decide on other factors of how to create a hotel booking website, you must know that a search system is a must. It is a crucial feature that can help you in better booking conversions and generate more revenue.
Ensure that your users can filter your hotels based on booking dates, accommodation type, location, number of people. Also allow filtering by room numbers and multiple sorting structures. You can also add additional features like price range and multiple sorting structures. If you're outsourcing web development services, ensure that the MVP includes a limited number of filter and sort parameters for better testing.
Payment System
Another must-add feature when thinking about how to create a hotel booking website that better fulfills your business targets is your payment system. Two types of payment options that your hotel booking website must include are:-
Online Payments – Users can complete their payment for the accommodation right away with the help of multiple payment options. Some common options that you must include are credit/debit cards, UPI, PayPal, and other popular ones.
On-Premises Bookings – Guests can easily book their stay on your hotel site and view payment details (like amount, duration, etc.). Then, you can store their credit card information as a guarantee in case they cancel their booking. The complete payment will be done as a part of the hotel's check-in process.
How To Create A Hotel Booking Website?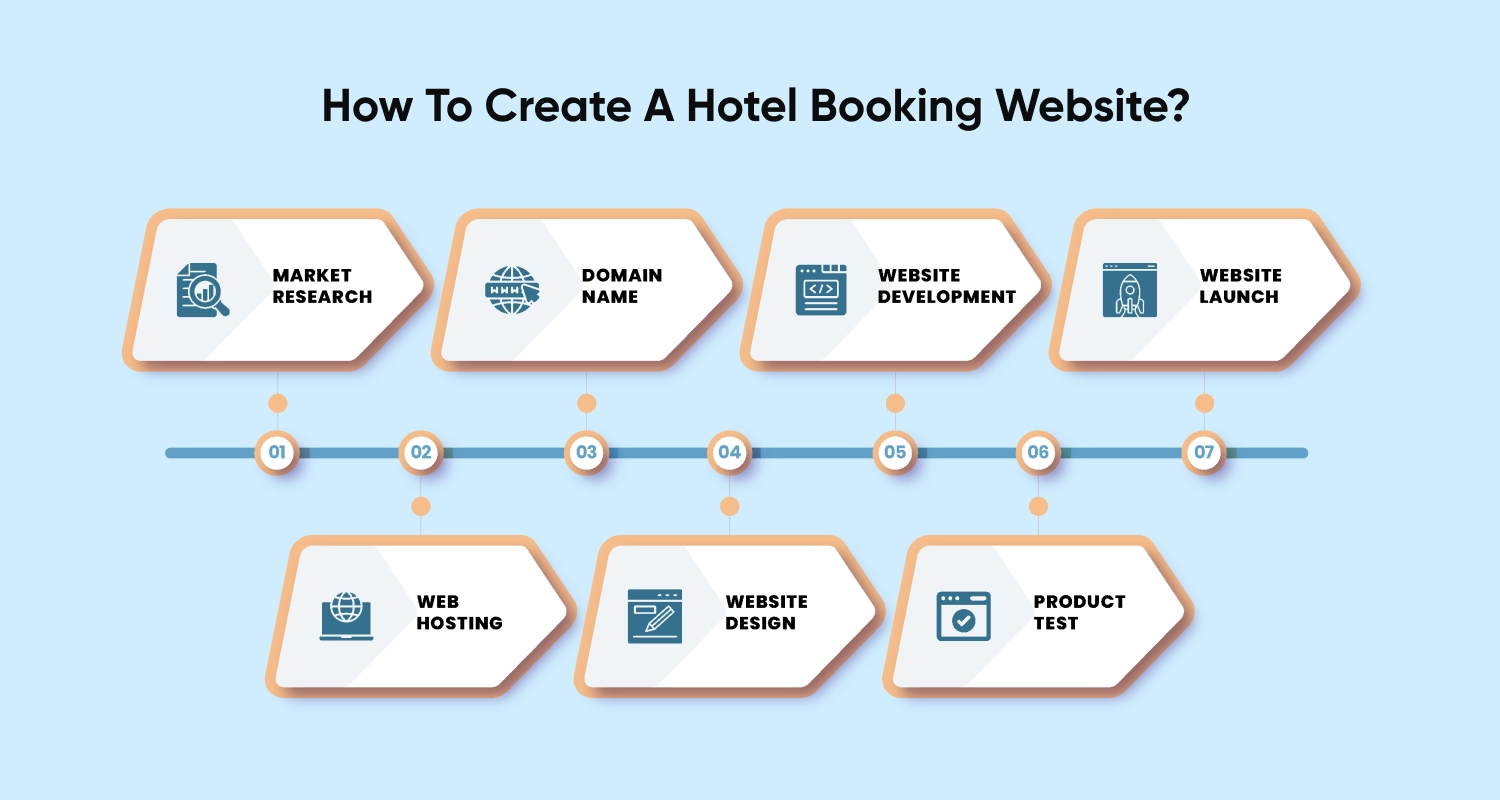 Now that you already know the prerequisites of how to create a hotel booking, let us have a look at the steps for website creation listed as follows:
1. Market Research
Before developing and launching your hotel booking website, you must conduct proper market research. Some common things you should research, include:-
Competitor Research to understand industry trends, competitor revenue, and customer traffic
User Research to collect information on user behavior, pain points, and customer preferences
Engaging features that other websites include
2. Web Hosting
You cannot fulfill the next steps of how to create a hotel booking website without renting a web hosting service. We recommend checking different pricing plans available and choosing a package offered at companies providing web hosting services.
3. Domain Name
The next step in our guide answering how to create a hotel booking website is choosing a catchy and appropriate domain name. Remember that your domain name must reflect your brand image to ensure customers can better remember your business. Always remember to register your domain name and add domain privacy protection options before starting the web development process.
4. Website Design
After you're done with proper market research, you need to define the backbone and structure of your website. You can hire UI/UX designers with years of experience to better plan your website to make them more engaging.
5. Website Development
As soon as your website design is done, you need to get your team started on cooking and development. However, you must hire a team that is experienced in customizing websites to meet your specific business needs. Focus on getting an MVP developed to fast-track the launch process and start earning revenue today itself!
6. Product Test
It is a must to test the website completely before launching the finished product. Ensure that your team has experienced testers to quickly recognize bugs and resolve these issues.
7. Website Launch
This is the last step in our guide on how to create a hotel booking website. Now, you're finally ready to launch your hotel booking website and get more bookings. However, you must keep an eye out for changing market trends and user feedback to keep on updating your website.
How To Monetize A Hotel Booking Website?
Now that you have created a hotel booking website, we recommend learning how to monetize the same. The primary monetization models of your hotel booking website are as follows:-
Commissions
In case you've developed a hotel booking marketplace, you can easily charge a commission fee on bookings to generate revenue. For example, Booking.com charges a commission fee on every payment anywhere between 10-30%. On the other hand, Agoda and TravelGuru charge 5-10% and 15% commissions respectively.
Advertisement
The second-most used method to monetize your hotel booking website, advertisements can help you easily earn additional revenue. You can use your website to advertise companies offering hospitality or other relevant services like transportation.
You may like this: Guide on Creating an App for Restaurants
Conclusion
The global hospitality industry has not only reached new heights but is expected to grow further. Moreover, digitization of the industry will ensure that the industry does not slow down. You can easily add more promotion and marketing channels to ensure your hotel booking website keeps on generating revenue.
If you're considering how to create a hotel booking website, you must be looking for professional website development services. We recommend hiring a company specializing in custom website development to better ensure bookings and more revenue.
So, what are you waiting for? Hire web developers with years of experience and get your website developed for more hotel bookings today!
Frequently Asked Questions
A hotel booking website can help you reach more people and get more bookings every season. It is also a great way to market your hotel to global customers. To help you better understand how to create a hotel booking website and its benefits, check the detailed article above.

Experienced web developers know how to create a hotel booking website with the appropriate tech stack. A professional web development team can help you understand whether PHP is a good fit for your business or not. You can also ask them to develop the perfect hotel booking website for your business to save time and money in the long run.

Although the exact cost of building a hotel booking website cannot be estimated, you might need to invest approximately $40,000 USD. Get in touch with a professional development company for a better estimate based on the website's features and business targets.