Smartphones and global digitization have created a huge market for mobile applications. More and more companies are looking for mobile app development services to leverage their growth potential and generate revenue. After all, these mobile applications are a great way to interact with users and help them fulfill their goals. For example, a lot of people take up fitness resolutions, but very few succeed. This has created a huge market for fitness apps and more and more people want to know how to create a fitness app.
If you want to develop a fitness app and leverage its growth potential for better revenue? Check out the following guide that breaks down what it is all about, how to create a fitness app, and the revenue-generating potential it has. So, what are you waiting for? Let's jump right into it and help you build a fitness app.
Is The Fitness App Market Promising?
The top companies wouldn't be considering how to create a fitness app if it wasn't profitable, right? But, to help you better understand how promising the industry is, we have gathered some statistics that prove the growth potential fitness apps have. Some important statistics that you should consider before you build your own workout app are:-
According to a report by Allied Market Research, the global health and fitness app market had a value of USD 3.15 billion in 2020. This number is expected to reach USD 13.05 billion before 2027. This means that the industry is growing at 21.6% CAGR (predicted).
According to a report on Statista, the revenue from fitness app development is projected to reach USD 5273.5 million in 2024 and these numbers will undoubtedly keep rising.
Another report on Statista predicts that the number of fitness app users is continuously rising. As of 2021, this number was 306.9 million, whereas, it is expected to reach a whopping 353.2 million users by 2023 end.
These statistics show that the fitness app market is not only promising but can still be leveraged to generate revenue. This is why more and more businesses want to know how to create a fitness app. We recommend you get in touch with an on demand application development company as soon as possible to make a fitness app.
What Are The Different Types Of Fitness Apps Available In The Market?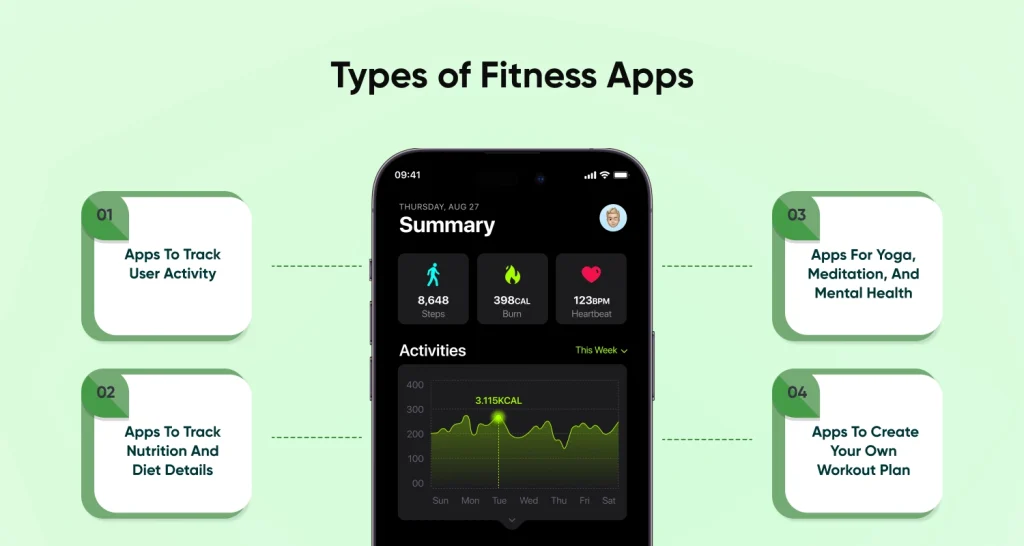 Before you develop any app, you need to consider and determine your target audience and their needs. Nowadays, more and more people are setting fitness goals and looking for apps to help their journey. This is why there are a wide range of fitness apps available in the market. We recommend carefully considering the type of fitness app you want your team to develop before jumping into how to create a fitness app.
1. Apps To Track User Activity
It is clear from the name that these apps help track users' daily movements. These apps help users monitor their daily workout and wellness routines. Users can also leverage wearable devices or smartphone sensors to collect and monitor their daily activity. Some common metrics these apps record are – the number of steps, calories burned, time required, and progress charts.
Hence, these are helpful in tracking different activities like cycling, walking, running, swimming, and much more. These apps help users monitor their progress and check charts to help them reach a healthier life. Hire dedicated developers to know how to create a fitness app, develop an activity tracking app, and help users achieve their personal health goals.
2. Apps To Track Nutrition And Diet Details
A balanced diet is an important aspect to help achieve a healthier and better lifestyle. It can help boost the efficiency and result of workouts too. This is where a nutrition tracking app can help – users can track their eating habits and receive detailed, actionable insights to work on.
Some common include meal planning, calorie counting, macro tracking, and alternative food recommendations. You can look for companies offering expert mobile app design services to know how to create a fitness app, develop a nutrition tracking app, and support users on their journey to better health and well-being.
3. Apps For Yoga, Meditation, And Mental Health
The added focus on mental health has created a huge market for mental health app development. Yoga, meditation, and breathing exercises help promote both physical and mental health. These cater to users of different levels (beginner, intermediate, and advanced) and help them achieve better well-being through mindfulness, flexibility, and relaxation exercises. You can get in touch with companies specializing in creating mental health apps to know how to create a fitness app focused on mental health.
4. Apps To Create Your Own Workout Plan
The apps to create your own workout plan offer a wide range of workouts and fitness plans to choose from. These include options that are different from regular cardio exercises, such as dance routines, strength training modules, yoga, and much more. To better engage with users and offer added functionalities, these apps use gamification strategies.
You can hire fitness app developers to create your own workout plan app that allows users to track progress, get rewards, and interact with other users. We also recommend getting in touch with an expert development company to know how to develop a fitness app that offers online classes and allows users to connect with fitness trainers.
What Features Must Your Fitness App Have?
As soon as you have determined the type of fitness app you want your team to develop, you need to think about the functionalities you want to include. This will help you discuss, understand, and design the complete process of how to create a fitness app. Some common features that you must consider before developing a fitness app are listed below.
| | |
| --- | --- |
| Feature | Description |
| Registration | The first essential step in your fitness app, registering your users can help users better track and store data. This allows more customization of features helping users better achieve their goals. |
| User Profiles | Required for better personalization, user profiles are necessary to take users' physical data (weight, height, age, etc.) for tailoring user experience and achieving faster results. |
| Setting Goals | User needs differ from person to person and goal setting can help people track their progress for better motivation. |
| Tracking User Progress | Most people set fitness goals they want to achieve and tracking data over time can help them check their progress. Visually representing this data over time can better motivate users. |
| Workout Menu | Majorly, fitness apps track users' physical activity and a workout menu can help store different exercise plans available. Developing an intuitive and easy-to-use workout menu can help users find workout plans and alternatives easily. |
| Community Features | Most fitness apps allow users to share their activities and progress with their friends and family. This can not only help create healthy competition but also boosts motivation and support. |
| Gamification Strategies | Adding features like leaderboards, rewards, quests, and badges can make one's fitness journey more enjoyable and addictive. |
| Third-Party App Integration | Most fitness apps integrate with Google Fit and Apple Health to allow users to better analyze their daily activities. |
| Integration With Wearable Devices | Smartwatches, fitness trackers, smart scales, heart rate monitors, and other wearable devices can provide better functionalities. For example, fitness apps can share data with these devices for easier tracking and analysis. |
| Subscription Plans And In-App Purchases | A good way to generate revenue, fitness apps can offer premium features and additional services for a better user experience. |
How To Create A Fitness App In 2023?
Curious about how to create a fitness app with these functionalities in 2023? The following section offers a step-by-step breakdown of the cycle. You can also look for companies specializing in healthcare web application development to help you understand these crucial steps.
Conduct Proper Market Research To Find Your Audience
Before you jump into the technical aspect of how to create a fitness app, you need to identify your app's focus. Determining your target audience is the best approach to understanding what features your app should include. Conduct proper market research to analyze the competition, identify the weaknesses of existing apps, and gather data about user preferences and behavior.
Choose Features To Be Included
The data from your market research will help understand the type of app you want to create. Deciding on the app features can also help design the step-by-step breakdown of how to create a fitness app in 2023. You can check out the features section for a quick understanding of the different features your app can include.
Select The Development Technology Stack
The tech stack you use can determine the code complexity, app speed, total development time, and the cost required. You must also consider other aspects like the app platform (Android, iOS, or cross-platform), future scalability, security, and maintainability. If you're not an expert in fitness app development, consult a reputed development company for better clarity.
Create A User-Oriented App Design
UI/UX is a crucial aspect of healthcare software development as it directly impacts user satisfaction. When you develop a fitness app that is intuitive, user-oriented, visually appealing, and easy to use, you boost the application's growth potential. We recommend making the app accessible and inclusive for all types of users. Although it can increase the overall app complexity and make it difficult to figure out how to create a fitness app, it is necessary for better application popularity.
Create An Experienced And Dependable Team
Although planning is crucial, execution is key, which is why you should create a team of dependable and knowledgeable experts when developing a fitness app. Either create a new team based on your app needs and requirements or hire a reputable development company. If you've no code experience and are a novice, you might not know how to create a fitness app. It is better to hire a reputed development company in these cases to save time, cost, and effort.
Build A Minimum Viable Product (MVP)
Releasing an MVP can help understand user opinions and get feedback on your fitness app. An MVP is a simplified version that offers core functionalities and helps validate your mobile app idea. It will also help your development team figure out whether they missed adding any features or not.
Develop A Full-Fledged App
Develop your complete app after taking user considerations and feedback into account. You can also execute your initial plan on how to create a fitness app for the existing market.
Properly Test The App
Once your app development is done, you need to test whether the app is behaving properly or not. Testing the individual functionalities and the overall performance can also help identify bugs. You can consider a combination of both manual and automation testing for better analysis and feedback.

How Much Do You Need To Invest To Create A Fitness App?
It is quite difficult to accurately estimate the cost to build a fitness app especially because it depends on the features added and the technologies used. Other than that, the complexity of the process of how to create a fitness app also matters. Choosing an experienced mobile app development team can also significantly reduce the overall time, costs, and app complexity. Check out the following table for rough hourly and cost estimates of each simple app development stage.
| | | |
| --- | --- | --- |
| Development Stage | Time Estimate (in hours) | Average Rates ($/hr) |
| Technical Documentation | >80 | 25 |
| Design | >160 | 30 |
| Development | >960 | 50+ |
| Project Management | >240 | 35 |
| QA And Testing | >288 | 40 |
Conclusion
Developing fitness apps can be quite complicated, but with the help of an experienced team, you can quickly create your own fitness app. Carefully analyze your resources and budget before moving ahead with the development. We hope the above article helped you know how to create a fitness app and the certain aspects you should always consider.
Interested in developing a fitness app for your target consumers? Get in touch with an experienced and knowledgeable application development company!
Frequently Asked Questions
The exact investment needed varies based on the project needs, development plans, app complexity, and overall time/cost required. We recommend consulting a reputed development company to get a budget estimate for an approximate idea.

Generally, a fitness app can take anywhere between 2 months to 8 months. The overall time required varies based on the app's needs and complexity.

Whether you want to develop an app to create gym workouts or to track your overall diet, you need to consider the different features you want to include before planning how to create a fitness app and the overall time needed. The above article lists the different sites you can consider including in your app.

Some common ways to generate revenue from fitness apps are – in-app purchases, subscription models, freemium versions, one-time purchases, and sponsored premium content.