By enticing visitors to do the required action, such as subscribing to a newsletter, purchasing a product, or signing up for a website, a landing page can raise the conversion rate of your WordPress site.
Even though a WordPress landing page typically has a conversion rate of 9.7%, using components like photos or social proof may help you convert visitors into customers. Therefore, building a robust landing page is essential to growing your business. However, after reading this blog, remember to contact a professional WordPress development company for further assistance.
In this blog, we'll go through quick and easy ways to make a WordPress website landing page.
First, let us understand what is a landing page and its importance.
What is Landing Page?
A landing page is a web page created specifically to achieve a particular goal, like generating leads or increasing conversions. It usually has a distinct URL from the primary website and concentrates on a single call to action (CTA). Landing pages are designed to either gather information from visitors or nudge them into taking the intended action.
Why is a Landing Page Important?
Focused on conversions: A landing page is created specifically to turn visitors into leads or customers. The likelihood of attaining your intended result is increased since it removes distractions and concentrates on a single call to action.
Better user experience: Visitors are given a streamlined and personalized experience by landing pages. By providing tailored information, they save visitors from having to traverse between several pages and help them locate what they're looking for.
Increased conversion rates: Compared to other website pages, landing pages are noted for having higher conversion rates. You may greatly increase your conversion rates and accomplish your marketing objectives by getting rid of distractions.
Better Ad Campaign Performance: When conducting paid advertising campaigns, switching traffic from your homepage to a landing page might help the campaign work much better.
Improved SEO and Search Visibility: You may target organic search traffic and increase the visibility of your website in search engine results by optimizing your landing pages for particular keywords.
What Is a WordPress Landing Page?
A standalone website created for a specific objective, such as marketing a good, service, or campaign, is known as a WordPress landing page. It is designed utilizing the WordPress content management system and is optimized to increase conversions.
In order to gather visitor information or persuade them to perform a certain action, like completing a purchase or signing up for a subscription, landing pages frequently feature limited navigational components. Here are a few examples that we use in businesses.
Product Launch Page
Lead Generation Page
Event Registration Page
App Download Page
E-book or Course Landing Page
How to Create a WordPress Landing Page With a Plugin?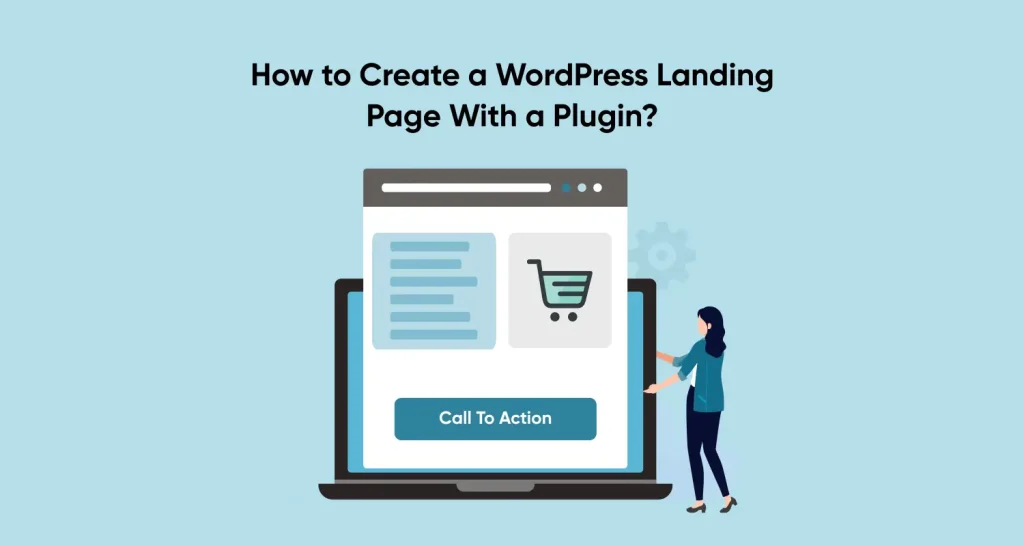 Having an engaging landing page is essential for promoting conversions and reaching your business objectives in the quick-paced world of online marketing.
We'll look at how using plugins may streamline the procedure and free you up to concentrate on developing an engaging landing page that draws in your audience and turns visitors into devoted customers.
So, let's start.
Step1: Install the Plugin
A WP landing page is created for marketing purposes, such as launching a new product. It may be an individual webpage or a section of a website that is linked to it.
Fortunately, WordPress has a variety of tools that make it simple to create a website and landing page for your business.
Using a plugin is one of the finest ways to build a landing page. Since many WordPress plugins offer a drag-and-drop builder and ready-made landing page templates, even beginners may construct a professional and attractive landing page using this technique. Hire a WordPress developer who has knowledge of all the plugins for a landing page.
Here is a list of the top WordPress landing page plugins, as determined by our experts:
A strong building plugin with beautiful animation effects is Elementor.
One of the best page builders for WordPress, Divi has an easy-to-use visual editor.
The majority of WordPress themes are compatible with Beaver Builder, an easy-to-use landing page builder plugin.
One of the greatest WordPress plugins, SeedProd has a user-friendly interface, a drag-and-drop page builder, and a variety of design template possibilities.
In this guide, we'll show you how to build a high-converting landing page for your WordPress website using the SeedProd plugin.
In order to find the SeedProd plugin, you must first enter your WordPress dashboard, navigate to Plugins Add New, and use the search box. The plugin should then be installed and activated on your WordPress website.
Step 2. Add a New Landing Page Next
You will be taken to the SeedProd landing page dashboard after activating the plugin. There will be four alternatives for landing pages at the top of the page. Click the Create New Landing Page button at the bottom to add a new landing page.
Step 3. Customize the Landing Page Template
You must pick a design template for a new landing page after adding it. Many landing page templates are available from SeedProd that are appropriate for various campaign kinds.
Alternatively, use the Blank Template to start building a landing page from scratch. Enter a page name and a URL title after selecting a template. After making all the necessary changes, click Save and Start Editing the Page to personalize your initial landing page.
You can add or update various items including text, images, and videos using the Blocks menu on the left side. Simply click the desired piece to do so.
To make your landing page consistent with your branding, alter the background color, image, and alignment. Alternately, choose Global Settings from the menu in the bottom left.
The WPForms plugin can be linked with Contact Form blocks, allowing you to use its add-on capabilities to transform a freshly built WordPress form into a unique form landing page.
Click on the file's icon that displays on mouse hover to duplicate a block. To make your design process more efficient, there are additional icons for deleting, moving, and saving a block.
You may create a landing page for an eCommerce store because SeedProd and WooCommerce are connected. You may create an appealing page by using its blocks, such as add-to-cart buttons, product grids, and sale items. Alternatively, use the Blank Template to start building a landing page from scratch.
The Header, Hero, Call to Action, and FAQ are just a few of the numerous category options available for the WordPress landing page design under SeedProd's Sections menu.
Step 4. Integrate with Third-party Tools
To improve their consumer base and revenue, many firms employ a variety of tools. Your landing pages can be linked to well-known marketing tools like SeedProd to enhance the effectiveness of your campaigns. The following are our best picks for SeedProd's third-party tools:
One of the most well-known email marketing platforms is MailChimp. It features an autoresponder.
Constant Contact is an email marketing platform with a drag-and-drop builder that offers hundreds of email layouts.
The most well-liked Google Analytics tool that provides information about your website's performance is called Monsterinsights.
For gathering emails from the sign-up form, use Zapier, an automation platform that is integrate with more than 500 services.
Click on the Connect tab to connect the landing page of your WordPress website with third-party tools.
Step 5. Publish Your Landing Page
It's time to publish your WordPress landing page after making changes to the landing page template and establishing third-party tools.
Return to the Design tab, select Publish from the dropdown arrow next to the Save button, and then click Save. To see the outcomes, click the See Live Page button now.
The Page Settings option allows you to modify your general page, SEO, and analytics settings for even more personalization. For instance, rather than having numerous WordPress sites, you may link as many landing pages as you like to your custom domain name. To do this, select Custom Domain from the menu and type your domain name. Keep in mind that the premium edition of SeedProd is the only one that offers this capability.

Create a Landing Page With a WordPress Theme
You can create a unique landing page using the complete site editor if you're using a block theme. Hire web developers to get the landing page using the tools you are currently accustomed to utilizing.
Unfortunately, not all WordPress themes are compatible with this technique. We advise utilizing a page builder plugin instead if you are not using a block-based theme. Simply build a new WordPress page, which we will later transform into our landing page, to get started.
Select the 'Page' tab from the menu on the right. the link next to "Template" and then click. Depending on the template you're currently using, the precise link text might change.
Now your current template will show up in a popup.
Simply select the 'New Template' icon.
Give your landing page template a name at this point. You can use anything you like because this is only for your reference.
After completing it, select "Create."
The template editor then opens. Now, you can create your landing page in the same manner as you create a page in the default WordPress block editor.
Simply click the blue '+' button to add blocks to the landing page. Now, you can drag various blocks onto your design. Using the common WordPress tools, you can edit a block's formatting or add new content.
For example, when writing text in a paragraph block, you can include links, alter the orientation of the text, and use bold or italic effects. WordPress block patterns, which are groupings of blocks that are frequently used together, can also be utilized to construct landing pages. You may quickly and easily construct a landing page with a good layout using patterns.
Click the blue "+" button and then choose the "Patterns" tab to view the patterns that are included in your WordPress theme.
A block pattern can be added to your layout by dragging it there or by clicking it, which will move it to the bottom of your template.
Once a pattern has been added, you can click on any block to pick it and then edit it. For instance, you may change any placeholder content or add links to direct readers to various parts of your WordPress blog. When you are satisfied with the custom landing page's appearance, click the "Publish" button and then "Save."
Your page will now use the updated template. To make your landing page live, just update or publish the page.
After reading the above ways to develop a WP landing page, you must be curious to know about the cost of creating such a unique website. However, you can gain more insights about the cost by reading our blog on the cost to develop a WordPress website.
Conclusion
Use a plugin or theme to build landing pages in WordPress if you're a newbie. You can customize and optimize your landing page like a pro thanks to the many capabilities offered by plugins and themes.
Building a landing page from scratch is preferable if you are already comfortable with HTML, PHP, and CSS because it allows greater flexibility. Whatever route you take, make sure your landing page has a strong title, an easy-to-understand layout, and a clear call to action.
We hope that this post has shown you how to build a landing page in WordPress.
Frequently Asked Questions
For your landing page in WordPress to catch visitors' attention and boost conversions, it must be visually appealing. The following advice will help you create a visually appealing landing page:

Look for simple designs, eye-catching typography, and appealing color choices.
To improve your landing page's visual appeal, use crisp photos, pertinent graphics, and attention-grabbing videos.
Use a responsive design to ensure a fantastic user experience across all devices by automatically adjusting to different screen sizes.
Focus on the main message and call to action while maintaining a simple design. To make the material easier to understand, use lots of white space.
Create catchy headlines that express the value proposition of your business in a straightforward and concise manner.
Use distinct, immediately recognizable call-to-action buttons that are crystal clear and easy to identify.

Create a landing page plan.
Create an environment for development.
Launch a brand-new WordPress theme
Change the theme
Develop unique page templates
Incorporate content and styling
Create forms and CTAs
Improve both performance and SEO
Iterate and test

Your particular demands and requirements, among other variables, can affect the price of a WordPress website. The prospective costs are broken down as follows:

Depending on the domain registrar and the preferred domain extension (.com,.org, etc.), the domain name.
According to the hosting company, type of hosting (shared, VPS, dedicated), and plan features, web hosting costs might vary.
Although there are free themes available, premium themes offer more sophisticated functionality and personalization choices.
Plugins: While the price of premium plugins can range from $20 to $200 or more, depending on the functionality and support offered, basic plugins are frequently free.
Custom development: You might need to employ someone if you need custom development work done, such as creating a special theme or functionality.