In today's digital age, having a strong online presence is crucial for businesses in every industry, including real estate. A real estate website not only serves as a platform to showcase property listings but also helps to establish credibility and trust with potential clients.
If you're looking to create a real estate website like Zillow, there are a few key steps to keep in mind. According to Statista, Zillow received 60 million visits last year, which is the highest compared to any other sites like Trulia, Redfin, Realtor, etc.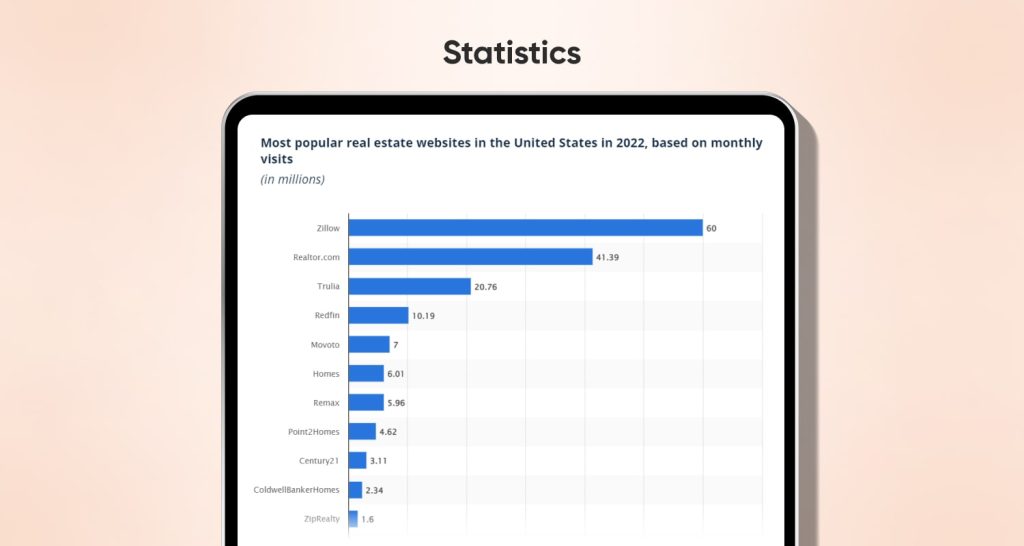 From planning and designing your website to integrating essential features and marketing your brand, building a successful real estate website requires a well-rounded approach.
At its core, a real estate website is a two-sided marketplace that connects buyers and sellers, landlords and tenants, and other parties involved in real estate transactions. By offering a user-friendly platform that streamlines the buying and selling process, your website can attract a broad range of users and generate revenue through various channels.
To ensure the success of your real estate website, it may be helpful to hire full-stack developers who can develop a real estate website for you. With their expertise, you can build a custom website that meets your specific needs and stands out from the competition.
So, whether you're looking to create a real estate website for your existing business or you're starting a new venture, this guide will provide you with the essential steps to get started. Let's dive in!
Deep Understanding of Real Estate Website
Real estate websites come in different shapes and sizes, and it's important to understand the various types to determine which one suits your needs best. Some of the most common types of real estate websites include:
Property listing websites: These websites focus on showcasing property listings and connecting buyers and sellers. Examples include Zillow, Realtor.com, and Trulia.
Real estate agent/broker websites: These websites are designed to promote the services of real estate agents and brokers. They may include property listings, agent/broker profiles, and other resources for buyers and sellers.
Real estate marketplaces: These websites offer a platform for buyers and sellers to interact directly without the need for intermediaries. Examples include Redfin and Opendoor.
Real estate investment websites: These websites provide information and resources for investors interested in real estate. They may include property listings, investment calculators, and educational content.
Identifying the purpose and target audience of your real estate website is crucial to its success. Consider the type of users you want to attract, whether it's home buyers, sellers, renters, or real estate investors. Once you have a clear idea of your target audience, you can design your website accordingly to cater to their needs.
If you're not sure where to start, hire dedicated web developers who specialize in different types of real estate websites. They can help you identify your target audience and create a custom website that meets your specific needs. By investing in professional real estate website development services, you can ensure that your website is user-friendly, visually appealing, and optimized for search engines.
Now let us move to our next section- reasons to make a real estate website like Zillow.
Want to Create a Real Estate Website Like Zillow- Why?
Some applications are flourishing in the real estate sector as a result of the sudden rise in real estate apps. One of them is the Zillow web app, which is presently the best app for buying a home in the USA.
Real estate apps are not only developing in a positive way, but they are also a practical concept for real estate agents and buyers. Mobile apps for the real estate sector help businesses make more money and maintain their web presence as more and more things become digital.
As was already stated, according to statistics from Zillow apps, there is a growing demand for real estate apps in numerous cities, so it is unquestionably a good idea for a beginner. Over 160 million active people use the Zillow app each month. The only thing left to do is to start creating a website and a mobile app because real estate firms have already gone digital with websites and property listings.
Numerous individuals use mobile apps to buy, rent, or sell homes, according to the National Association of Realtors. In other apps that are similar to Airbnb, people can hire airbeds and other accommodations for a short period of time.
As a result, just as every real estate company has unique characteristics, so does the Zillow rental app. But hold on, if you create a Zillow-like software, why would anyone use it if they already have the original?
You can add new features and something distinctive to your app while still following the best industry practices to stick out in the market. Let's look at the features of the Zillow app so you can get a better idea of what the app should offer.
You may like this: How to Build a Web Application?
How to Build a Real Estate Website Like Zillow: Essential Features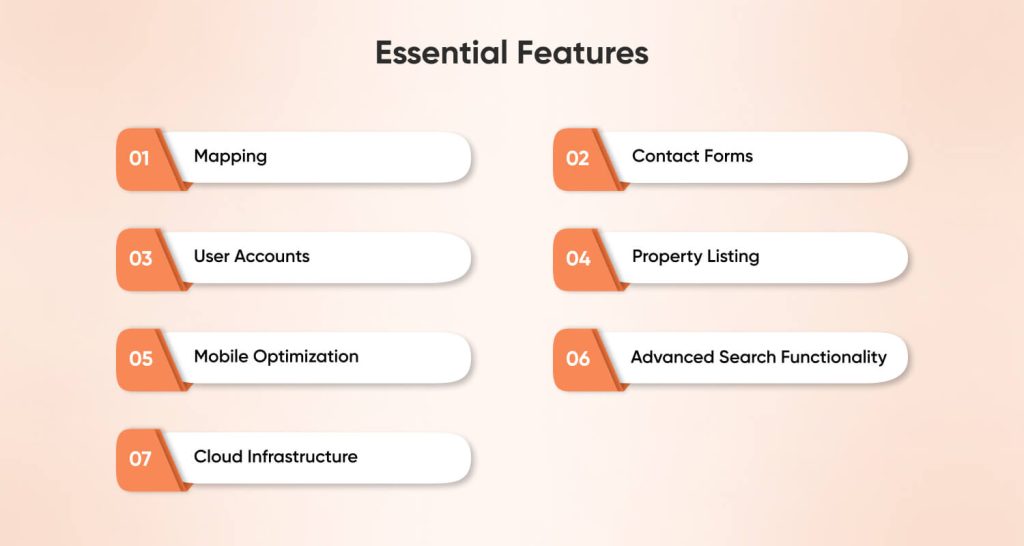 If you want to create a real estate website like Zillow, there are certain features and functionalities that you must include. These features are essential for attracting users, providing a seamless user experience, and generating revenue. Here are the most key features to consider:
1. Property Listings:
The heart of any real estate website is the property listings. Users come to your website to search for properties, so it's crucial to have a comprehensive and up-to-date database of listings. Your property listings should include high-quality photos, detailed descriptions, and search filters to make it easy for users to find what they're looking for.
2. Advanced Search Functionality
A powerful search functionality is key to making your website user-friendly. Users should be able to filter their search results by location, price range, property type, and other criteria. This will help them find properties that match their specific needs and preferences.
3. Mapping
Users of your marketplace will want to research the location they are moving to in advance. To do this, you can combine the neighborhood borders provided by the Zillow API with a number of other APIs that provide geographic and neighborhood data, such as:
The collection GeoNames, which contains more than 10 million place names,
Information about nearby establishments, including restaurants, sports organizations, and supermarkets, is available via the Google Places API.
Use MapBox to create a unique map with real estate listings, market information, videos, and pictures. Users of this utility can also draw a polygon on the map to improve search results.
4. Contact Forms
It's important to make it easy for users to contact you or the listing agent. Contact forms should be prominently displayed on each listing and throughout the website.
5. User Accounts
User accounts can be a powerful tool for engaging users and building a community around your website. Users can save their favorite properties, set up alerts for new listings, and receive personalized recommendations based on their search history.
6. Mobile Optimization
With the increasing use of mobile devices, it's essential to have a website that is optimized for mobile. Your website should be responsive, meaning that it adapts to the user's screen size, and should have a mobile-friendly layout and navigation.
7. Cloud Infrastructure
You will need robust hosting to maintain all of this data because your real estate marketplace will contain a sizable number of high-quality photographs, videos, and even 360° panoramic images. If not, you will run into problems with catastrophe recovery, performance, and scalability of the imaging system.
The optimal course of action in this situation is to incorporate a cloud-based infrastructure from the start, as Zillow did. For storage of more than 100TB of data, 1 billion objects, and 300 million images, Zillow employs Amazon Simple Storage Service (Amazon S3).
By including these essential features, you can create a user-friendly and engaging real estate website that stands out from the competition. Get the best real estate website development services or a team of web developers to help you integrate all the above features in your website. They can help you create a custom website that meets your specific needs and matches your vision for your brand.
How to Build a Real Estate Website Like Zillow- 7 Easy Steps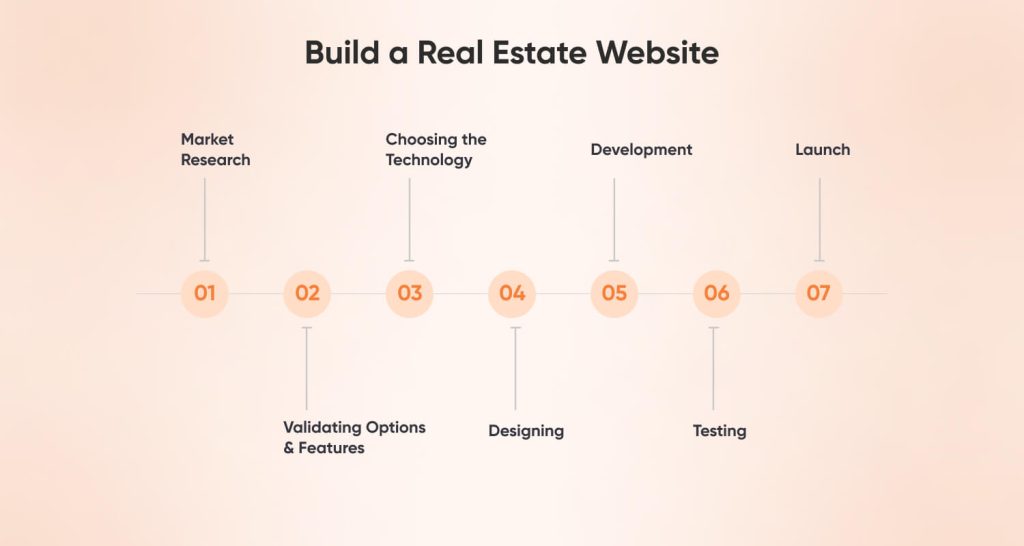 Let's go over the process of creating a real estate app from start.
1. Market Research
We can learn as much as we can about the market research sector. It is an essential step that allows us to create a platform that is affordable. You can learn about the requirements and expectations of buyers and sellers if your app is effective. Gather the essential tools and duties once you are there.
2. Validating Options and Features
You need to choose your target market at this point and figure out what they want from the application. A real estate app typically concentrates on the categories and features that appeal to both customers and agents in order to attract both groups. When building your real estate, all of the above-mentioned elements should be considered.
3. Choosing the Technology
Now let's get detailed. As mentioned, the program will contain millions of data from this website. It is beneficial to use external databases and incorporate API that communicates between different databases in order to prevent running exclusively on the dedicated server. Directories and mapping work well with API technology.
4. Designing
The first topic covered in the initial stage and the one that draws users in is a feature-rich and dependable application. Whether or not the software will survive in the market will be determined by a visualization. A few key design elements for real estate apps include a straightforward user interface (UX), basic navigation, plain backgrounds, a cross-page feature, swipe gestures, etc.
5. Development
After the MVP and wireframes have been made, the development stage follows. Before it is finally executed, they give you the software so you can check for bugs and errors. Create the program with data security in mind. Utilize the data to comprehend the users and, if there are recommendations, enhance the design.
6. Testing
Due to the numerous testing steps required to make sure the app functions properly after its debut, the testing process can extend the time required for the development. To operate without errors, unit testing, user interface testing, and integration testing are crucial.
7. Launch
It's time to release the software to the market once all of the testings is finished. Here, the job is not completed. There is a possibility that the program won't work properly or contain bugs as technology develops. The possibility of adding more and more info is greater, according to the real estate sector. Periodically, post-launch upkeep is required.
Once it has been completed and released on the market? Making money off the app? It aids in task management and productivity enhancement.

How Much is the Cost to Develop a Real Estate Website Like Zillow?
Any real estate app's development costs are high because it contains an app panel for buyers, sellers, and realtors rather than because it integrates with APIs. As a result, the software should be developed with various features and UX.
Time and money can be saved by launching MVP goods with essential features. You'll have a good notion of your company's potential after reading this. Therefore, based on our expertise, the cost of a custom real estate website may range from $35000 to $75,000.
Conclusion – Build Your Real Estate Website With CMARIX
Over the past few years, the real estate business has moved online. Real estate platforms are where most homebuyers conduct their searches. As a consequence, the only option left to real estate companies is to create a real estate website.
Explained the above 7 steps for build a real estate website to satisfy user requirements. In addition, you should incorporate key features and stick with current fashions to set your website apart from countless other real estate platforms.
Don't hesitate to get in touch with us. You can hire our full-stack web developers to build a robust real estate website for your company. If you have any questions about our expertise or would like to suggest a product idea, we are happy to help.
Frequently Asked Questions
Real estate websites can make money in a variety of ways. One of the most common ways is through advertising. Real estate agents and brokers can pay to have their listings featured prominently on the website or in search results. Some websites also offer paid to advertise to related businesses, such as home insurance providers or mortgage lenders.

Another way that real estate websites can make money is through lead generation. When users express interest in a particular property, the website can collect their contact information and sell those leads to real estate agents or brokers who are looking for potential clients.

Zillow is currently the most popular real estate website in the United States, with over 196 million unique visitors per month. However, there are many other popular real estates websites, such as Redfin, Trulia, and Realtor.com.

To build an effective website for a real estate business, it's important to start with a clear understanding of your target audience and their needs. From there, you can choose the right design elements, features, and functionalities to create a user-friendly and engaging website.

It's also important to optimize your website for search engines by using relevant keywords, creating high-quality content, and building backlinks from other reputable websites.

To build a website for real estate agents, you should start by identifying your target audience and their needs. From there, you can choose a website builder or platform that offers real estate-specific features and functionalities, such as property listings, advanced search functionality, and contact forms. It's also important to optimize your website for search engines and to create high-quality content that showcases your expertise and helps you stand out from the competition.