On-demand app development companies are in high demand in the current digital world, where efficiency and convenience are crucial. And the beauty and wellness sector is one that has enthusiastically embraced this technological wave.
The days of scheduling appointments at hair salons by standing in huge lines or making thousands of phone calls are long gone. Customers can now easily schedule their salon visits and make use of a variety of beauty services at their fingertips thanks to the introduction of salon appointment booking apps and on-demand beauty services apps.
In this blog, we'll delve into the fascinating topic of how to start a hair salon app and identify the essential stages needed to start this life-changing adventure with extensive market understanding.
The appropriate features must be incorporated while creating a hair salon app in order to succeed in the cutthroat beauty market. Utilizing the strength of iPhone app development and Android app development services is crucial for opening up a world of possibilities for your company given the increasing use of smartphones. The important aspects that can make a difference for your startup in the world of beauty salon app development will be covered in this blog. So let's investigate the essential components of a salon appointment scheduling app.
For Customers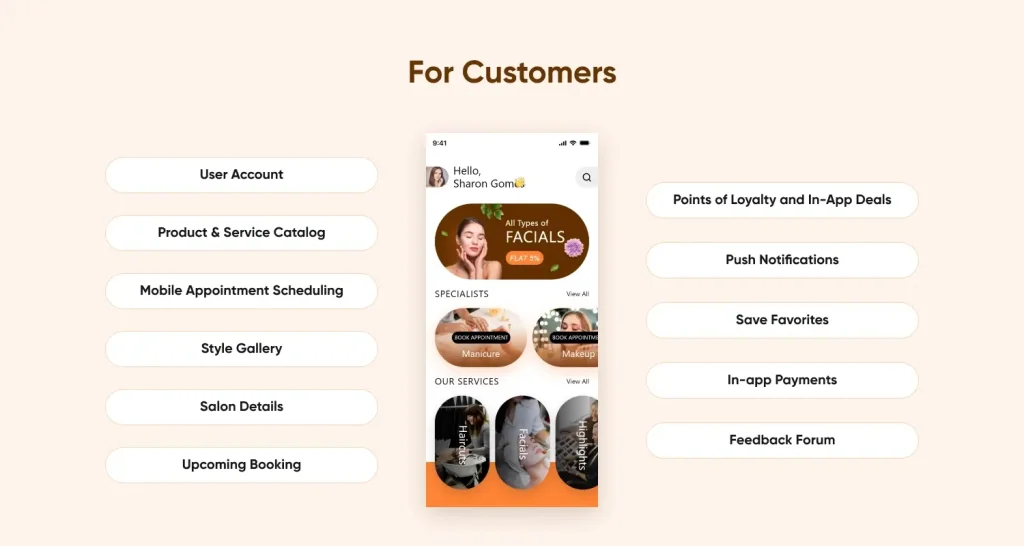 User Accounts: Allow people to sign up using their email addresses, phone numbers, or social network accounts to streamline the registration process. To improve the user experience and, if applicable, to enable online product sales, gather important data that is required, such as name, phone number, and address.
Product and Service Catalog: Create a personalized mobile catalog that allows customers to quickly browse a variety of services and goods. To encourage service purchases, display various haircuts, offer lookbooks, and highlight alluring beauty salon packages with exciting discounts.
Mobile appointment scheduling: Simplify the booking procedure by giving customers access to a full catalog of services, letting them pick their favorite salon, and letting them book appointments straight from the app. Include a built-in calendar tool that sends emails or other notifications to the customer and salon owners when an appointment is confirmed. Make it simple for customers to return for additional salon services to increase user popularity.
Style Gallery: Draw in customers by presenting gorgeous photos of hairdos, haircuts, and cosmetic procedures. Include a separate navigation menu where you can showcase looks inspired by celebrities and films on how to use salon equipment. As indirect marketing tactics, these visual components entice clients to choose your salon for their desired looks.
Salon Details: Provide customers with thorough information about the salon, such as the owner's background, years of experience, services provided, and contact information. Customers are given confidence by this feature, which also enables them to make wise judgments.
Upcoming Bookings: Include a section that lists clients' upcoming salon appointments to make sure they never forget a service appointment. Give clients the option to cancel appointments if required and give them information on the services, dates, and operating hours, as well as any special requests they may have made to the salon.
Points of loyalty and in-app deals: Encourage consumer loyalty by providing rewards like loyalty points for each purchase made via the app. Offer discounts or free services to clients who purchase several services. These tactics not only promote repeat business but also establish enduring bonds with customers.
Push Notifications: By using push notifications, you can keep users interested in and informed about the features of your app. Inform them of mobile bookings, cancellations, limited-time deals, and special discounts. This feature increases user enjoyment and increases interest in salon services among users.
Save Favorites: Increase user convenience by enabling clients to store or remove their preferred salon services from the list as necessary.
In-app Payments: Integrate a salon cart that shows the total number of services ordered and their price breakdown to enable a frictionless checkout procedure. Integrate several payment processors to give clients the ability to easily and securely pay with credit or debit cards for the services they want.
Feedback Forum: Provide a forum for customers to share their experiences and rate the services they receive to promote honest feedback and service ratings. Positive reviews and recommendations dramatically enhance the reputation of your salon and draw in new clients.
Salon Owners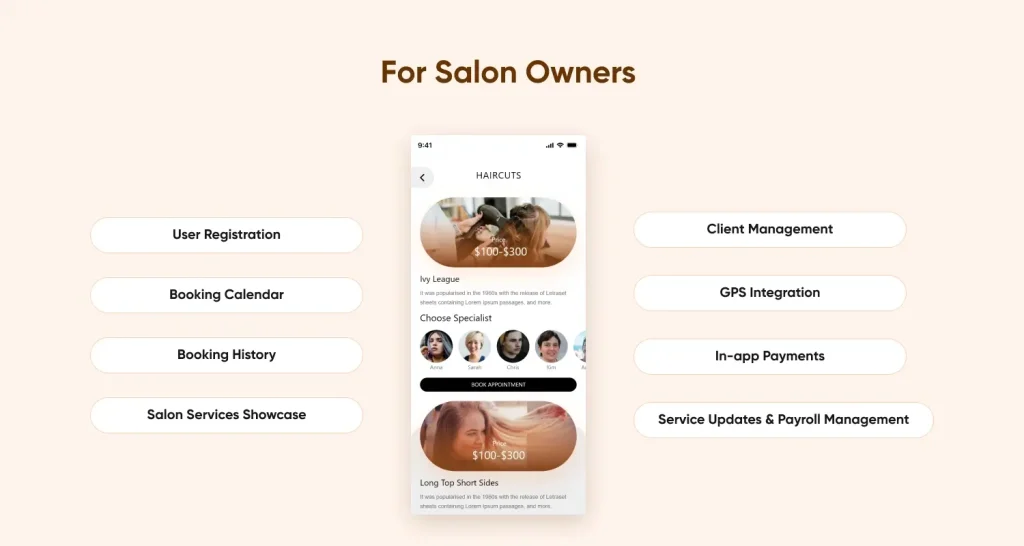 User Registration: Implement a simple registration process that will allow salon owners to register their businesses and submit crucial details about their offerings.
Booking Calendar: Provide a calendar view that shows customer information such as names, phone numbers, services booked, and appointment times to keep salon owners updated about impending appointments. Give salon owners the option to accept or decline reservations based on their availability.
Booking History: Give salon owners access to a thorough archive of prior reservations, along with client feedback and invoices. Salon owners may track their performance and make wise business decisions with the help of this information.
Salon Services Showcase: To draw in more clients, allow salon businesses to publish images of their services. To effectively sell their services, emphasize client comments and endorsements.
Client Management: Give salon owners the option to block customers, if necessary, to ensure a secure and pleasurable experience for the salon and its clients. Use an in-app chat tool to speed up customer support and enable seamless communication.
GPS Integration: Include a GPS component in the app to direct users to the salon, assuring a simple travel process.
Service Updates & Payroll Management: Allow salon owners to update their service pages with price lists and newly added services. Payroll management is also made possible. Give employees access to a payroll management system to simplify wage processes and ensure employee payments are made on schedule.
Encourage salon owners to routinely share useful beauty advice, news, trends, and concepts to engage and inform their clientele.
Incorporate additional elements like geofencing, team member profiles with availability status, an about us part, social media platform app sharing, a mobile referral program, and gift cards, among others. These functions improve the overall user experience and help your hair salon app succeed.

Important Steps in Building a Hair Salon App
Hire professional mobile app developers to handle your app development.
The best course of action is to establish a hair salon app if you're wanting to come up with a special and client-focused solution for your salon business. The process of creating an on-demand beauty and salon app necessitates meticulous preparation and implementation. To ensure the success of your app, adhere to these crucial steps:
Develop a Lean Canvas Model
Based on your business plan for the salon appointment booking app, create a lean canvas model. You can use this to clarify your value proposition, target market, primary activities, and revenue sources.
Make a Document Outlining the Product Requirements
In a thorough product requirement document, list the precise specifications and features of your salon app. Your development team will follow the guidelines in this paper as a guide.
Produce Wireframes and Prototypes
By producing wireframes and prototypes, the user interface and experience are designed. Before moving on, this phase enables you to see how the app works and make any necessary improvements.
Choose Your Technology Stack
Based on your requirements, scalability demands, and target platforms (Android or iOS), select the best technology stack for the development of your project. Work together with seasoned developers who have a focus on creating apps for beauty and salons.
Break the Project Down
To ensure a structured and effective workflow, divide the development process into deliverable milestones. With this strategy, you can monitor development and make any necessary course modifications as you go.
Develop the Frontend and Backend of Your Hair Salon App
Create the Frontend and Backend of Your Hair Salon App. The user interface is part of the front end, while the back end manages logic and data.
User Testing and Quality Assurance
Perform thorough quality assurance testing to find and correct any flaws or issues. To improve the user experience and guarantee flawless app performance, simulate user situations and gather feedback.
Get Feedback and Iterate
Collect user insights and feedback to continuously enhance your technology product. Update the app's functionality and take into account user feedback.
Developing a Beauty and Salon Appointment Application Will Cost You
Engage Mobile App Developers for Effortless Performance
A number of variables, like the intended operating system (Android or iOS), the technological stack, the complexity of the features, the location of your development partner, and the overall project scope, might affect the cost of developing a beauty and salon appointment app. You'll need a committed team made up of a project manager, UI/UX designer, programmers, backend developers, and testers to make a successful app.
Although the exact price will depend on your unique requirements, you can anticipate the development cost to be approximately $25000 – $75000. Please get in touch with our experts for a more precise price quote or further details. We'll be happy to talk about your project with you and offer the best guidance.
Create Your Beauty Salon App Right Now
The chance to enter this profitable market by creating a hair salon app is enormous given the growing demand for on-demand beauty and salon services. You may develop a user-friendly, feature-rich app that transforms the salon experience by taking into account the demands and expectations of your customers.
Our area of expertise at CMARIX is developing salon appointment scheduling programs. Our skilled team of programmers has a track record of creating a variety of on-demand applications. Don't pass up the opportunity to create your own app similar to Booksy. Visit our portfolio and reach out to us right now. We are looking forward to the chance to develop your beauty salon app idea.
Frequently Asked Questions
Start by developing a lean canvas model based on your company model before building a salon booking app. Create a thorough document outlining all the requirements for the product, create wireframes and prototypes, choose an appropriate technology stack, and divide the project into milestones for quick development. For professional advice, work with an on-demand app development company.

The price of developing an app for a hair salon varies depending on the platform (Android or iOS), technological stack, features, complexity, and location of the development partner. The typical cost of development might be between $25000 -$75000 For a more precise price quote that is based on your unique needs, get in touch with an app development business.

The salon business is very lucrative, particularly given the rising demand for on-demand beauty treatments. You can tap into this market and appeal to a larger audience by using a salon booking app. You can draw users to your app and make a sizable profit by providing convenience, individualized services, and loyalty programs.

Develop your own beauty salon app using a methodical process. Establish the specifications for your app, produce wireframes and prototypes, choose a technological stack, and hire a skilled team to handle the development. To ensure a successful and user-friendly app, work with mobile app developers who specialize in developing beauty and salon apps.