The COVID-19 pandemic literally shook the world with a disastrous effect on the life and livelihood of people around the world. The most disastrous impact was felt by the social kinds of businesses like hotels, restaurants, travel, public transport, and similar kinds of businesses. When social distancing is the norm to fight this contagion, these social businesses are struggling to survive. This is when some innovative ideas are appearing to help running these businesses by meeting social distancing norms. Yes, restaurants can continue to run keeping social distancing effective.
Many industry leaders and experts from the restaurant businesses around the world have come up with unique ideas to keep restaurants running in the changing circumstances. Many restaurants are focusing on implementing government suggested recommendations to prevent the spread of the virus outbreak while keeping their outlets open. Many restaurants to stay in the competition are opting for food and beverage software solutions and reaching out to customers with doorstep delivery options.
Latest Survey Findings on Dining Behavior In Post Lockdown Period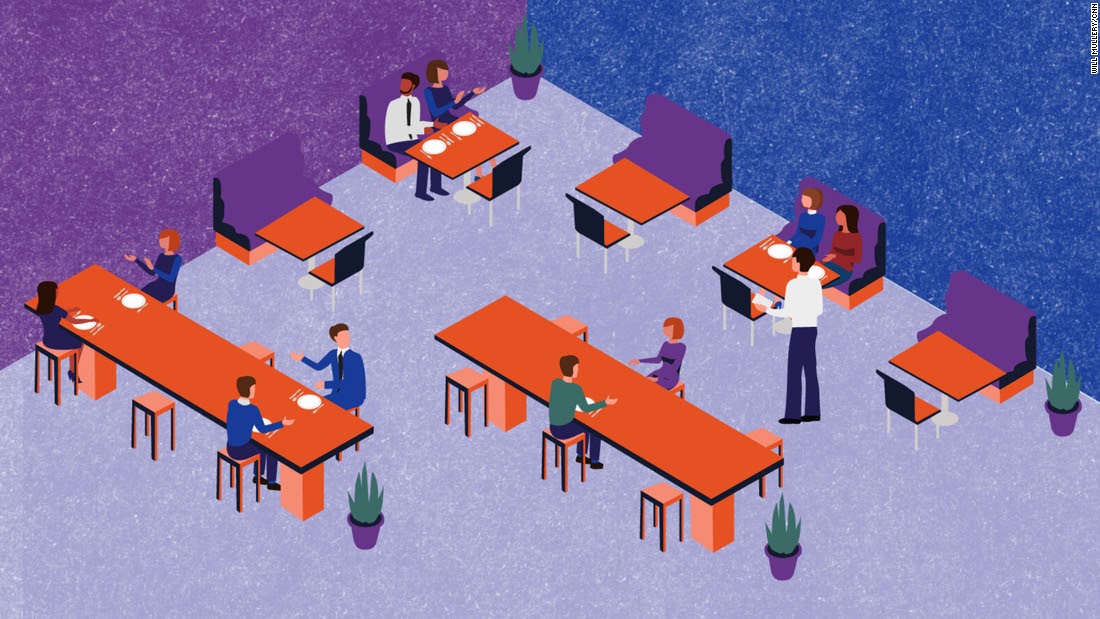 As the lockdown is slowly being lifted after many governments around the world are being forced to take measures for normalizing the social life with cautious steps and by following strict social distancing guidelines, it is the right time to know the repercussions of the dinners and the way their outdoor dining habits have changed. A recent survey by Rakuten Ready carried out among 100 restaurant customers came up with some important findings.
According to the survey, almost 57 percent just don't harbour any fear in regard to outdoor dining and they are not in favour of changing their regular dining habit.
In contrast, 20% of survey respondents completely stopped dining in restaurants due to the outrageous condition of the outbreak.
Around 17% of the survey respondents are in favour of opting for picking up or getting the food delivered through aggregator apps.
Only 10% of respondents only favour ordering restaurants to pick up food.
An alarming 34% of survey respondents are in favour of cooking more food delicacies at home to avoid restaurant dining.
If you watch the trends in the change of dining behaviour in the post-COVID-19 period, you can easily see the towering challenges for restaurant businesses around the world in this same period. On the other hand, these challenges can also be turned to huge business opportunities by restaurants if they focus on utilizing innovative methods to boost pick-up and home delivery orders. No doubt, more innovative and out of the box ideas and technology solutions can help restaurant businesses to stay afloat over this crisis.
Read More: Contactless Restaurants: The Post-Pandemic Future Of Restaurant Business
How Is The Entire Industry Doing?
It is true that the contagion outbreak turned too many cities around the world into ghost towns where seeing an open restaurant seems to be completely out of place. But as the lockdown is slowly being lifted and as food delivery businesses started to operate in some cities with a lot of restrictions, every restaurant is trying to play safe in terms of following health and social distancing in restaurants.
No doubt the steep downfall of the restaurant business cannot be altered just overnight. Especially when there are so many restrictions, regulatory roadblocks, and fear of the community spreading of the coronavirus is still there, restaurants cannot help but look forward to a long time recovery of the business growth. In the short term, they can best hope for surviving with a slow but gradual increase in sales, largely thanks to pick-up orders and food delivery services.
Important Ways Restaurant Businesses are Dealing With The Crisis?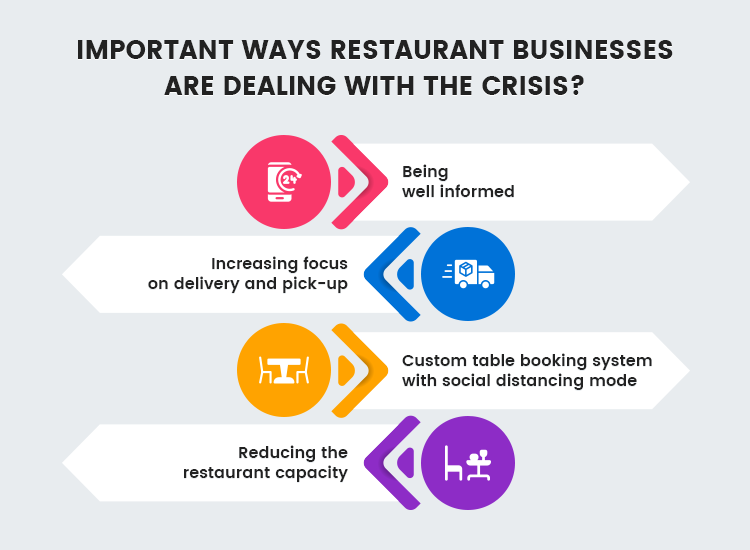 It's really easy to get demotivated with bad news outpouring everywhere for social businesses or businesses that traditionally promote socializing. The funny thing is, even these social businesses are now completely turning away from their core value of bringing people together only for the sake of survival. Thus every restaurant is now focusing on food sales in ways that prevent socializing of people or coming of people close to one another physically.
Here we are going to discuss some of the key ways restaurant businesses are dealing with the crisis while maintaining social distancing norms.
The uncertainty often pushes the spread of rumours and fake news that in turn further creates panic which is dangerous for businesses. This is why staying well informed about the crisis and the government measures are of utmost importance. First of all, every restaurant should be well informed about the nature of the contagion and the way it can be dealt with regular hygiene and social distancing measures. This will help to keep the irrational panic away.
The second most important thing is to stay abreast of the government regulations and the evolving norms of lockdown that are slowly creating space for restaurants and other businesses to return to normal operation. Lastly, while keeping open how you can maintain the best hygiene and social distancing measures to keep your food safe from the contagion is something you need to be informed about.
Increasing Focus on Delivery and Pick-up
Restaurants can easily decrease the exposure of their customers to the contagion by shutting their dining rooms and dining facilities. They can replace this with an increasing focus on self pick-up of foods and doorstep delivery through the aggregator apps. Many restaurants are going one step forward and starting their own food delivery services to meet customer demands. This can be a really effective model to keep the business running in safe mode.

Custom Table Booking System with Social Distancing Mode
Another important way to stay tuned to the social distancing norms while keeping the dining services up and running is to allow table booking and reservation in a way that doesn't leave any scope for social mingling or virus exposure.
A restaurant can hire any of the leading mobile app development services for reshaping their branded app and facilitate two different ways to book restaurant tables, respectively a regular mode and a social distancing mode to facilitate sitting with adequate distance. When finally restaurants in major Coronavirus affected cities will start opening their dining rooms, such reservation measures will prove to be more appropriate.
Reducing The Restaurant Capacity
This is already being practised in transport facilities in cities where lockdown is being lifted gradually. To stop the spread of the Covid-19 outbreak and to keep the reputation high as a hygienic place to dine restaurants can easily reduce their dining capacity so that people can sit by maintaining adequate distance among themselves. This is the measure to play the most important role in clearing out the fear of restaurant dining in the months to come.
Conclusion
Quite sadly, we actually have no clear time limit for the COVID-19 outbreak to come to an end and for us to begin our regular life with no concerns for community spreading of the virus. So, the social distancing norms will continue to rule in all public places around the world and no restaurant business can stay away from this challenging situation. Naturally, any restaurant that wants to stay afloat in this uncertain time needs to take appropriate measures as suggested and discussed above.