It's the most amazing time of the year, and I want to wish all of you lovely people a very happy holiday. Let's use some of the best Christmas apps this year to bring Christmas to your phones as well as your houses.
Some people might wonder why we should incorporate technology into our holidays. I think it's a great idea. Clearly, it should be. Smartphones have significantly improved our lives, so why not do the same for our holidays? It is recommended to Outsource app development if you are planning on creating a bespoke Christmas app.
Are you prepared to stare mindlessly at a little screen?
So here is a selection of the best Christmas apps for iPhone and Android to add that opulent touch to your holiday season. Continue reading and keep the holiday mood going because we have something for everyone.
Best Christmas Apps for iPhone and Android
1. Video Call – Speak to Santa ™ App
Do your kids adore Santa Claus? Certainly, they do. Then encourage them to give Santa a call this holiday season. This Santa app is a huge hit with kids.
There are similar apps on the app store, however, they all fall short of the quality of this one. The communication options in this app are the most varied and personalised, and Santa addresses your children by name.
Downloads : 1,000,000+ downloads
In-App -purchase: ₹ 240.00 – ₹ 3,650 per item
2. Super Santa Worm vs Santa Saga App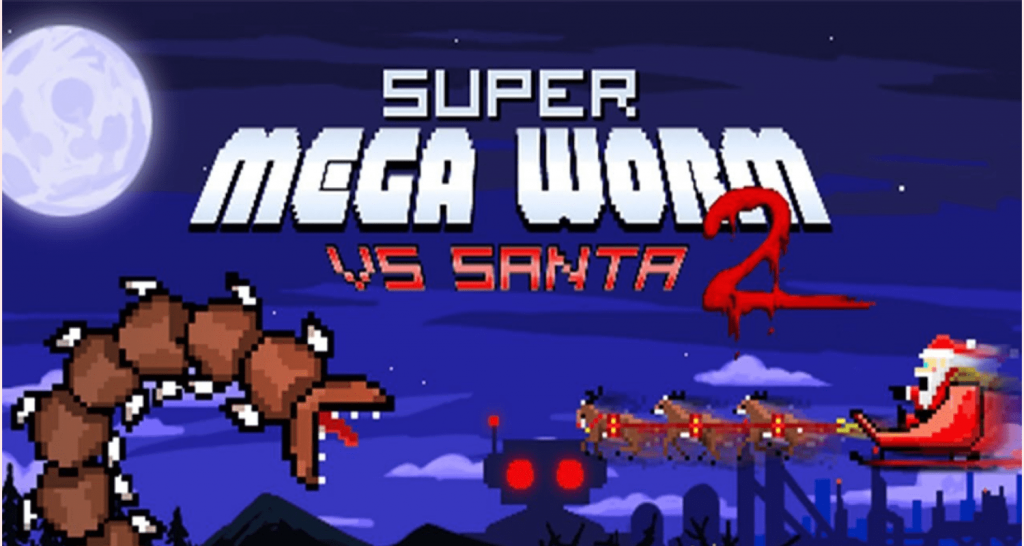 After a few drinks, Aunt Betty decided to start tearing at the tinsel. One solitary pair of socks was all your significant other could muster for you. Some kids have taken to the walls with cranberry sauce and crayons. Have your anger consumed by a gigantic worm as it eats everything related to Christmas. With ringing bells, gore, and enormous robots, it's Tremors and Santa. That is the most Christmassy thing possible.
Downloads: 1000 +
Price: £0.89
3. The Christmas List App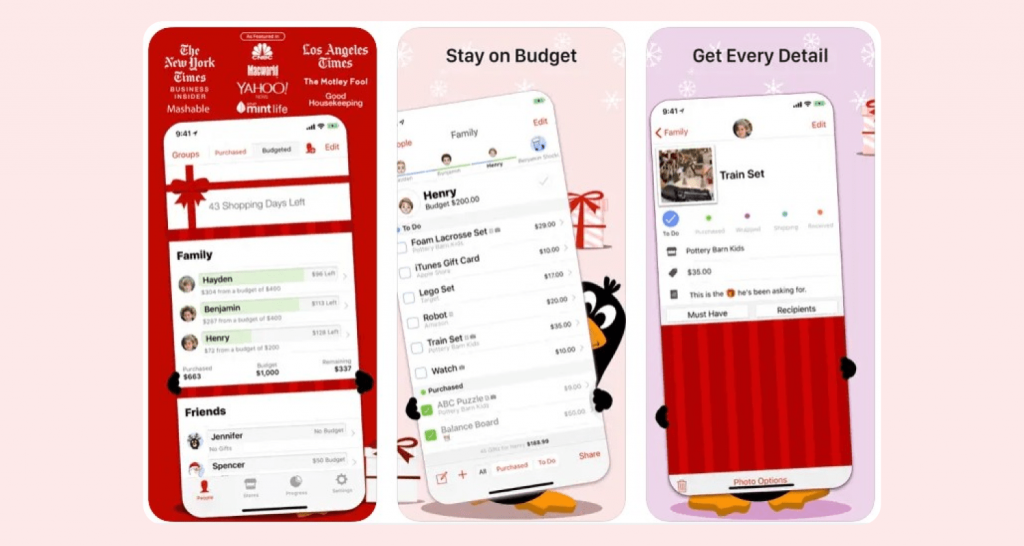 There's a lot to keep track of when you're out buying Christmas presents, decorations, and food. You wind up with one or more lists, and the situation as a whole gets a little chaotic.
This is where holiday apps like The Christmas List come in; in addition to storing all of your shopping lists in one location, it also enables you to create budgets, monitor your progress, group gifts according to their state, and even share your lists with loved ones.
Downloads: 1000+
Price: $ 2.99
4. Moonpig App ~ Send Card, Flowers & Gifts!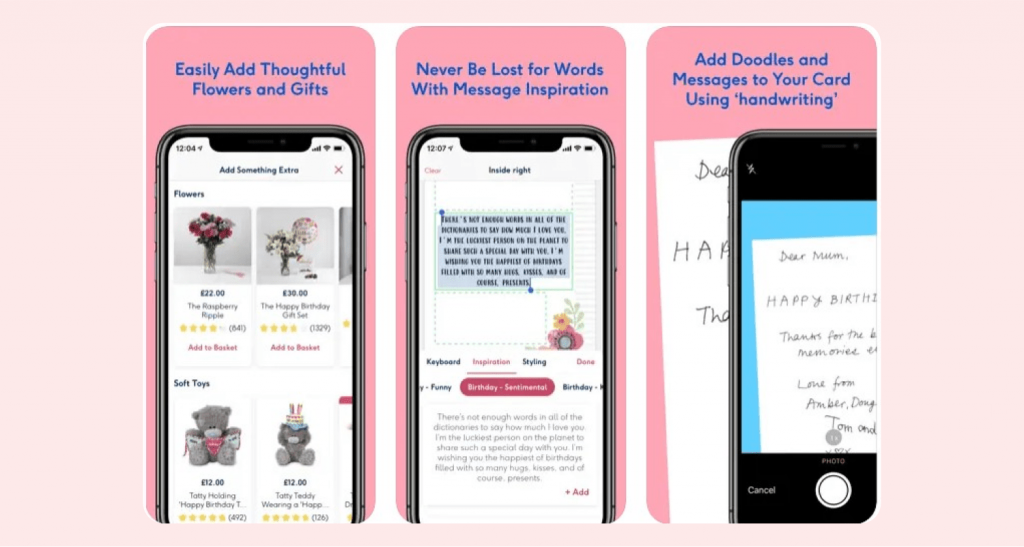 Tired of bland greeting cards with stock images and repetitive verse? Make it unique with Moonpig. Upload holiday photos into templates, write your greeting inside the card, and send the finished product to friends and family using the postal service's magic. As you reach for the outlet, you suddenly remember that you spelled "Christmas" wrong on every card .
Now isn't this amazing. Do you have an improved concept for a Christmas app development? If yes, don't think twice. Hire a mobile app development company and get your app as the number one top downloaded app
Downloads : 1M+
Price: Free
Languages: English & Dutch
5. ElfYourself App
What'd Christmas be without some enjoyable frivolity? If this sounds like you, then you'll love the ElfYourself app. Select a theme, choose up to five images of your loved ones, and then watch as the Christmas app creates a hilarious elf dancing video that you can post to Facebook, Twitter, or YouTube.
Happy Elfing!
Downloads: 4M+
In-app Purchases : ₹61.14 – ₹700.00 per item
6. Giftster ~ Wish List Registry App
As the best Christmas app, Giftster is a great way to keep in touch with loved ones and organise a gift exchange. To prevent others from purchasing the identical item, you can reserve gifts or design and share your gift ideas with your group's members individually or as a whole. You can also plan a Secret Santa drawing. Additionally, it can serve as a wish list. Make a list of the things you'd want to get as gifts and share it with your friends or family to make it easier for them to choose a present for you.
Downloads: 100K +
Price: Free
7. Christmas Booth ~ Fun Photo App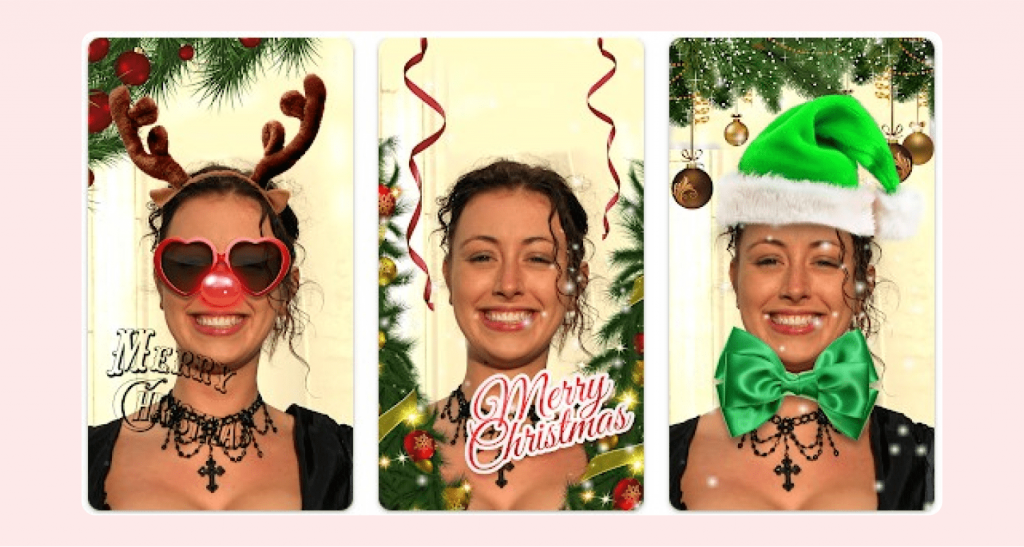 Looking for the most effective examples of mobile applications for the Christmas season? Get Christmas Booth, a fun and engaging smartphone app for children and even their parents. Use the mind-blowing smartphone game Christmas Booth Photo Fun to transform into a cuddly snowman or fluffy kitten this Christmas and unleash your inner child while having the time of your life. The amazing and entertaining app allows you to transform into a fantastic character to brighten the holiday season by simply adding any sticker to an existing photo or taking a new one. However, you shouldn't get to have all the pleasure. Usage Christmas Booth to transform into a holiday persona and send unique images to your pals for their use.
Price: Free
Category: Photo & Video
8. Santa Radio App ~ Worlds No. 1 Christmas Station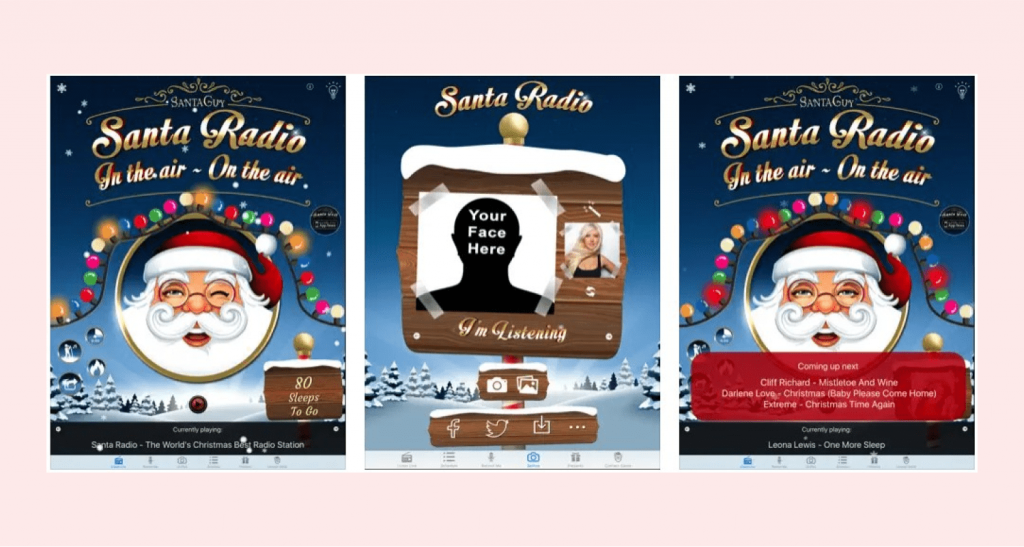 Turn on Santa Radio to make the decision for everyone this Christmas; you don't want folks squabbling about what to listen to. It plays a variety of Christmas songs nonstop, and if you tap the smiling Santa, he'll get amusingly annoyed: "Ho-ho-ho! No-no-no! Don't touch my face!
Price: Free
Category: Music
9. Charlie Brown App
Explore the true essence of Christmas and discover why so many people look forward to this joyous day by listening to Peter Robbins, the man behind Charlie Brown, who narrates this audiobook. Charlie Brown Christmas may alter and ease into the famous plot to make it appealing for children and families in addition to allowing you to enjoy the calming Christmas soundtrack. Your children can assist Charlie Brown and Snoopy in learning the true meaning of Christmas by utilising the smartphone app. In addition to Christmas stories and scavenger hunts, you can actually design your own Christmas tree with a variety of eye-catching, light ornaments. You can purchase this incredibly good mobile software for $5 and use it to create a charming Charlie Brown Christmas tree for yourself.
10. Kitchen Stories App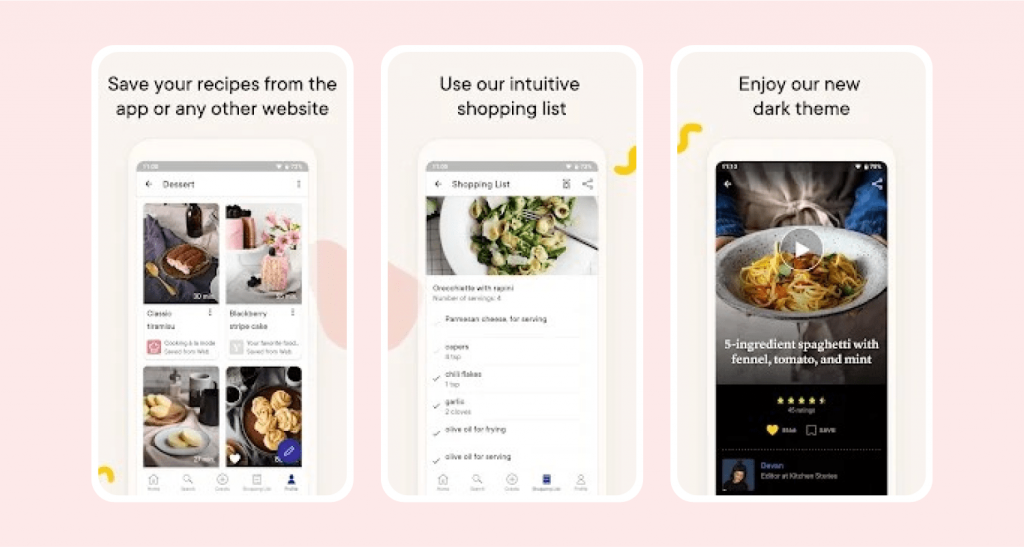 Even though Epicurious contains every humanly possible dish, Kitchen Stories is a safer pick despite its more limited collection. Through the use of convenient step-by-step instructions with pictures and videos, it lessens the stress associated with creating a Christmas lunch. Great information for determining whether you're about to burn the ice cream or spoil the turkey.
Downloads : 1M+
In-app Purchase : ₹410.00 – ₹2050 per item
You can play a Christmas game on your phone because Christmas isn't just for kids. The majority of mobile users worldwide adore this genre of hidden object games, which is incredibly popular among Smartphone users.
For the inner child in you who still adores this holiday fervently, this special edition is centred on Christmas. But take caution-this game is challenging, and only a true fan of Christmas will be able to complete all the stages. You can play in the three different modes of Casual, Normal, and Challenge.
Downloads : 1M+
Price : Free
12. Christmas Photo Frames Editor App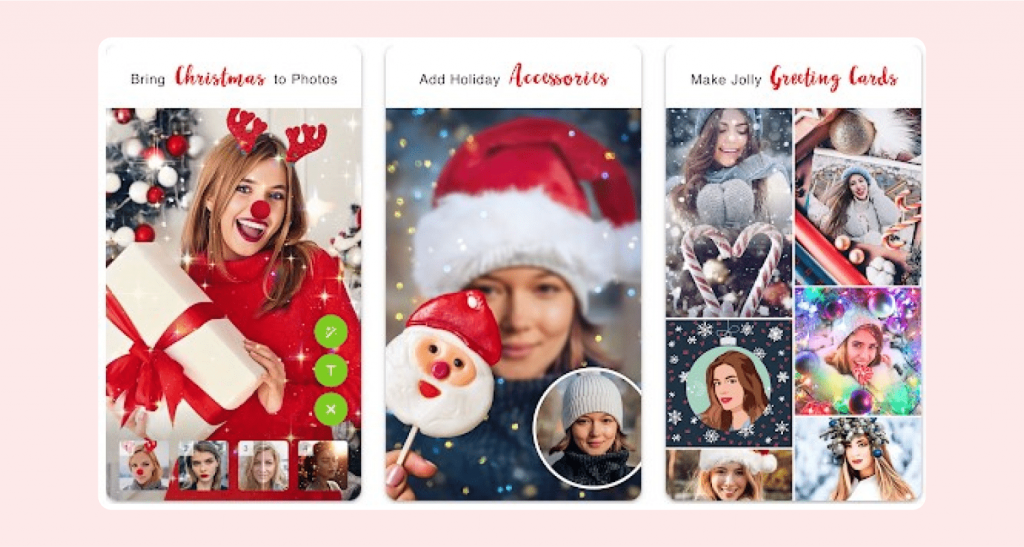 Beautiful memories are made during the Christmas season, and what better way to keep those memories alive than with photos. Any of your photos can be made into a holiday-themed image. To create a Christmas album for you and your loved ones, choose from more than 50 templates in the Christmas Holiday Frames collection.
The pictures you produce can be shared with others, used as contact icons, and wallpapers, in an app for electronic Christmas cards, and posted on social media with your friends. Additionally, you can use your images to make a whole calendar.
How to get your Apps ready for the Holiday?
Getting Your App Ready for the Holidays
Application store optimization, which involves improving an application's on-page components (title, description, and creative) for maximum visibility, is necessary to increase your application's visibility, especially during this peak times. Your application can automatically reach thousands of users with Optimization.
If you want more people to use your app over the holidays, try these quick strategies:
Planning the Design of Holiday Apps
The secret to attracting more clients to your application is to outline your holiday application well. This suggests that you must create a list of all the significant attractions you will suggest to the target audience.
Adapt your search terms and application's name.
Changes To Your Keywords And App's Title
Knowing how customers search for it is one of the most crucial components of application store optimization (ASO). ASO differs from SEO in that users search for apps using shorter, 2-3 word phrases rather than the lengthy search terms that appear in Google or Bing. The greatest and quickest way to have some quick victories within the App Stores is to be aware of the trendy keywords and the variety of interesting phrases that might be created from them.
Try out your Creativity
Is your app's inventiveness helping or hurting you? Your creativity is crucial because it will influence customers to tap on your application once they discover it in the app store. When we talk about creativity, we mean things like your icon, your screenshots, and perhaps even your promo video. During the holiday season, a lot of new customers start rushing to the app stores to look for fresh apps to download. If your application doesn't seem excellent right away, you could turn away a lot of customers who are looking for exactly what your application does.

The holidays are a great time to re-engage dormant users.
Activate Your Inactive Users Again
Since they are probably relaxing at home with extra time to play on their cellphones, this is the perfect opportunity to engage dormant clients again. Now that you've set up user segments, you can easily identify users and clients who haven't logged into the system in the past 30, 60, or 90 days. Making them an irresistible offer is the best way to get them back on your application. It's wonderful that you've tested your "couponers" in order to determine the best discount pricing.
Send push notifications to your inactive customers informing them of any deals your application is running. If you have their emails, you can communicate such important information to them via email as well. Anything to stand out and get noticed, but certainly don't be overly forceful.
If you have a fresh concept and want to make an app with a seasonal theme. Contact us right now! We have top-tier programmers here who will refine your concept using the latest technology and deliver the most cutting-edge software available. Hire Mobile App Developers from CMARIX Technolabs in order to build a unique holiday app with the most advanced characteristics.
Final Words!
In conclusion, I'd like to stress the importance of making this holiday season special for everyone involved, from business owners to customers. It wouldn't be inaccurate to state that everyone has already started to become excited and energised for the holidays, and your app can undoubtedly play a significant part in doubling or tripling the excitement by making it sound especially fitting for your users.
So buckle up, put on your socks, set your sights, and get ready to take on the formidable obstacles standing between you and the glory of having the most downloaded app in the app store.
Take a look at
Frequently Asked Questions
There are so many good apps to download for Christmas! November is a great time to google search Christmas apps online to find some to start using for the holiday season. Hire an

Android App Development Company

if you want to make a truly original Christmas app.

Without a doubt, you can develop an app from scratch. Get in contact with us to share your thoughts. We have the best developers who are knowledgeable about the entire tech stack, and they can quickly assist you in producing excellent software.